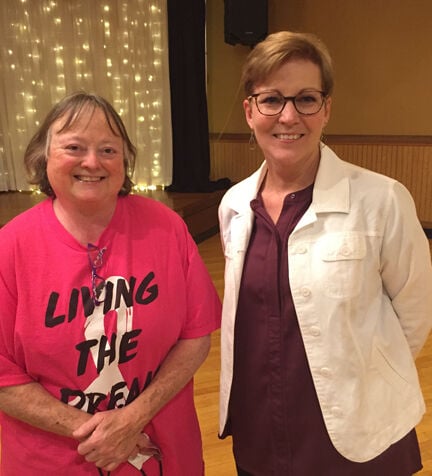 Lisa Cunningham and Nancy Huber, who have both worked for Grand Island Public Schools for 40 years, will head off in different directions later this month.
Cunningham will retire from teaching, while Huber will keep on going.
The two women were honored for their 40 years of service last Wednesday at a gathering of the Grand Island Education Association.
For the last 20 years, Cunningham has taught at Jefferson Elementary.
In retirement, she and her husband, Kevin, will visit a grandchild in Denver, as well as their children. She also hopes to travel and "maybe find some good groups to volunteer with," she said.
Cunningham, who turned 65 in March, has been able to retire for two or three years. But she decided this would be her final year in the classroom.
"I think I knew it was coming most of the year, honestly," she said. "I knew that it was time."
She described her teaching career as "wonderful. I enjoyed it all. There's always the good and the bad, but the good is much more than the difficult days. So it was good. It was all good."
A Lincoln native, Cunningham began her teaching career at the Connell special education building, which was torn down to make way for the new Wasmer Elementary. She also taught at Howard and Knickrehm elementary schools.
Cunningham taught fifth grade at Jefferson for 15 years. But she has spent more than half of her career working with special education students.
"It was the right career for me," she said of teaching. She liked being in school, she liked working with children and "I loved the people I worked with."
As many people say, it's a good career when you have children because teachers can stay home with their kids in the summer, and have the same vacation days.
"But I don't think that was why I was a teacher," she said. She chose teaching because she likes it and she likes to see kids learn.
Cunningham probably will substitute teach in 2022. After retiring, GIPS teachers have to wait six months before becoming a substitute.
Huber is in a different situation. While Cunningham has a grandchild, Huber doesn't.
She gets plenty of enjoyment from the children she teaches.
"I love my kids," she said. "That kind of keeps rejuvenating me — the fact that I love the interaction."
Huber, 62, has taught English language learning at Shoemaker Elementary for 11 years. She's also taught ELL at Engleman Elementary and Barr Middle School.
Before that, she taught fourth grade at Starr Elementary for 25 years.
A good portion of her summer is spent teaching. Until the last two years, she taught SEE (Summer Enrichment Experience) Camp. She usually has taught some type of summer school.
This year, Huber will teach Power Camp, which deals with natural disasters.
"So I'm really excited and looking forward to that," she said. "That lasts the month of June, so I obviously like being with kids. And then when I'm not with kids, I have a pool in my backyard, and all my friends bring grandkids and kids over. That's how I spend my summers — that and working out in the yard."
Huber has spent almost all of her life in Grand Island. Born in York, she moved to Grand Island with her family when she was 2. Her father, Dick, was a lawyer who served as city attorney, Police Court judge and justice of the peace.
She spent the last 15 years caring for her parents. Dick died in 2005. Her mother, Patty, died last November.
After graduating from Grand Island Senior High in 1977, Huber attended the University of Nebraska-Lincoln.
"I didn't know there was any other college," she said. "My dad was big into Nebraska football. He was president of the Touchdown Club for years."
Huber has gone to many bowl games. Until last year, she hadn't missed a Husker home game since she was 10.
She began her teaching career at Starr Elementary in 1981.
"We had a brand new Starr because it has been rebuilt after the tornado," she said.
In teaching her students, Huber likes to "entertain them a little bit and use my humor to get them to love school. I like to teach them to be lifelong readers. I want them to enjoy it and feel good about themselves."
She wants her students to have confidence, "especially my ELLs. They're real quiet in the classroom."
Huber tries to boost their self-esteem so that they're comfortable answering questions and feel they're equal to other kids.
"Because a lot of times, they don't feel that way," she said.
How long will Huber teach?
"I'm kind of thinking about one more year," she said.
Huber wants to see "what transpires this year."
She has told her current fourth-grade class she'd probably like to go out with them "because they're one of my favorite groups," she said.
That way, they'll head off to middle school "and Miss Huber will head off into the sunset," she said.
Is she pretty sure about her plan?