Joseline Reyna, who has lived in Grand Island since she was 9, would like to buy a house and raise a family in Grand Island.
She's not sure about her future, though, because she's a DACA recipient. Her work permit comes through Deferred Action for Childhood Arrivals, or DACA.
On Tuesday, Reyna marched in an event at Washington, D.C., that was partly designed to call for changes in immigration laws.
The marchers departed from Benjamin Banneker Park and wound up at the Grant Memorial/Capitol Reflecting Pool, on the west side of the U.S. Capitol Building.
It didn't seem like a long walk, she said, "because I was with other people."
The event was called Welcome Back Congress: March for Care, Citizenship and Climate.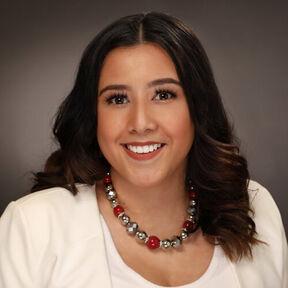 Reyna, 25, says it has been more than 35 years since "any change has occurred with immigration."
Changes are sometimes promised, "but nothing really changes," she said Thursday, in her office back in Grand Island.
Reyna has contacted members of Congress before, but she felt it was important "to have my physical presence there." She wanted to convey the message that "I'm one of those people that is waiting for the immigration laws to be updated."
As far as she knows, she was the only Nebraskan in the march. Nebraska Appleseed paid for her trip and two-night stay.
Reyna did not speak during the event. But she carried a sign, which contained the words "We are home" inside the shape of Nebraska. The sign also included an illustration of the Statue of Liberty.
As a DACA recipient, Reyna has to pay for a work permit every two years.
"I have to renew six months in advance just to make sure that I don't have an expired work permit," she said.
Reyna was 16 when she obtained her first permit in 2012. She has renewed it four times — in 2014, 2016, 2018 and 2020.
Her current permit expires in May 2022. So she will renew it again in December.
The cost to renew it each time is $495. When she first applied, the cost was $465.
The price doesn't decrease, she said. "It only goes up."
Sometimes, Reyna said, DACA recipients have to pay an attorney to file the paperwork. The first time she did it, the lawyer's fee was almost $500.
So she has paid more than $2,000 for her work permits.
Reyna thinks about going back to school to get a master's degree. She also asks herself if she wants to buy a home.
But it's hard to make plans because of her uncertain status, she said.
"DACA only provides temporary status to individuals but does NOT provide a pathway to citizenship. So at the moment because of how the laws are, I cannot apply to become a U.S. citizen," she wrote in an email to The Independent.
Reyna works as a community liaison at the Multicultural Coalition. She is accredited by the Department of Justice to practice immigration law.
Born in Juarez, Mexico, Reyna has lived in Grand Island for 16 years. She was 9 when she arrived, "but I consider Grand Island my home," she said.
Reyna graduated from Grand Island Senior High in 2014.
In 2018, she graduated from the University of Nebraska-Lincoln, where she majored in criminology and criminal justice.
She wants to have a family in Grand Island "and be here to keep contributing to the community that gave me so much as I was growing up," she said.
Reyna has heard that Nebraska is home to 3,000 DACA recipients.
She knows of several in Grand island. They've reached out to her "because I'm very vocal about my status and my story."
DACA recipients are young adults because in 2012, when U.S. Citizenship and Immigration Services began accepting applications, applicants had to be at least 16 and younger than 31, she said. To be eligible for the program, recipients must have lived in the U.S. continuously since June 15, 2007. They cannot have felonies or serious misdemeanors on their record.