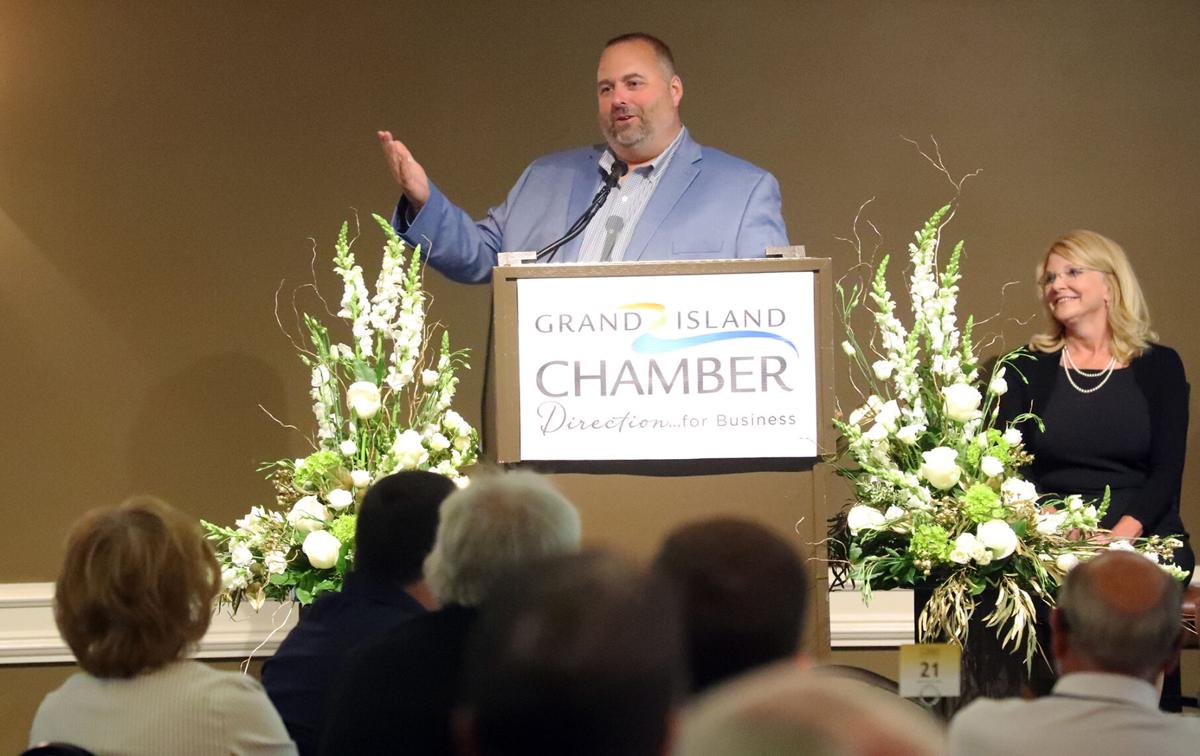 A celebration of the businesses and individuals who significantly affect the community was held Thursday at Riverside Golf Club.
The 2021 Grand Island Area Chamber of Commerce annual meeting and luncheon honored community members and two Businesses of the Year.
The Outlier Award was given to Dr. Ryan Crouch and Dr. Tom Werner for leading the creation of the Grand Island Regional Medical Center.
Crouch called the award "an honor." He compared community support for the project to starting a fire.
"Tom and I, and the other docs who started this, were just the spark," he said. "When we got the embers going, Tom and I flagged the fire a little bit, but it really didn't take off until the community got involved with it, and then it just took off like crazy and we've got a big fire going now."
Werner channeled his inner-millennial and said he was "stoked" to receive the award.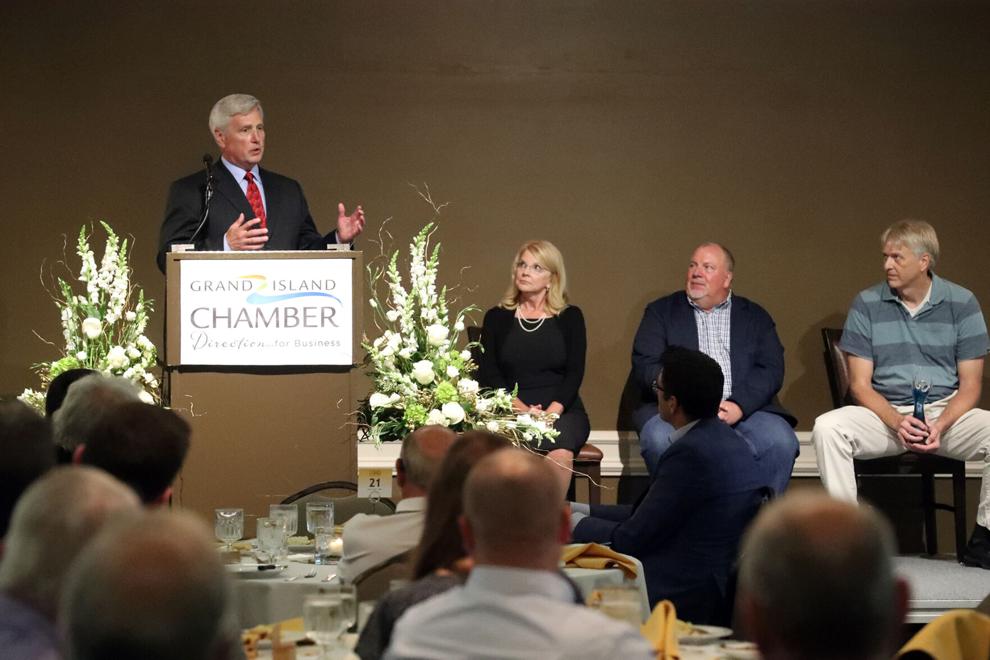 He credited Crouch as the one who "made it happen" and thanked him for his efforts.
A second hospital was needed by the community, Werner said.
"If you think about any community, as they grow there's always a point where there's a need to build a second hospital, a second high school, another church. Whatever it may be," he said. "The fact that we have another hospital in the Grand Island community is really a reflection of the growth and prosperity we've had in central Nebraska."
Werner called Grand Island "a quality community from the very bottom to the very top."
Amur Equipment Finance was honored as a Business of the Year.
Todd Wainwright, Amur senior vice president head of commerce and strategic partnerships, said he is proud to have seen the company grow from 50 to more than 150 employees.
When employees were asked if Amur should build a new campus, they voiced that they should move into the old Wells Fargo building on Third Street.
"They said, we want to be downtown. We want to be in the heart of the community," Wainwright said. "And we listened to our employees."
He pledged that Grand Island will be Amur's "forever home."
Kent Kaiser, Overhead Door Company plant manager, simply thanked the GIACC for the Business of the Year award on behalf of the company's employees and management, and thanked the community for its support.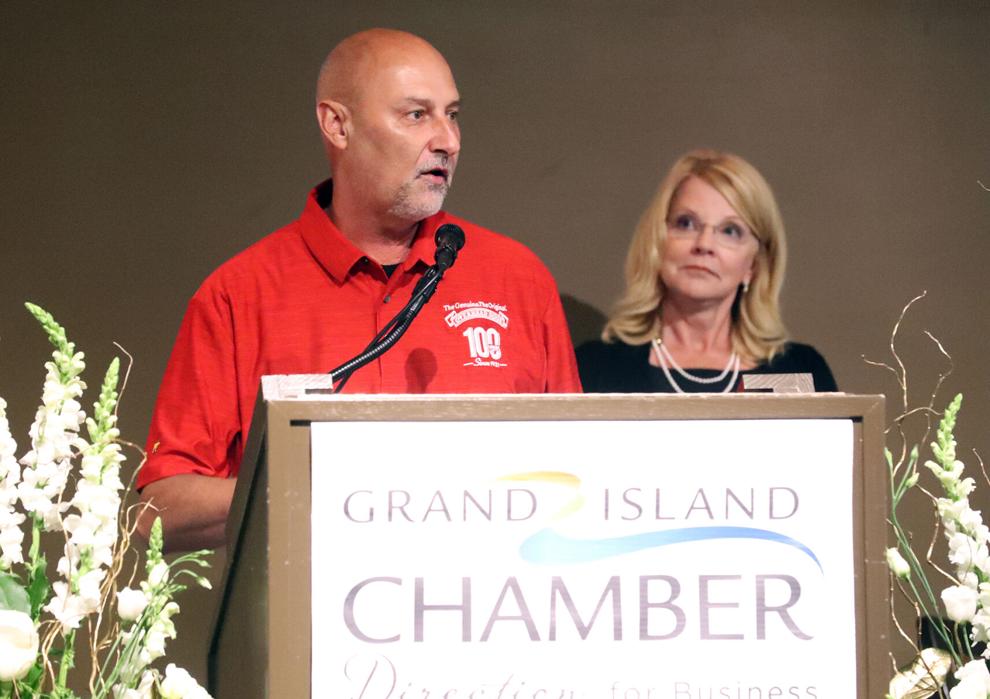 Chamber President Cindy Johnson told the audience of more than 350 that Grand Island has turned to the next chapter.
The focus is no longer on responding to the pandemic, but rebuilding from it and becoming a stronger community.
"Each of us had challenges this last year, and this start, today, will help us overcome," Johnson said.
The last 15 months has been an opportunity for planning, she said.
"We looked at the opportunities that are available and ensured that we have set the foundation for growth and prosperity for long after this pandemic," Johnson said.
Among the city's efforts moving forward are a new casino resort, development of the Grand Island Regional Medical Center and the Tabitha senior care center.
Dave Rippe, Queen City Development owner and a former Nebraska Department of Economic Development director, was the day's keynote speaker.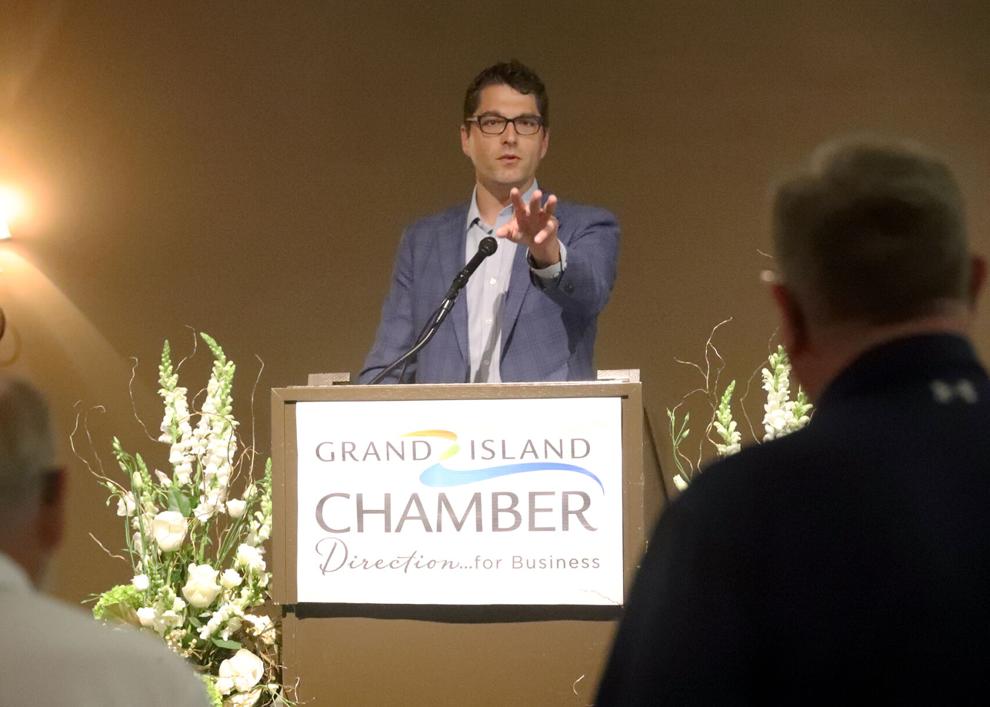 A question he is often asked, Rippe said, is, "what differentiates successful communities from unsuccessful ones?"
"The answer is, people who really truly care about their communities and are able to do something about it," he said.
Grand Island needs to be looking for its next leaders and considering where those leaders will be coming from, Rippe said.
He illustrated that within 25 years — one generation — many in that room would not be there for the chamber's annual meeting in 2046.
"There's only eight people planning to be here, owning this community in 25 years. Eight people out of 351," he said. "That means we have 343 seats we need to fill in this room over the next 25 years."
Odds are poor that someone is going to simply move to Nebraska without incentive, he said.
Rippe emphasized the importance of greater retention of graduates to combat Nebraska's "brain drain."
"It starts with identifying community needs with targeting who your customers are and who they will be," he said, "focusing your efforts to be price-makers, not price-takers, to develop that talent, and then stick with it, and empower and enable them to lead your community."