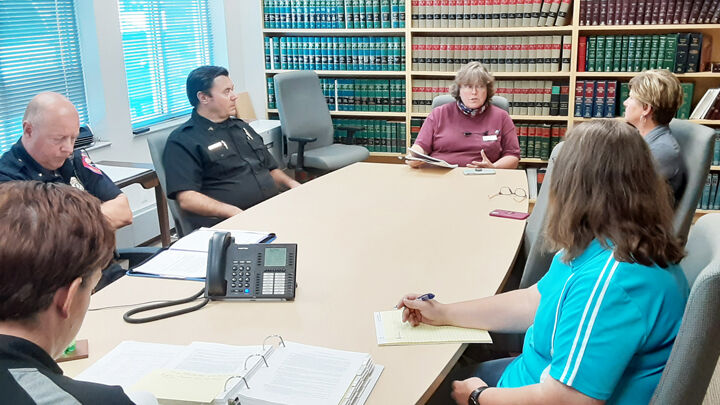 An effort is underway to change city code on owning chickens within Grand Island city limits.
Patricia Leverington, an employee at Orscheln Farm & Home store, asked for ordinance revisions to be made at Monday's Animal Advisory Board meeting at City Hall.
Currently, up to four chickens are allowed on one acre of land.
Per Grand Island City Code 5-18: No person, except for commercial retail establishments that offer live fowl for retail sale ... shall keep or maintain on his or her property any fowl (including chicken hens) in a number that exceeds four per one acre with a minimum of land being one acre.
"There's a lot of people we've turned away this spring due to the fact that they live in city limits and don't have the lot size," Leverington said. "I would like to ask the city if we could change that code."
Roosters are prohibited under section 5-41.1.
Leverington noted that Lincoln, York and Hastings allow chickens with fewer restrictions.
"We're a rural enough area and we have the State Fair here. We have a nice county fair," she said. "It would be nice to see if we can have maybe the lot restriction moved to a smaller piece of ground to have chickens."
Leverington called the current code "unenforceable."
"There are a lot of people in this town who have chickens and don't have an acre of land," she said.
Leverington also described the code as "discriminatory."
"My neighbor next door has four kids, they do 4-H, and she wants to get chickens so they can do that," she said. "They want to get into animals, but they can't do pigs or cows, because they're on a half-acre."
The code is also unfair to Grand Island's mixed-culture community, Leverington argued.
"A lot of people, they just don't understand the guidelines," she said. "They want to get chickens and they have them now, and they want more and live in town. It's like, we can't sell you more chickens."
Leverington suggested changing the code to allow two chickens for under one acre of land.
"Revise it somehow so more people are able to have them," she said. "Kids can have them in 4-H. They're more sustainable, as far as a source of food."
She added, "I just know there's a lot of people who would like to be able to have chickens that can't because of the land they live on."
A revision last went before the Grand Island City Council in 2014, Assistant City Attorney Stacy Nonhof said.
Animal Advisory Board Chair Missy Girard-Lemons supported a change, but she said more than one person needs to advocate for the change.
"I think City Council, in order to make a change, is going to want to see a larger group of people wanting that change," Girard-Lemons said. "I feel like we represent the city and the citizens, and if we've got a lot of citizens wanting this change we'd take it seriously and give it an endorsement, but I'd like to see that truly be the case."
She added, "If we just go with the information we've got right now, we're probably not going to get that change made."
Grand Island Animal Advisory Board approved a deadline of Sept. 1 for greater interest to be generated in changing the code, either by having the public contact City Council members or by signing a petition.