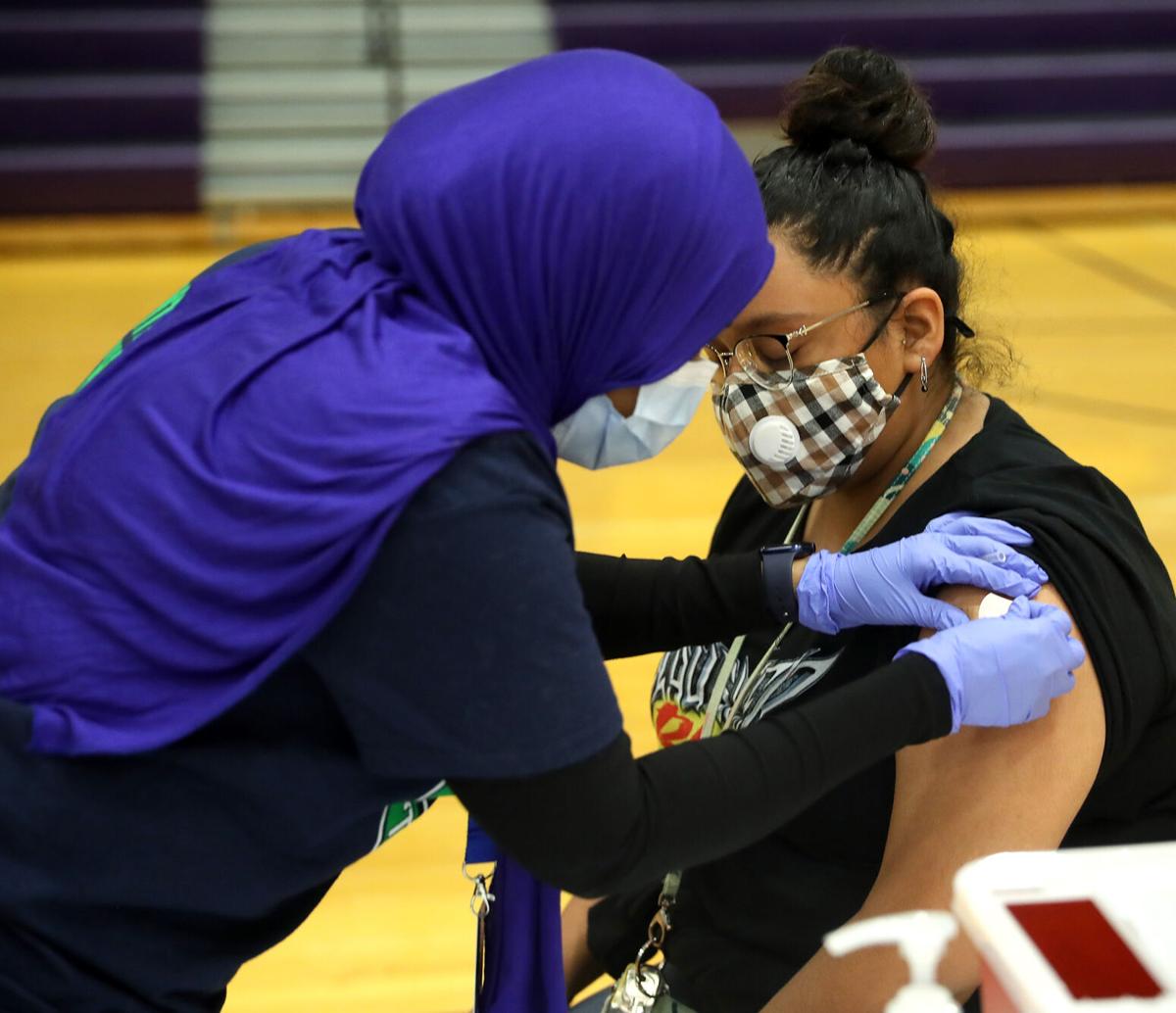 Cassidy Gakle waited in the Grand Island Senior High School's west gym bleachers Thursday evening. Her two children bounced around the gym enthusiastically as Gakle's spouse wrangled them.
Gakle was less than enthusiastic about getting vaccinated for COVID-19. "A friend of ours is a health fanatic," Gakle said. "She got hers and she's been pushing us to get ours. We decided to do it."
Gakle and her family were waiting in the bleachers after Gakle and her spouse received their first rounds of the Pfizer vaccination at a special clinic at Grand Island High School. Gakle said accessibility was also a factor in choosing to be vaccinated. "It's finally at more facilities; you can get it easier."
Accessibility was a major factor considered when GIPS and Central District Health Department teamed up to hold vaccination clinics at the school, said Jonna Mangeot, CDHD senior community health nurse.
"You want families to come where they're comfortable and target those people who can't make it during the day," she said.
Calvin Hubbard, assistant principal at GISH, said he shared that mentality.
"I do feel like the community feels safe coming to the school to receive the vaccine. We're really grateful to do that," he said.
An extra element of comfort came thanks to interpreters available at the clinic, Hubbard added. "We understand our community and our demographic. We know what they need and how to make them feel more comfortable."
Twenty minutes into Thursday evening's clinic, Gakle and her family had company in the bleachers for a post-vaccination waiting period. Some seeking their first rounds of COVID-19 vaccinations had arrived early, Mangeot said. She said organizers weren't sure how many people to expect.
"We ran a guess and we'll see how it turns out," she said.
Again, Mangeot indicated, accessibility to families was paramount.
"They sign up and then they can show up," she said. "We tried to make it as easy as possible. We're glad to partner with the schools."
Hubbard said the team effort pointed the vaccination clinic in a positive direction.
"We're familiar opening our doors with CDHD to give the vaccines," he said. "It's an effort and a partnership with the community, CDHD and our public school system."
Lee Jacobsen, GIPS safety coordinator, said the community partnership extends far beyond the number of people entering the gym unvaccinated and leaving with round one complete.
"We have 10,000 students that come to this school. If you add two parents — sometimes there's grandparents — to that, that's 30,000 people in the city of Grand Island that we affect," Jacobsen said. "We can vaccinate our kids, we can vaccinate our staff, but when we have younger ones who can't get vaccinated, we need to get their family members vaccinated."
Whether vaccinating thousands or vaccinating a few — such as Gakle, her spouse and the families waiting in the bleachers — Mangeot said every shot counts.
"Even if it's just a couple of people, it feels like it's worth it," she said.
An additional clinic is slated for 6-8 a.m. Saturday in the west gym at GISH this week for area families and students. Interpreters will be available to assist with check-ins.
All students ages 16 and older can be vaccinated. Students younger than 19 require parental consent. Register for a vaccination at vaccinate.ne.gov.