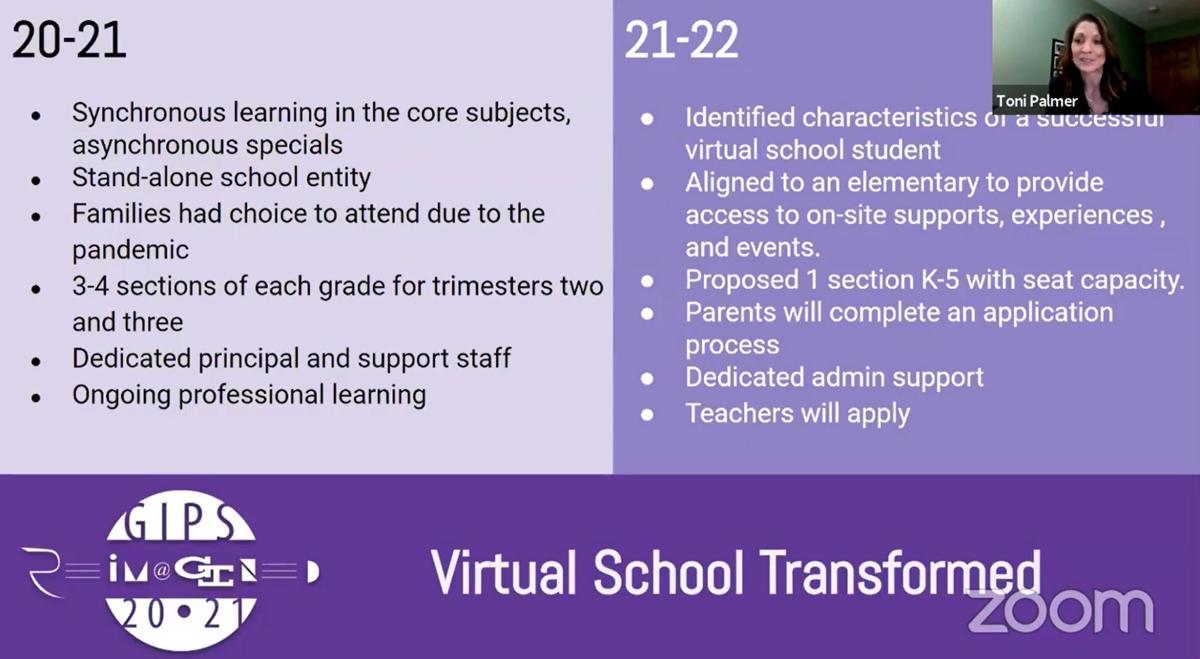 Grand Island Public Schools says it hopes to continue offering virtual school again next school year but is seeking input from parents on how to proceed.
At a town hall Wednesday night held virtually via the district's Facebook page, Toni Palmer, GIPS chief of leadership and learning, said that throughout the school year, GIPS has realized that some students and teachers are thriving in the virtual environment.
"The data is really driving a lot of our decisions in how we design a virtual school for the teacher," she said. "So anything from engagement data, attendance data and achievement data is all going to inform us on whether or not the virtual school is right for your child."
During the town hall, Palmer said online registration will open Feb. 8 for all students. She said that, when current virtual elementary school students register online, they will be placed in the on-site school they attended prior to the coronavirus pandemic.
"But we have an opportunity where you can check a box if you are interested in your child continuing to participate in virtual school as an elementary student," Palmer said.
"By doing that, you are indicating to us that you would like to have an application. We are asking that you return those by March 1. If you complete your registration after that, and you do indicate your interest, we will consider applications based on seats available."
Palmer said those who express interest in virtual elementary school will be sent applications between March 1 and March 5 that will be due at the district by March 15. She said acceptances will be communicated to parents by the first week in April.
GIPS Superintendent Tawana Grover said that students who are not enrolled in virtual school, or are being homeschooled, can enroll in virtual school next school year.
Palmer also discussed some of the changes the district is considering for next school year. She said the district is looking to align the virtual elementary school sections with brick-and-mortar elementaries.
"We are looking to align with an elementary campus to give students access to on-site support, resources like the library and access to other experiences and events that are connected directly to a campus."
Palmer said the virtual elementary school will have one section per grade level. She told The Independent in an email after the meeting that the virtual elementary school currently has three sections per grade for kindergarteners through fourth-graders, and four sections for fifth-graders.
Palmer said GISH had a virtual academy in place prior to the coronavirus pandemic and GIPS plans to continue this. She said GIPS is exploring possibilities for virtual middle school.
"We are looking at different opportunities and we are learning a lot about what sets students up for success in a virtual middle school classroom," Palmer said. "Their teachers are given some information and are leading the conversations around this topic. We will be sending surveys to families who will have students in grade 6-8 next year to give us some feedback. That will really drive our next steps in how we move forward with middle school virtual school opportunities."
Grover also discussed the district's master facilities planning. She said that with community support, GIPS has invested more than $100 million into its facilities.
GIPS is building a new early childhood education center — the O'Connor Learning Center — in the former Shopko building and has plans to move the Academy of Medical Sciences to the eighth floor of CHI Health St. Francis. The district also is considering plans for its recently purchased former Principal building.
"As we purchased the Principal building, we really took into consideration our functional capacity, as well as looking at the growth of our district and community," Grover said. "We have already begun to have some of the other conversations with our parent advisory council, as well as our key communicators."
After the town hall, parents could query GIPS administrators. One parent asked when students will be able to take off their masks at recess. Grover said the district's safety protocols show that this measure has been a major factor in keeping schools open and students safe, and that the district has no plans to change it.