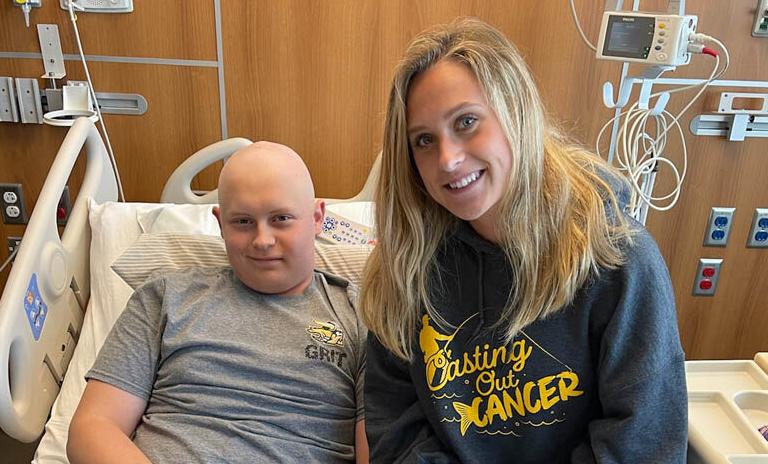 People at Northwest High School, 1-R Elementary School, friends and the law enforcement community are all rooting for Wyatt Gildersleeve.
A junior at Northwest, Wyatt is battling Ewing Sarcoma, which is "basically a rare form of bone cancer," says his mother, Emily.
The Gildersleeves have received support from people they don't even know.
Friends organized a fundraiser and had T-shirts made on Wyatt's behalf.
"It's amazing. I go places and see people wearing the T-shirts and I don't even know who the people are," said Wyatt's father, Jeremy.
Jeremy, who's a Grand Island Police sergeant, and Emily say that support has been humbling.
Wyatt was 16 when he was diagnosed with the cancer on June 2. He's now going through his second phase of chemotherapy.
Both of his parents are impressed with the way their son is handling it.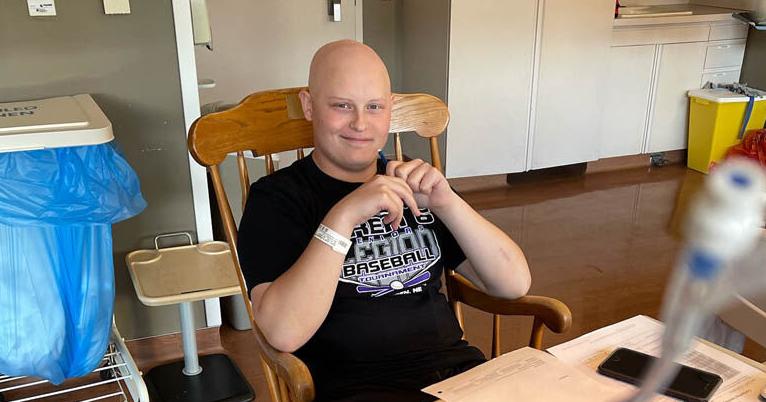 He's remained positive, upbeat and determined, his mother said. Both describe Wyatt as very mature.
The amount of grit he's shown "just inspires so many people," Emily said.
"He just makes Jeremy and I better people every day," she said.
On Sept. 15, Wyatt underwent a major operation that took 12 hours. Emily remembers it as "a long day of praying."
Doctors removed a tumor from his left arm. In the meantime, they had to remove a large portion of his ulna bone, "which is that outer bone on his arm, and basically put in a cadaver bone in its place," Emily said.
In doing the work, they cut out muscle tissue, arteries and veins. Doctors also took a skin flap from his leg and put it on his arm, she said.
The family was happy that doctors were able to do the surgery. If things hadn't worked out, his arm might have been amputated.
After the surgery, Wyatt spent a week in the hospital. "He was in a lot of pain for a few days," Emily said.
Recovery was a long process, she said. He was not able to use his left hand or his left arm. Wounds needed to heal where skin grafting had been done on his right leg.
Before surgery, Wyatt did six rounds of chemo, from June through August.
He's now getting eight rounds of chemo over 16 weeks. His third round is this week. After that, he'll have some radiation, his mother said.
He's working hard in therapy, getting his range of motion back in his arm.
"He's working really hard to where he can potentially get back to playing sports again," Emily said.
He's progressed enough to the point where he's driving again.
Jeremy said seeing his son overcome adversity has been inspirational.
The T-shirts his friends wear say "Casting out Cancer" on the front. The use of the word "casting" is a reference to Wyatt's love of fishing. His supporters say they're members of Team Gilly.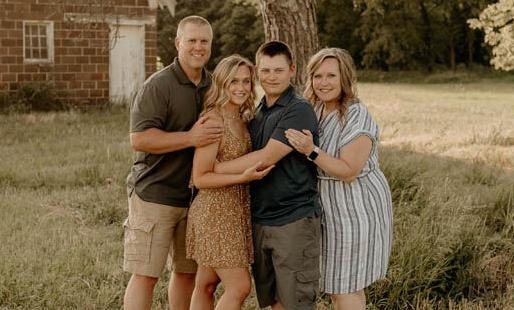 Wyatt has done a good job of balancing his school work with trips to Omaha for medical treatment, his mother said.
"We're so very thankful to have the amazing school district that we have," Emily said. The district treats "us like family" and his teachers have been "so awesome. They've done really well at working with Wyatt so that he can get his schoolwork done while he's in the hospital."
Students also have been great.
"The school's been really rallying behind him," she said.
At football games, when Wyatt was on the sidelines, fans chanted "Gilly, Gilly," using his nickname.
Early in the season, before Wyatt's surgery, Northwest football coach Kevin Stein had him give sideline calls to players on the field.
Teachers from 1-R school, Wyatt's elementary school, have been "extremely supportive," said Jeremy, who's been a Grand Island police officer for almost 15 years.
Wyatt has a twin sister, Makenna.
It's been hard for her "having to see her brother go through all of this" and having her parents gone so much, Emily said.
"They make a good team together. They're very close. So it's been hard on her," Emily said.
Even though Wyatt couldn't stay with the team all season, Emily and Jeremy watched every game because Makenna is a cheerleader.
Emily, who works at Central Community College, wants to thank everyone who's joined Team Gilly, either officially or unofficially.
She would never have expected the amount of support the family has received. "We're very thankful for the community, our family, the school — just everybody," she said.