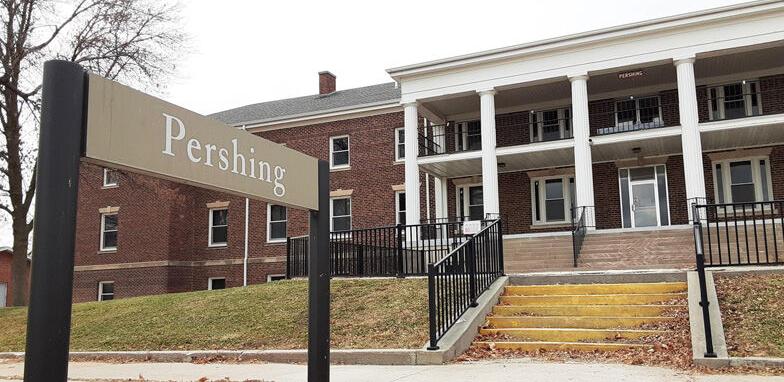 Grand Island's former Veterans Home Campus is being renovated into affordable housing by White Lotus Group of Omaha.
The site is now called the Liberty Campus.
As the H.E.L.P. Foundation, White Lotus is pursuing a $500,000 HOME Investment Partnership award from the Nebraska Department of Economic Development.
The award requires a public hearing on the property, which was held Friday at Grand Island Public Library.
The funds will be used to rehabilitate the historic Anderson and Pershing buildings on the campus site at 2300 W. Capitol Ave.
The renovation will be done in three phases, Teresa Kile, White Lotus director of community development, said Friday.
First, affordable housing. Second, a possible college training facility. Third, assisted living and possibly a new YMCA site.
White Locus is focused on the first phase right now, Kile said.
The project aims to use $800,000 in low-income housing tax credits, $800,000 in affordable housing tax credits, $2.9 million in federal historic tax credits, $1 million in state historic tax credits, $715,000 in tax increment financing, a conventional loan of $1.1 million and a deferred developer fee of $445,000.
The historic status of Liberty Campus has affected what can be done for the project.
"We originally thought we could get 100 units, that is now down to 47 units," Kile said.
A tour of the site was held earlier this month with the State Historic Preservation Office, Hall County Housing Authority, Hall County Assessor's Office, the project's architect and contractor, and others, to determine what could be renovated and what had to remain intact.
"We found there are open spaces we couldn't renovate for the historic tax credit," Kile said.
White Lotus is also pursuing a Collaborative Resources Allocation for Nebraska funds through the Nebraska Investment Finance Authority.
"With as many moving parts as this property has, this is the best place to take those two buildings through," Kile said. "Our philosophy is, if we can get these first two started, get that phase underway, we can start on the second phase and then the third."
A preliminary application was submitted describing why the development fits NIFA's program, and a full application for funds has been requested.
"What makes this eligible is that it's a re-adaptive, reuse of an existing building," Kile said. "We're taking those buildings and creating residential, affordable housing."
A housing study done by Grand Island Area Economic Development Corporation in August 2019 identifies a need for an additional 459 units of owner and rental housing for persons of 55 years of age or older by 2024, Kile noted.
Once completed, preference for housing will be given to veterans and their spouses.
The veterans home closed and moved to Kearney in January 2019.
The property then was transferred to the Nebraska Department of Administrative Services to maintain and facilitate its future use.
Ownership of the property was officially transferred in July 2020 from the NDAS to the Grand Island Community Redevelopment Authority.
In May 2020, CRA had approved the redevelopment contract and property transfer to allow the vacant campus to go to White Lotus Group.