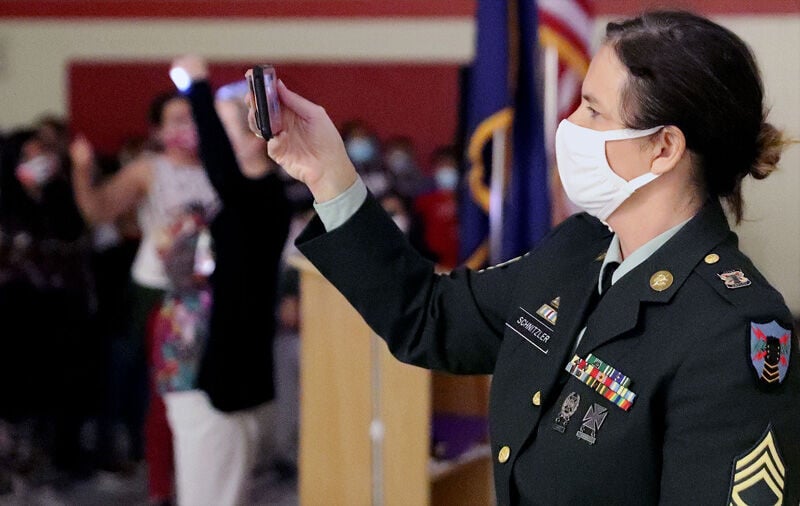 Howard Elementary School Principal Julie Schnitzler's Veterans Day attire always gets questions and comments from her students.
As she passed through the hallway a couple of years ago, a student stopped and said, "I like your costume."
Schnitzler's "costume" is her uniform. Schnitzler served in the United States Army Reserve for more than 26 years until retiring in 2012 as a master sergeant.
"I said, 'Oh you think it's a costume, but it's a uniform,'" Schnitzler recalled telling the student.
"It was a little teachable moment," she said. "I couldn't let that go without correcting it, so that they can use the correct vocabulary and they can better understand. Students really like that real life, tangible hands on, in the moment kinds of things."
Schnitzler signed up for the reserves to help pay for her own education. "My parents are both teachers, and they believe in education. I chose a private college, so of course, the tuition was high and I had student loans. My mom just said, 'You know, you should look in the military, maybe that would help.' She just did it kind of flippantly, kind of off-the-cuff."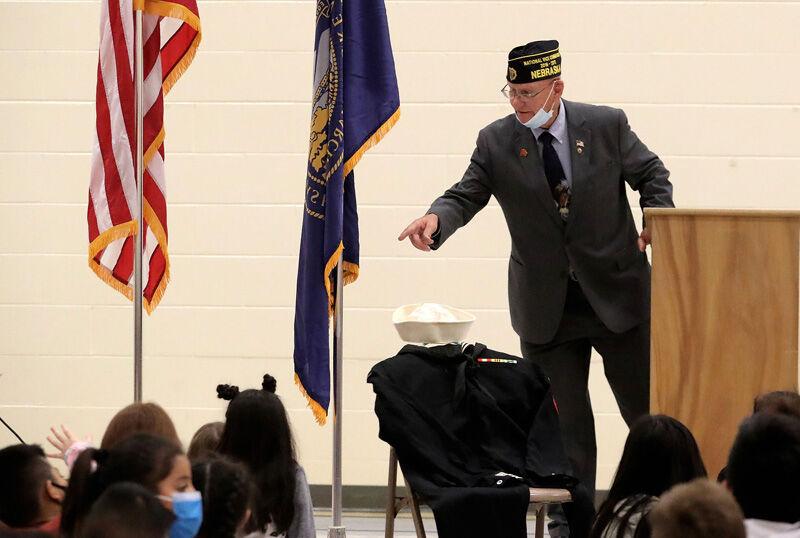 Schnitzler took the idea into consideration. "I was a freshman at Midland College in Fremont, and I wrote my mom a note," she said. "I sent her a letter because we didn't have cellphones back in 1986. I said, 'By the way, Mom, I joined the Army Reserve, I'll be going to training this June in Fort Dix, New Jersey.'"
As the years moved along, Schnitzler climbed the ranks of both the Army Reserve and the education system as she made the decision to transition from English teacher and volleyball coach to school administrator.
She hadn't been at Gibbon long when Sept. 11 happened. That morning she and the school secretary were chatting in the office. The announcement came over the radio, Schnitzler remembered.
"The reports came across that a plane had flown into the [Twin] tower. She said to me, 'What does that mean for you?' I had no idea. Then it was just waiting."
Soon after, in October 2001, Schnitzler's unit – the 3436th Military Intelligence Detachment – was called to active duty. The group of soldiers would either go to Lincoln or Virginia during their deployment, as technology infrastructure in Afghanistan at the time couldn't keep up with the U.S. military's advanced technology at home.
Fortunately for Schnitzler and her young family, she was stationed in Lincoln working with satellite imagery.
It's a lot different than what many of her students over the years have thought of as military service. Schnitzler often gets the question from her students: "How many people did you shoot?"
It's a question that leads to another teachable moment, Schnitzler said.
"I think there's a perception that anybody in the Army is shooting people. It seems like every year I get that question, and so I respond with, I have thrown live grenades and I have fired a rifle, but I've never shot a person. I have a different job. I work with computers. I use that analogy of the city has different people to make the city work – the Army has different people to make the Army work."
"It's that analogy and explaining that my job is still important," Schnitzler said. "I'm glad I didn't have to kill anybody but and people have died, Americans have shot the enemy, but fortunately, that wasn't ever my job."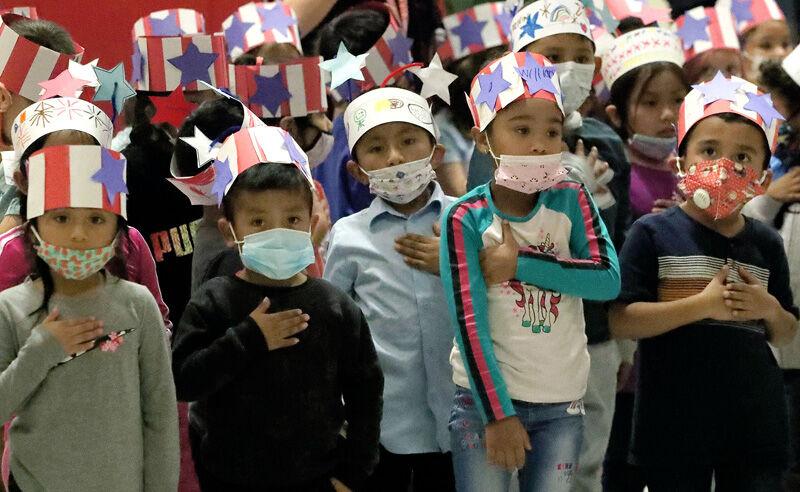 Her job in the military has helped her to make Veterans Day celebrations at Howard Elementary extra special over the course of her 14 years there. Schnitzler said she puts the students at the forefront. "I really try not to speak as much because I want it to be more student-oriented. I write the script, and I have the fifth graders introduce things."
The student body also sings a patriotic song together and there is a guest speaker – this year it was the National Vice Commander of the American Legion. Schnitzler said, "I try to bring somebody else each year to give a little different spin."
"We play some songs with some military images," she said. "Our kids are very visual because they don't all know the language. How I think of Veterans Day is to teach my Howard kids about our veterans and some Americanism – to appreciate people."
Schnitzler also shares a little bit of information about her uniform and her service. However, it's the questions in the hallways and during lunchroom duty that do the best teaching for her, she said.
"I'd rather have them ask," Schnitzler said. "I know that through being a veteran, I have a powerful voice. I really don't like the attention. I don't like to stand out. Being in the background and supporting and helping kids learn … I'm wearing this uniform for the kids because I want them to have a better understanding and see things to ask me questions. I wear it for them."
Jessica Votipka is the education reporter at the Grand Island Independent. She can be reached at 308-381-5420.