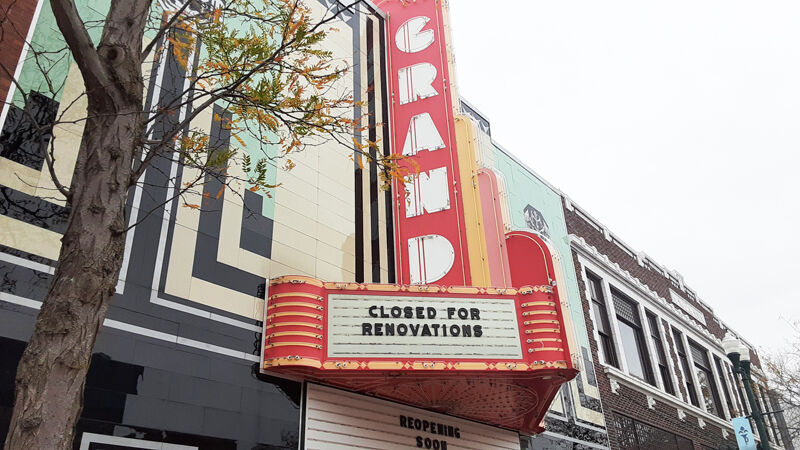 Grand Theatre is undertaking a major renovation effort.
To help with the project, the theatre's board asked Hall County Commissioners on Tuesday for $10,000 from the keno fund.
The project is expected to cost roughly $80,000.
"We started this project for renovating the auditorium before COVID started," Theatre Board President Craig Hand said. "The arrangements were all made and we were within a week of signing the contract, then COVID hit. We couldn't renovate during COVID because we had no shipments available, we had no workers to put it in. Everybody was staying home."
Renovations began last week with old seats being removed from the auditorium.
New ones are on the way, Hand said.
"We've tried to keep the concepts of the 1937 theater, so the seats will look very much of that era," he said, "but they will be better made, a little wider and they'll have cup holders, which is a blessing to anyone who's had to mop up a pop that ran all the way to the front."
Lighting and sound systems also will be improved.
The seats alone will cost roughly $160,000, which the board has ready, Hand said.
The board is seeking help for other costs, such as audio upgrades (roughly $16,000), flooring ($10,000), and lighting and controls ($38,000).
"That's the money we're trying to get raised to finish the project," he said. "All of this can be done as we get donations, once the seats are in. Right now, the most urgent thing is the sound after the seating."
He added, "We need all the help we can get."
Commissioner Gary Quandt called Grand Theatre "the heart of Grand Island."
"People who go to the Grand, after they leave, they go out and meet," he said. "And right now, with COVID and everything that's happening, there are some businesses that are struggling. They've got this project, it's a good project, and people come to downtown Grand Island to go to the Grand. It supports those businesses down there."
He added, "We've got to do what we can to help the people of Grand Island."
Keno funds are for "community betterment," Quandt noted.
"This would be one of those projects that I think would be good," he said.
Theatre board member Kim Mettenbrink, who serves as its volunteer organizer, said Grand Theatre helps support the greater Grand Island community.
"We support the library. We support Project Hunger. We support almost anyone who comes to us for free passes and for gifts, for drawings for their organizations. I can't think of all the ones we've supported," she said. "I just wanted you to know, we outreach to a lot of other places. It's not just the downtown area."
She added, "When you're giving to us, you're not just giving to the downtown area, you're giving to a lot of people that come to us."
County Commissioners were informed that grants already have been approved and the dollars allotted for this year's keno funds.
Commission Chair Pam Lancater suggested providing the funds as they come in.
"Gary is 100% correct that those funds are meant to be for community betterment," she said. "We've used them to help Cairo, to help Doniphan, various projects they've had. We've helped to subsidize requests from the road department. We are very cautious how we disperse these dollars, and I think we do use them for community betterment."
The matter will return to the commissioners in two weeks, when they will be informed of the total amount of keno funds currently available for disbursement.