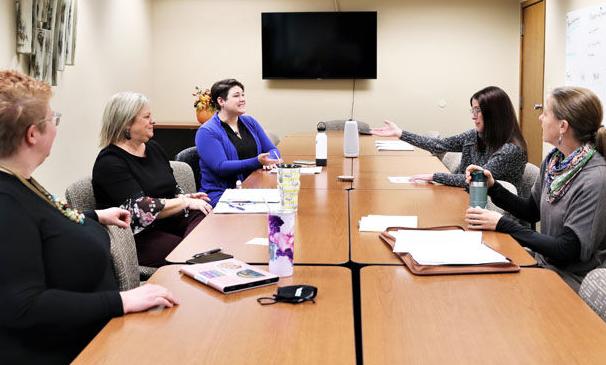 Generous donors help the Greater Grand Island Community Foundation help local nonprofit organizations and fill in gaps in the community where service is not provided through other means.
The foundation touches people in many different ways, says Amy Price, who is the organization's program officer. It helps nonprofits do more effective work, and helps them fund their programs and projects, she said.
Grand Island is home to many community-minded donors, Price said.
One of the foundation's programs is the Youth Philanthropy Board, a two-year program for Hall County high school students. The program is designed to teach juniors and seniors in the area what philanthropy is, and "why nonprofits are so important," Price said.
In their junior year, those students learn the basics of philanthropy, "how nonprofits fill gaps in the community," and why their work is important, Price said.
Hall County nonprofits apply for $20,000 in grants, which are awarded by the high school students every spring. The juniors visit each of the nonprofits, learn about the organizations, their missions and the projects they're hoping to fund. It's a "pretty neat program" that is all student-driven, Price said.
The students decide where the money goes. Typically, they help fund youth mental health awareness programs, drug and alcohol prevention programs for young people and peer-to-peer mentoring programs. They help projects that provide "safe and fun activities for youth in the community," Price said.
In their senior years, the students raise the $20,000 themselves. Before soliciting funds, "We help them develop some marketing and communication strategies," Price said.
The students then meet with donors and businesses and ask for money.
The young people are good at raising funds. "They exceeded their goal last year," Price said. Learning about the programs their junior year motivates them to raise the money to keep that work going their senior years, she said.
Another program Price oversees is the Nonprofit Excellence Institute that helps regional nonprofit organizations "figure out how they can do more," Price said.
The Greater Grand Island Community Foundation provides them with a year-long educational program. In addition, an organization called Mission Matters comes from Omaha to help the nonprofits identify their strengths and weaknesses and strengthen their weak spots.
The foundation chooses six to eight organizations for the program every year. The groups meet monthly, and their boards meet quarterly.
The Nonprofit Excellence Institute not only makes sure the executive directors are performing at full efficiency, but also ensures the board and executive directors are working well together.
"It's important work," Price said of the Nonprofit Excellence Institute. "It helps nonprofits in our community be able to do their mission more effectively."
One benefit of the program is that the executive directors develop a peer network each year. They can talk to the other executive directors, lean on them and ask for advice if they have problems within their organization. That network has been invaluable for them, Price said. Even after the program ends each year, some of the executive directors continue to meet monthly.
Price works on a number of grant programs administered by the foundation. One of them is a $5,000 biennial grant program that assists many different areas. The grants might help young people, provide community enrichment, assist veterans or assist with animal welfare, arts or culture.
In addition, the foundation distributes money from a fund that aims to stop human trafficking. Money from that fund, called Stop Trafficking on the Plains, is distributed twice a year.
Recently, the foundation started a program called Grow Your Impact. Grants from that program help make sure local nonprofits are able carry out their mission "effectively and efficiently," Price said. Recipients might benefit from organizing a strategic plan, or some additional training for staff members or the executive director. Help might also come in the form of computer software.
The foundation has a discretionary grant process that's aimed at community enrichment. The invitation-only process is meant for larger projects, possibly running over multiple years.
The organization also provides COVID compassion grants, which help nonprofits that have struggled due to the coronavirus.
In addition, the Greater Grand Island Community Foundation provides many scholarships, both to seniors and nontraditional students.
The foundation's grants are funded by donors who have a desire to help their community. For instance, "We have a wonderful donor that established an Excellence in Teaching award," which awards a grant "to teachers in our community that are doing good work," Price said.
Price grew up in Grand Island in a lower-income family, she said. She didn't really realize the nonprofit world, or philanthropy, existed. So "stepping into this role at the foundation has been very heartwarming," she said.
She had ties to many giving people through their "children or grandchildren growing up and attending Senior High. So it's been a neat process for me, to be able to see how giving the people in our community are" and the many individuals impacted by philanthropy, she said.
In showing young people how important nonprofit work is, the foundation hopes to have an impact on their futures. Hopefully, as they build their own lives in Grand Island or elsewhere, they will understand the importance of volunteer work and giving back to their communities, she said.
The foundation keeps good track of what the community needs. The donors then provide the tools to "help us fill those gaps," Price said.
"It's exciting work," she said.