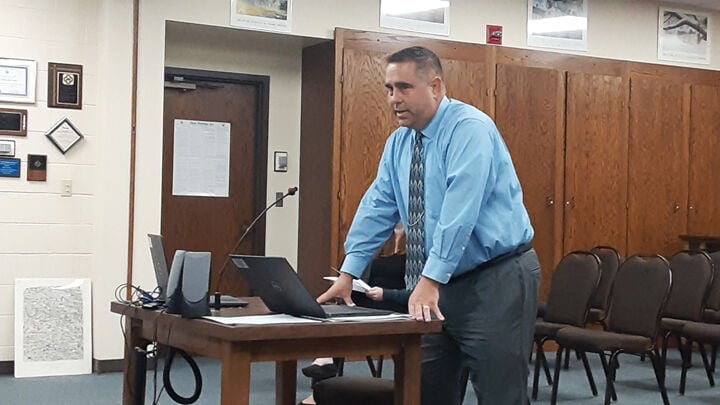 Hall County Attorney Marty Klein spoke against a proposed nationwide COVID-19 vaccine mandate at Tuesday's meeting of the Hall County Board of Commissioners.
President Joe Biden has asked the Department of Labor's Occupational Safety and Health Administration to develop a rule that will require all employers with 100 or more employees to ensure their workforce is fully vaccinated.
OSHA is issuing an emergency temporary standard to implement this requirement, according to the White House COVID plan webpage, whitehouse.gov/covidplan.
The plan was announced Sept. 9.
Klein, during the public participation part of the meeting, said he has "very serious concerns" about this plan.
"I don't know if it qualifies for Hall County. I don't know if you're exempt because you're a government agency or not, but I believe we employ more than 100 people. We are going to lose people should we follow that guidance," he said.
"I'm very seriously concerned we will lose people should we follow the mandate that sounds like it's going to come from OSHA, which, I would assert to you, is unconstitutional."
Commission Chair Pam Lancaster voiced her appreciation to Klein for his comments.
"I think this is way out there," Lancaster said. "It's ridiculous. We were never required to get a flu shot, and, quite frankly, from the statistics I read, there are just as many people who die from flu."
She added, "Not so many young now, as we see with this new variant, but it is a terrible thing."
Influenza has resulted in roughly 117,000 deaths and 119 million illnesses from 2017 to 2020 in the United States, according to data reported on the Centers for Disease Control and Prevention website.
Since January 2020 there have been 658,410 COVID-related deaths, according to the COVID tracker page at cdc.gov.
Lancaster, who said she has received the COVID vaccine and plans to get a booster, said getting the vaccine must be a personal choice.
"It's there, it's offered, it's a good thing. But if somebody chooses not to, I don't know where we start infringing on people's rights," she said.
Klein agreed, adding that he is also not against the vaccine.
"I recommend it to folks, but it should be a personal choice and not a mandate," he said. "People make personal decisions if they think they're at risk. They're going to make self-interested decisions. We don't need our government mandating this for us, certainly not at this stage of the game."
The commissioners on Tuesday approved guidance for the ongoing pandemic as part of their consent agenda items.
The document informs department heads on how to respond to employees who test positive for COVID, close contacts, masks, booster shots and inmate protections.
The guidance, prepared by the Hall County Attorney's Office, was needed, Lancaster said.
"It's tough when department heads are wondering what on earth is going on, what they must comply with," she said. "It puts everybody in a very difficult position, regardless of your attitude toward the vaccinations."
Through the pandemic, Hall County has taken actions to keep its employees and the public safe, including social distance markers and sanitization.
Klein also supported the pandemic guidance.
"It's not that I'm 'disregarding the science,' which is a term that has been terribly overused," he said, "but ... we got the guidance from our local health department and we're making efforts to do the right things for our employees and their safety."