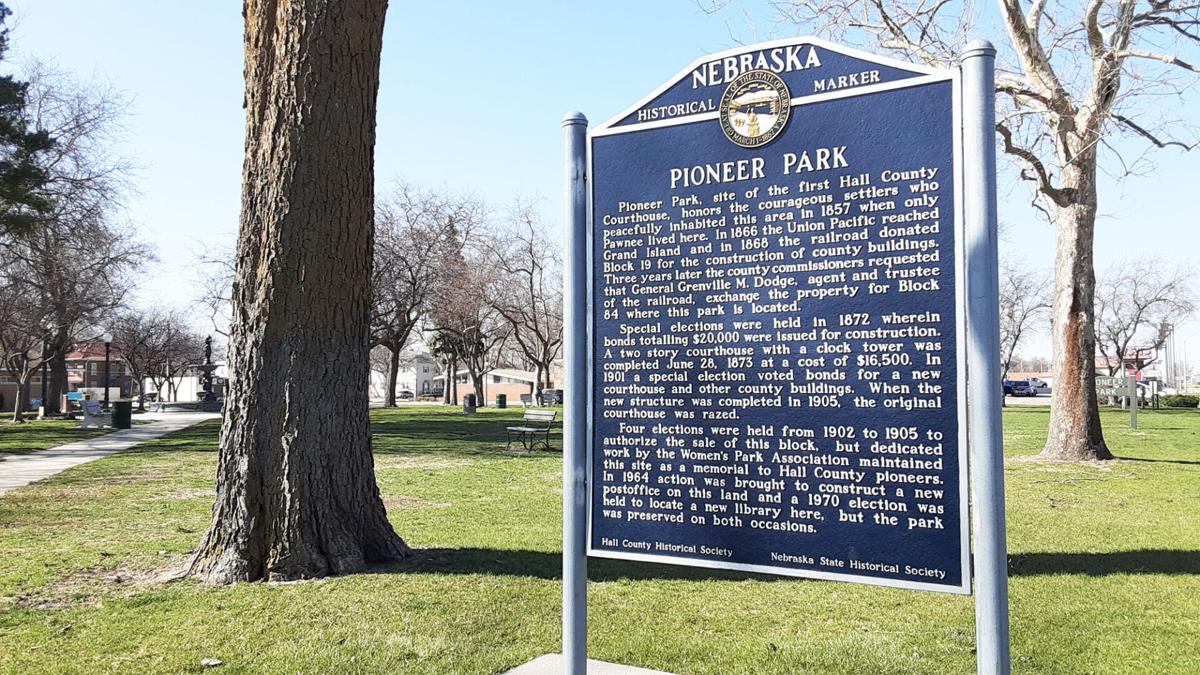 Hall County Historical Society is celebrating its upcoming 100th anniversary with a campaign to add 12 new historical markers across the county.
Starting in September 2022, a new marker will be unveiled each month of the anniversary year.
The Historical Society is raising funds for the markers, which have been approved by History Nebraska, the state historical society.
The project is expected to cost as much as $72,000, said Michelle Setlik, vice president of the Hall County Historical Society.
Small markers on one post cost $2,300 each, and larger, double-post markers cost $6,000.
Hall County comprises 23 historical markers.
Setlik described the markers as "an outdoor classroom" for people who want to learn about the state's history.
"They tell historical stories about people, communities and events throughout Nebraska," she said. "There are people, as they travel through the state, specifically seeking out these markers, wanting to learn more about the history of the area and the state."
Jill Dolberg, History Nebraska deputy state historic preservation officer, described the Hall County effort as "impressive."
"It's never happened before," Dolberg said. "I don't think anybody has ever tried to do so many in so short a time. It's not only a stretch doing all the research, but a task compiling the research and getting it fact-checked and doing the fundraising."
Two markers have been fully funded by landowners at the site of the former Cornhusker Ordnance Plant, Setlik said.
One will honor the farm families who lost their homes when the plant was built, and one will be about the significant $28 million investment into the 1942 facility.
"There were people who had homesteaded that land and lived there for generations, and all of a sudden, when World War II was coming about, the Army needed land to build an ammunition plant. They condemned all that land and the people who lived there had 30 days to get out," Setlik said. "Some people never recovered from that."
Although on private properties, marker sites will be public and accessible at all hours.
Sites for markers in other Hall County communities also have been identified.
Cairo will have a marker about the town's distinct name, chosen in 1892 by engineers for Burlington Railroad who thought the area, on the edge of the Nebraska sandhills, resembled an Egyptian desert.
Wood River will have one about the rerouting of Lincoln Highway, now Highway 30.
Doniphan will have a marker commemorating a massive fire, started by a botched robbery, that burned down half the town in 1887.
Hall County will have one at Schimmer's Lake, once the site of a popular state resort.
Grand Island's Pioneer Park, the site of Hall County's first courthouse, will have a marker to honor O.A. Abbott, an early Hall County lawyer and Nebraska's first lieutenant governor.
Dolberg said every community in Hall County will have a marker in or near it.
"The program really reacts to what our citizens want. We don't go out and look for markers to do," she said. "In this case, it's a county interested in its history and the stories that they want to share."
Hall County Historical Society was established in 1922 and is the oldest continually operating county historical society in Nebraska, Setlik said.
When the organization was formed, its first project was placing six granite markers along the westward trail followed by pioneer Ezra Meeker.
Dolberg said placing markers that mark historical sites is a worthwhile effort.
"I have been amazed at how popular they are and how many people go out of their way to find all of them," she said. "It helps give people a place or thing to focus their affection for their local history toward, which is nice. The special thing is that projects always start locally."
Setlik is optimistic the funds can be raised for the project.
The Historical Society is already meeting with community leaders and elected officials.
"I really do feel that we're going to have enough people that we're really going to be able to tell these stories and give these stories justice," she said. "It's going to depend on how much money we can raise."