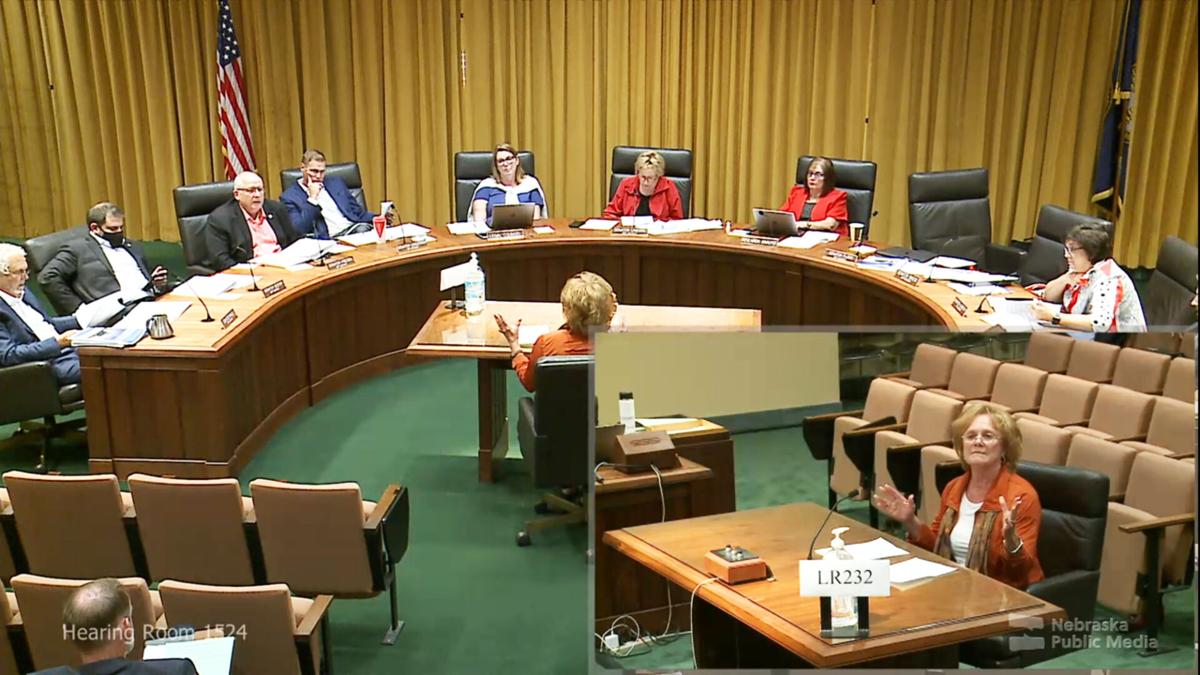 Hall County Commissioner Pam Lancaster and Grand Island property owner Andy Marsh testified in Lincoln Friday against rising property tax valuations in Hall County.
The hearing before the Nebraska Legislature's Revenue Committee concerned LB232, "an interim study to examine the assessment procedures of county assessors for each class of property and whether the assessment process would benefit from other parties assessing certain classes of property."
LB232 was introduced in May by state Sen. Curt Friesen of Henderson.
In 2020, "concerns over property valuations became very apparent," Lancaster said.
Hall County Commissioners had just authorized a revaluation of commercial property.
"The increased value of multi-family homes and some other commercial properties was staggering," she said. "Many, if not the majority, had an increase of 100% to 150% and in some cases the increase was over 200%. You can imagine the reaction of these property owners."
Property owners were put into a position where they would have to notify tenants that rents would have to increase.
"The situation would be serious at any time, but that was at the heart of COVID-19," she said.
Lancaster testified that the reason stated by the assessor's office is that commercial properties were undervalued.
"We wondered, if this was the case, why in past years valuations had been within Nebraska's allowable assessment range, per the state assessor's office?" she said.
Lancaster protested the burden being placed on property owners.
"There needs to be legislation to limit the annual increase of valuations either by (county) boards of equalization or the state," she said. "County assessors should not be allowed to set valuations with little to no accountability to county boards."
Lancaster advocated for a gradual implementation, rather than a yearly cap.
"I'm suggesting, if the increase is 150%, that the poor guy gets maybe three years to build it into his budget," she said. "Something went amiss, and it was a horrible hardship for our people. We need to look at this, because it's a problem."
The Hall County assessor position is elected.
Asked if the position should be appointed, Lancaster would not give a firm answer.
"I feel like the whole process would have to be looked at," she said. "What about the county attorney or election commissioner? If I answer that question, it throws everything into a tizzy. My opinion is that there's a glitch and we need to find it."
Andy Marsh is owner of Keystone Properties and other multi-home properties in Grand Island and Hastings.
Marsh is the person who brought the concerns about the mass valuation increases to Friesen.
He testified on the "unpredictability on the raises" and the "lack of clarity on the methodology being used" for the initial values.
Marsh noted that he does not have such problems in Adams County.
"One specific property of mine in Grand Island alone saw about a 110% increase," he said. "That increase alone for that property would onboard an additional property tax expense to me of $80,828 per year."
Overall, in 2020, he faced an increase of roughly $212,000 in Hall County property taxes.
"I don't know how any small business, which I am, can onboard one expense like that with a curveball and not take drastic measures," he said, "whether it be kicking deferred maintenance expenses down the road, personnel or rent increases."
Because of the increased valuations Marsh said he's had to raise rents by $45 per month.
"It may not seem like much, but for some of my tenants, that can mean a decision between a refill on a medication or other life need," he said.
Such valuation increases have an impact on Grand Island developers, as well.
According to Grand Island Area Economic Development Corp., 1,300 to 1,500 new residences are needed in Grand Island to meet workforce demands.
"I'm approached on a daily basis to build," Marsh said. "There is no way I'm about to take that step with the fear of the smoke and mirrors behind the scenes of what would happen if I did that."
He added, "I didn't get slapped. I got beat down with a bat."
Friesen, a committee member, testified that the fault rests in multiple failures.
"There was a failure to assess the properties on a regular basis," he said. "And there was failure at the state level and the oversight to make sure these things were happening."