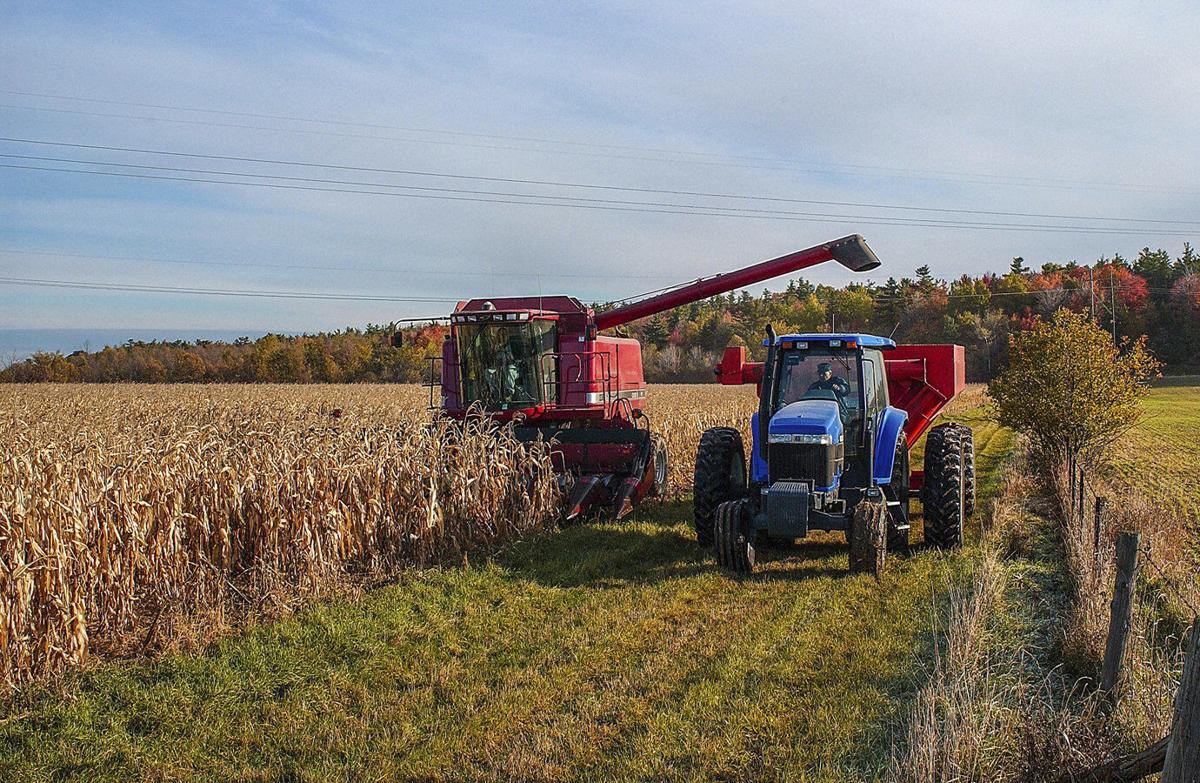 This is always an exciting time of year as the weather starts to cool off, crops are drying down, and harvest 2020 is starting.
In the coming weeks, we are going to see a lot of activity across the area that includes long days and late nights for producers.
Harvest is always a stressful and rewarding time of the growing season, and this year has been difficult for many producers experiencing drought stress, storm damage, uncertain commodity prices and illness from the pandemic.
This is a reminder to take a few extra minutes and think about harvest safety this fall. One of the most important things you can do on your operation is to have good communication. While this may seem like a no-brainer, accidents happen when poor communication occurs.
It's important that everyone involved at harvest time knows what the general plans are for the day, including field location, time, equipment needed and back-up plans in case something changes.
Having a list of workers' phone numbers and emergency phone numbers (i.e. fire department, 911, etc.) in all vehicles or in a central location can save a lot of time if an accident occurs.
Make sure your equipment has slow-moving vehicle signs, reflective tape, fire extinguishers, operating "back-up" sirens (if applicable), safety shields on fast-moving parts and handrails.
Some of these newer combines have safety features that turn off the reel or head when you get out of the cab. If your combine doesn't have these features, use common sense and turn off the head or auger when working on your equipment.
As 2020 has been a dry year, it is not out of the question to have potential fire hazards this harvest season. Two ABC-type fire extinguishers are great to have on hand: one 5 pound extinguisher in the cab of the combine, and one 20 pound model at the ground level.
Having a fire extinguisher in the truck or tractor cab is also essential as sometimes the person on the ground might notice a fire starting before the person in the combine does.
Another essential thing to have is someone following you when moving equipment between fields, especially on busy highways.
I can remember many nights following the combine home after a long day of harvest.
The last thing I want to touch on is personal safety. Make sure to wear good work boots with slip-resistant soles and heels. While face masks have been an everyday occurrence in 2020, wearing one this fall in dusty working conditions will help reduce the amount of dirt, dust and debris from entering your lungs.
Wear proper hearing and ear protection, especially around augers and grain bin fans. Make sure to get plenty of sleep, eat regularly and take breaks when needed to ensure sharp mental focus.
Finally, make sure to wear proper clothing that won't get caught in moving parts and is easy to see. As the wife of a plumber, I will admit it took some time to get used to the bright yellow and orange workshirts. However, the more I hear about accidents on the farm, the more I have come to appreciate the vibrant colors.
Accidents happen. Make sure people can see you when you're working around large equipment.
I hope everyone has a safe and successful harvest season, and for everyone driving to work in the morning, be patient and give a wave to the farmers this fall.
Speaking of harvest, it's time to get your grain storage facilities ready.
While some folks use grain storage bags, grain bins are still popular options to store grain after harvest. First thing you want to do is make sure the bins and any equipment being used is clean and void any of the old grain that could contaminate the new crop going into storage.
Maintain the outside of the grain bin site by mowing around structures, re-grade the site for better water drainage, inspect the foundation, replace any damaged or missing anchor bolts, inspect the roof for leaks or corrosion, and check the vents and access hatch to see if anything needs to be fixed or replaced.
Fans, heaters, and other electrical components important for grain storage should be inspected or replaced if needed.
Another thing to consider is any potential issues you may come across concerning insects. Insects can wreak havoc on stored grain, so consider using a residual insecticide if you plan to store the grain for several months. There are many resources for insecticide treatment options and managing stored grain on UNL's website https://cropwatch.unl.edu/2019/preparing-grain-bins-and-equipment-harvest.
Remember to be safe this harvest season, use the buddy-system, and wear appropriate PPE if you need to go into a grain bin.
Sarah Sivits is the Dawson County Extension educator in crops and water, and serves Dawson, Buffalo and Hall counties. Contact her at 308-324-5501 or by email at ssivits@unl.edu.
Get local news delivered to your inbox!
Subscribe to our Daily Headlines newsletter.