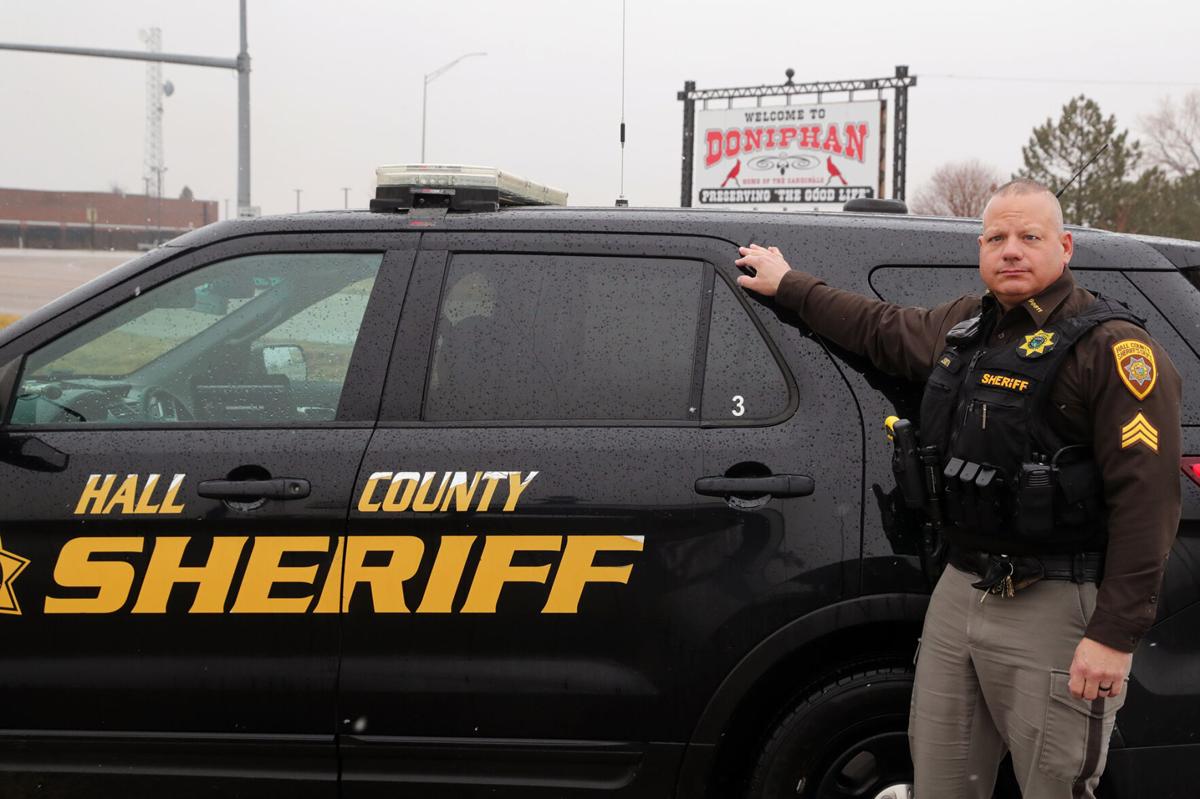 Having a number of Hall County sheriff's deputies living around the county has its advantages.
Many of the deputies are able to take their patrol units home with them. They go on duty as soon as they get in their cars to go to work.
So they can respond to a call directly from their homes.
A lot of times, a deputy will have a call for service waiting for him as soon as he goes on duty, said Hall County Chief Deputy Jim Castleberry. Dispatchers might hold a nonemergency call in an area where a deputy lives, knowing that he's working that day, Castleberry said.
The proximity can be even more helpful in emergency situations.
Many deputies live in Grand Island. But some sworn Hall County officers also reside in Doniphan, Cairo and Shelton. Some live outside of the county.
Sheriff Rick Conrad lives in rural St. Libory in Hall County.
Castleberry's home is west of Doniphan.
The Doniphan area is well-covered with Hall County law enforcement. Deputy Clark Finecy lives in rural Doniphan. Living in Doniphan are Sgt. Jason Smith and Deputy Donavon Fowler.
Shelton is the home of Deputy Eric Little. Deputy Marc Vieth lives in Cairo.
Capt. Troy Arends and Sgt. Bryan Simonson live in rural Grand Island.
All full-time sworn officers have the opportunity to take home patrol units, as long as they live in Hall County or within two miles of the county line.
Three full-time deputies who live in Central City don't have a patrol unit because they live too far beyond the Hall County line.
Two deputies aren't furnished with cars because they are part time. One of them, Joe Hansen, lives near St. Paul,
The other part-time deputy, Andy Allen, has a rural Phillips address. He lives just across the Hamilton County bridge. Both Hansen and Allen are retired State Patrol troopers.
"One of our deputies who live in Doniphan is one of our accident reconstructionists," Castleberry said. If he's needed to determine how an accident occurred, instead of coming into Grand Island to get a car, "he can just go right from his home."
Having a patrol unit also has its advantages.
The department's K-9 handler now lives in Grand Island. Before, when he was living out in the country, if a K-9 were needed, he could go immediately from his home as opposed to coming in and getting a car, Castleberry said.
Many residents of area towns know they have a deputy in their midst. Sometimes, they'll stop by a deputy's house to ask questions, Castleberry said.
The Sheriff's Department also has agreements to provide law enforcement to Alda, Cairo, Doniphan and Wood River.
When Castleberry and Capt. Gregg Ahlers started with the department in 1979, they were assigned to live in a certain town. Ahlers was required to live in Doniphan, and Castleberry was told to live in Wood River.
Chuck Fairbanks, the sheriff at the time, wanted deputies living in specific towns. One deputy lived near Cairo.
But about a year later, Fairbanks rescinded the mandate, allowing deputies to live where they wanted.
Grand Island Police Department officers are required to live within 35 miles of the city they serve.
Most live within the city, but officers also live in Aurora, Central City and Cairo.