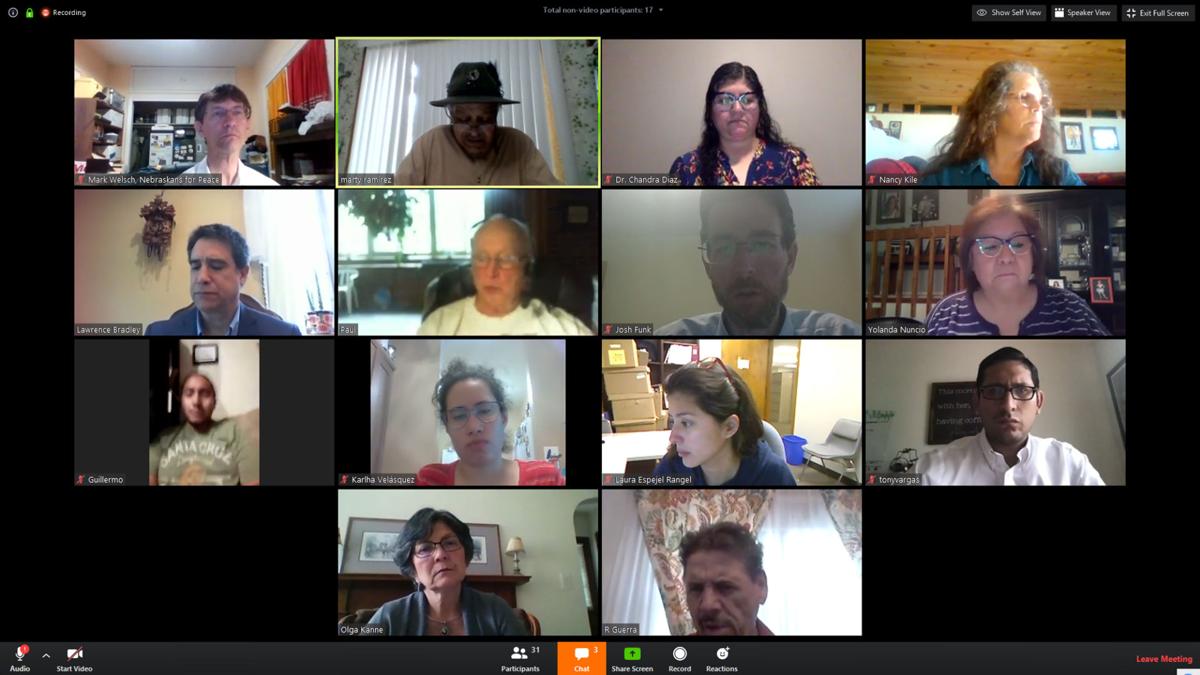 Nebraska's Hispanic community has been affected greatly by coronavirus, particularly in the meatpacking industry.
A virtual press conference held Thursday by advocacy group Las Voces called upon Gov. Pete Ricketts to take action on these issues.
"Workers have not been treated fairly, especially workers of color," Las Voces member Marty Ramirez said. "We know COVID-19 is having a disproportionate impact on the Latino, Hispanic population in Nebraska in the number of infections, deaths and across wide range of health issues."
The current crisis continues the history of how Hispanics in Nebraska have been viewed and treated, Ramirez said.
Instead of working conditions, the business community and political leaders are blaming the cultural and living conditions of its employees.
"Meat-pack workers, who are mostly Latinos, are being sacrificed and treated as expendable and not essential," he said.
Yolanda Nuncio, a Grand Island community leader, said these companies are failing to protect Hispanic workers, many of whom are second- and third-generation Nebraskans.
"Meat processing plants thrive and allow communities to thrive across Nebraska," she said.
"Meatpacking workers are forced to be considered as essential workers; unfortunately they are being used as disposable workers. Our communities are becoming sick from COVID-19 because they are not being adequately protected from their daily jobs."
Olga Guevara, Unity in Action executive director in South Sioux City, said meat-plant workers in South Sioux City face inconsistent and late-coming protective equipment.
"There have been folks who have to wear a mask for the entire day," she said. "You can imagine how hard that would be."
Social distancing, important to workers' safety, is also not being implemented.
"It doesn't do much good if you have protective equipment, but you're not being allowed to distance from other workers," she said.
Meat plant workers are being ostracized, as well, Nuncio said.
"People feel they're being ostracized because they work at JBS or Tyson or whatever," she said. "When people are blamed for things that have happened because they live with a grandma in the family, or because of cultural traditions, it starts to affect the community and our concept of ourselves."
She added, "They're heroes not only to our community, they're heroes to their families, because they realize the chances they're taking to help their families survive."
Conditions for workers in Grand Island, though, are improving, Nuncio said.
Some plants have started to institute social distancing, provide protective equipment, and offer staggered breaks.
"Unfortunately, these efforts may be too little, too late," she said. "Some of these plants have not lowered their production rates, so when workers go on breaks, their coworkers must maintain the same rate of production. Workers are not being informed that their coworkers are sick and they've spent hours working next to the infected person, thereby exposing them to the virus."
State Sen. Tony Vargas voiced his support for the workers.
"They are essential workers," he said. "They all deserve the same dignity and respect that any of us would expect to receive, and to me that means ensuring these employees are getting what they need so they can go to work and be safe."
Vargas said workers should have access to free tests and notified if coworkers are infected, and that data should be provided to the community and state on emerging hotspots.
Lawrence Bradley, a former USDA slaughterhouse inspector and U.S. Army food inspector, said packing-house workers should be treated as heroes for their sacrifices and service to their communities, the food industry and their country.
Bradley noted that of the "Big Four" meatpacking plants, two are owned by foreign nations. Smithfield is owned by China, and JBS-USA is owned by a Brazilian firm.
He also called for University of Nebraska Board of Regents members to be investigated for their business involvements in these companies.
"Folks like them, they should be brought into the conversation," he said. "The media should put a camera on them and asked, what did you think?, and if they had any influence on the governor to keep that packing-house line moving."
Nuncio called on Gov. Ricketts to help protect these communities.
"The meatpacking workers of Nebraska need to be protected by you and the plants need to be temporarily closed and thoroughly disinfected, allowing the workers to stay home, get healthy and return to an environment that is safe for them," she said.
Ricketts' failure to meet with workers directly sends a poor message, Ramirez said.
"The perception is out there that you're not listening," he said. "What does it say that it took this long to have translators? You're dishing out all kinds of information, even in sign language, and failing to realize … in the Latino community, in the meat-packer environment, Spanish is spoken."