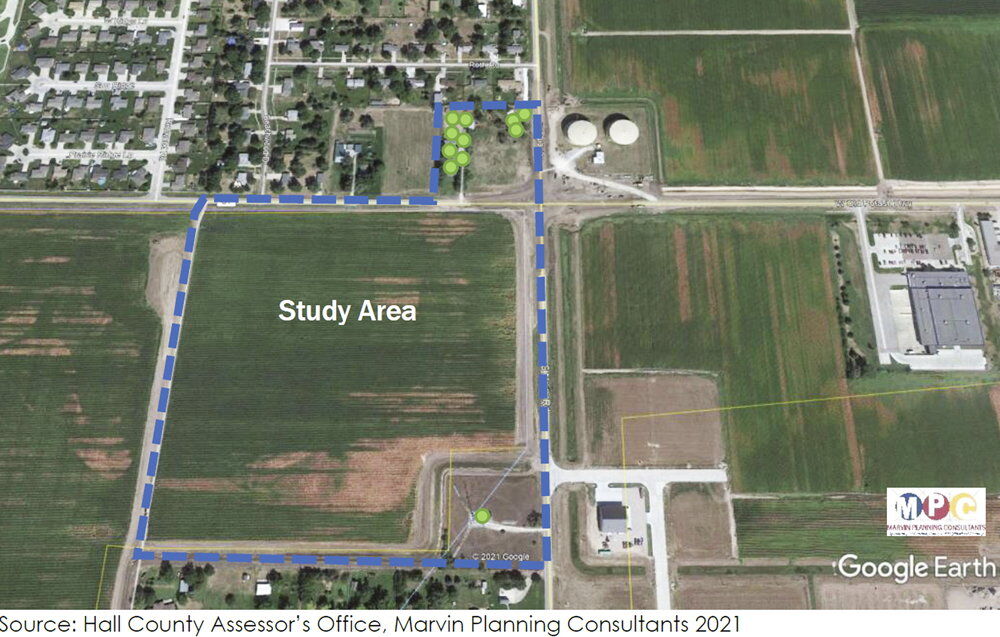 Grand Island's Gosda subdivision is no longer part of a blight study that promises to bring a new retirement community development to the city.
Horizon Builders LLC purchased 40 acres of vacant land southwest of the intersection of Old Potash Highway and North Road. The land is completely vacant and alone would not qualify for the needed tax-increment financing from the city.
For an area to be declared blighted and substandard, it must have structures on it that are at least 40 years old.
To qualify for TIF, Horizon originally completed a blight study that included Gosda subdivision, a 23-acre neighborhood south of the vacant land.
That study was met with vocal protests from neighborhood residents at a March meeting of the Regional Planning Commission.
Though approved by the RPC in a 4-3 vote, project developer Josh Rhoads pulled the study from the City Council agenda.
A new blight study has been completed by Horizon.
The City Council on Tuesday approved forwarding the new study to RPC for action. This study includes the 40-acre lot, as well as a three-acre site to the northwest of the vacant land.
There are 10 structures on the property: two houses and other outbuildings.
"The study has been reconfigured and does meet the statutory requirements for declaration of the area as blight and substandard," Planning Director Chad Nabity explained.
According to a report from Marvin Planning Consultants, the study area qualifies as "blighted" as 100% of the structures were deemed in normal condition or worse and are more than 40 years old, and the area is missing curb and gutter, is missing sidewalks and has rural drainage.
Zach Butz, an attorney representing Horizon, told council the blight study was reconsidered after receiving feedback from the community.
Property owners at the site have been made aware of the blight study, Butz said.
"The finish line is something everyone we talked to tended to agree with and be in approval of for the city of Grand Island," Butz said. "It was just the specifics of what was being brought into the blight study."
TIF support for projects could become more common, Nabity said at Wednesday's Community Redevelopment Authority meeting.
"Given the nature of the cost of development at this point I don't know how much development we're going to see that does not involve some sort of city involvement," he said. "It puts that onus to make that development happen, and a success, on the developer, because they don't get back otherwise."
He added, "I anticipate, for a while we'll see more of these."
A recommendation to forward the new blight study to RPC was approved in a 7-3 vote with City Council members Chuck Haase, Mike Paulick and Justin Scott voting against it.
During the Community Redevelopment Authority meeting, City Council member Vaughn Minton said the 7-3 vote is because the project only included that three-acre area to qualify for TIF.
"It's sending the message out that now the council is getting a little more aware of what's going on, so when someone comes in with just empty ground there's going to be questions," he said. "I was surprised by the three negative votes, but I wasn't surprised either."
The new Horizon Builders blight study will be discussed June 2 at the RPC meeting.