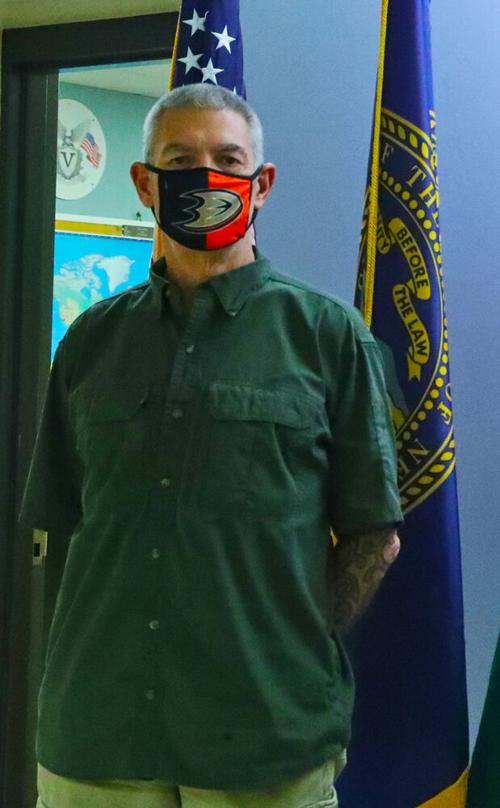 Serving in the military means many different things to different people, whether they are currently active duty, reserve or a veteran.
Barry Horner is two of the three: He is a veteran and still serves in the reserves. Barry's full-time job is director of Veterans and Military Services for Central Community College at the Grand Island campus.
Horner served active duty in the U.S. Army from 1980 to 1992. He has been in Army reserves since 1992.
He was born in Iowa, but jokes that his family moved so much that his hometown is Interstate 80.
"My father worked for Montgomery Ward, and later became a pastor, so that's why we moved so much — we went where he was called."
Horner's military journey began in York, where he joined the National Guard on a whim, deciding to find himself.
"It just dawned on me that I really needed some structure and discipline in my life that I never have had anywhere else," he said. "I joined the guard in York, and it turns out that I was pretty good at it."
Although Horner was good at his newfound career, being in reserves was only part-time, and that wasn't enough for him.
"After a few months in the guard and not liking it, I contacted the recruiter in Columbus and went active duty," he said.
Horner said he had just gotten married and had a child on the way, so he thought he needed to do something for his family.
For the next 12 years, Horner traveled around the world.
Horner was stationed at Fort Campbell, Ky., but did serve overseas in Germany and was later sent to Iraq in 1990. By then he had transferred back to reserves.
"By the time the first wave of the Iraq War had finished, they weren't sending much in the way of reserves and National Guard forces so there was a huge lull," he said.
"While in reserves my unit didn't mobilize, while other units were mobilized to go fight war-fighting efforts, my units trained and prepared other units to go."
Horner was an E-5 sergeant when he left active duty and stayed on as reserves. He is a first sergeant with the rank E-8.
During his service time, Horner served in several capacities, including driver for the food truck on post. While on field maneuvers and exercises, he would transport soldiers to where they were needed. When he got to Germany, he was a fuel handler. Horner drove around to mobile fuel stations in a tanker truck. He then worked his way into logistics, which is where he stayed for quite some time.
"I crossed over from truck driver to logistics at Fort Hood then went back to Germany in 1989 and did logistics there. And that's what I did in Iraq," he said.
Like most veterans, Horner made some lifelong friends in the military.
"I spent close to 9-1/2 years in Germany, and, thanks to partnership units, I met a lot of German folk and we still keep in contact through Facebook," he said.
"The crew I went to Iraq with in 1990, we get together about every five years and stay in touch with each other. The bond there and that camaraderie is deep, it really is."
Family history of service
Horner said he is appreciative of being able to serve his country and fellow soldiers in the reserves years after first enlisting. He said the job he does in the reserves is the perfect situation for him.
"I have bad knees so I can't run which means I am not at 100%. I would not put myself in charge of anybody in a combat zone, if I am not 100%," he said. "I found a way to continue my service and support those who can do it, and it's been incredible."
Horner had a few veterans in his family, including his father and grandfather, but his biggest military influence was his great-grandfather.
"My grandfather was a Doughboy in World War I, and I heard stories about how he had been gassed in the Argonne Forest," he said.
At first, great-granddad's tales were interesting, but didn't really settle into Horner's mind until his great-grandfather died.
"When he passed in the mid-1970s, it made me think maybe there was a tradition there. Maybe a connection that he and I had that goes further," he said.
"My father was in Japan during the Korean War, but never talked about it, so I didn't know anything about it from his point of view."
His grandfather was in the Army Air Corps. in World War II, but he, too, never talked about his service time.
"It was only my great-grandfather who told these stories," Horner said. "The things I saw him do throughout his life, the way he structured himself, is probably what drew me to the service. If he can recover from all of those things that happened in life, then I, at 19-20 years old, can get through it too and I didn't get gassed in a forest."
Horner got the structure he longed for while in the service, but he learned many other traits that he has valued throughout his life.
"I learned discipline, I learned how to self-identify things I need to improve on, and how to better myself," he said.
He said he has learned to look at life in a positive light.
"I've learned to look at things and said, 'You know what I can do better at this and I have the tool set to go do that.'"
He said he uses those skills to help and teach others.
"Throughout the years, it has really taught me to reflect and find where I can better myself and help those who I am in charge of and responsible for."
Horner appreciates what he got out of the service, but he really loves helping others who are serving or have served.
His current unit in Elkhorn has 23 people on the roll. "Those are the people I am responsible for. I have to be the best I can possibly be in order to be good for them," he said.
Horner has worked for CCC for 25 years and has held his current position for a couple of months.
He has spent the past 20 years doing information technology for the college and said his current role is a much better fit.
"There isn't much passion in the IT field," Horner quipped. "Every time the phone rings, it's something bad. It's nice to switch gears into something I am very passionate about."
Horner said his military retirement is on the horizon and, although he looks forward to some aspects of it, he will miss others.
"I am going to miss my family in uniform. I'm not going to miss the weekends away and the three weeks a year to go places. I will enjoy the retirement check that I have earned, but I will miss my (military) family."
His job as director of Veterans and Military Services allows him to keep that bond with his uniformed "family" members.
"It re-engages my passion," Horner said.
Get local news delivered to your inbox!
Subscribe to our Daily Headlines newsletter.