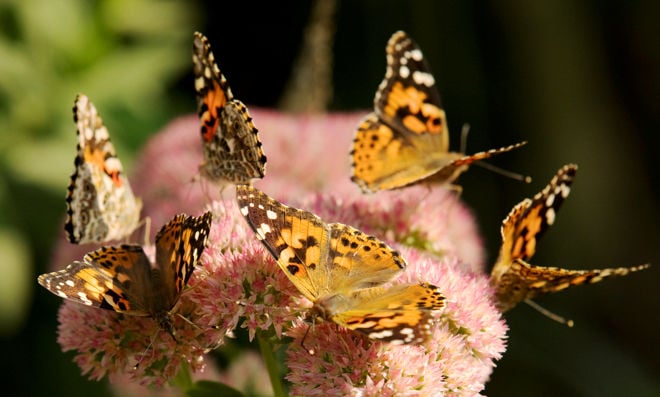 Painted lady butterflies have been fluttering all around us for several days.
Farmers, though, started noticing the butterflies about a month ago.
Painted ladies often lay their eggs in soybeans. When those eggs become caterpillars, they feed on soybean foliage. Farmers refer to them as thistle caterpillars, because they prefer to eat thistle-type crops.
Fortunately, those caterpillars didn't do much damage to soybeans this year, said Keith Jarvi, an extension ag entomologist in Dixon County.
But soybean fields were the birthplace of many of the painted ladies we're seeing everywhere right now.
Julie Peterson, a field crops extension specialist, suspects that many of the butterflies we're seeing "had their larval stage in the soybean fields of Nebraska and in this region."
Some of the painted ladies were born to the north of us and are now moving south, said Peterson, who works at the West Central Research and Extension Center in North Platte.
"I think it's interesting how the agricultural fields are affecting what people are seeing in the more urban areas, too," she said.
It's not every day that "insects from all of our crop fields" come into town, where we see them feeding on flowers and other plants around houses, she said.
Jarvi can't recall seeing this many painted ladies in Nebraska.
The hordes are not limited to Nebraska. Numbers are high in "almost the entire Upper Midwest." He's read about bigger-than-normal populations in Illinois, the Dakotas and Iowa.
Peterson has seen reports of painted ladies in Kansas.
Jonathan Larson, a Nebraska Extension entomologist in Omaha, attributes the butterfly boom to ample rains earlier this year in California. In an interview with the World-Herald, Larson said painted ladies start their migration in California. They spend the summer in cooler places like North Dakota and Canada, but head south through Nebraska as fall approaches. Larson was not available on Tuesday.
The natural forces that keep a check on the painted lady population evidently didn't occur this year, Jarvi said. Conditions were ideal, with not many predators or diseases.
Enjoy the painted ladies while you can.
The explosion is just temporary, Jarvi said. "Sooner or later they will get back to normal."
Since the farmers saw the painted ladies a month ago, a new generation has emerged, Jarvi said.
One generation extends from egg to adult back to egg.
"In the insect world, it's just a matter of weeks," Jarvi said. "We're probably on a third or fourth generation this year already."
According to Wikipedia, the lifespan of a painted lady butterfly is two to four weeks.
It's interesting that thistle caterpillars have not caused soybean problems this year, Jarvi said.
That shows that a plentiful insect population doesn't always translate into a problem, he said.
The thistle caterpillars would do more damage to soybeans if they fed on the developing beanpods, Anderson said.
Soybean plants can withstand quite a bit of defoliation, she said. Caterpillars can eat up to 20 percent of the leaves before it makes sense economically for farmers to apply insecticide.
Painted ladies are often mistaken for monarch butterflies, which are larger. While painted ladies feed on many plants, monarchs consume only milkweed, Jarvi said.