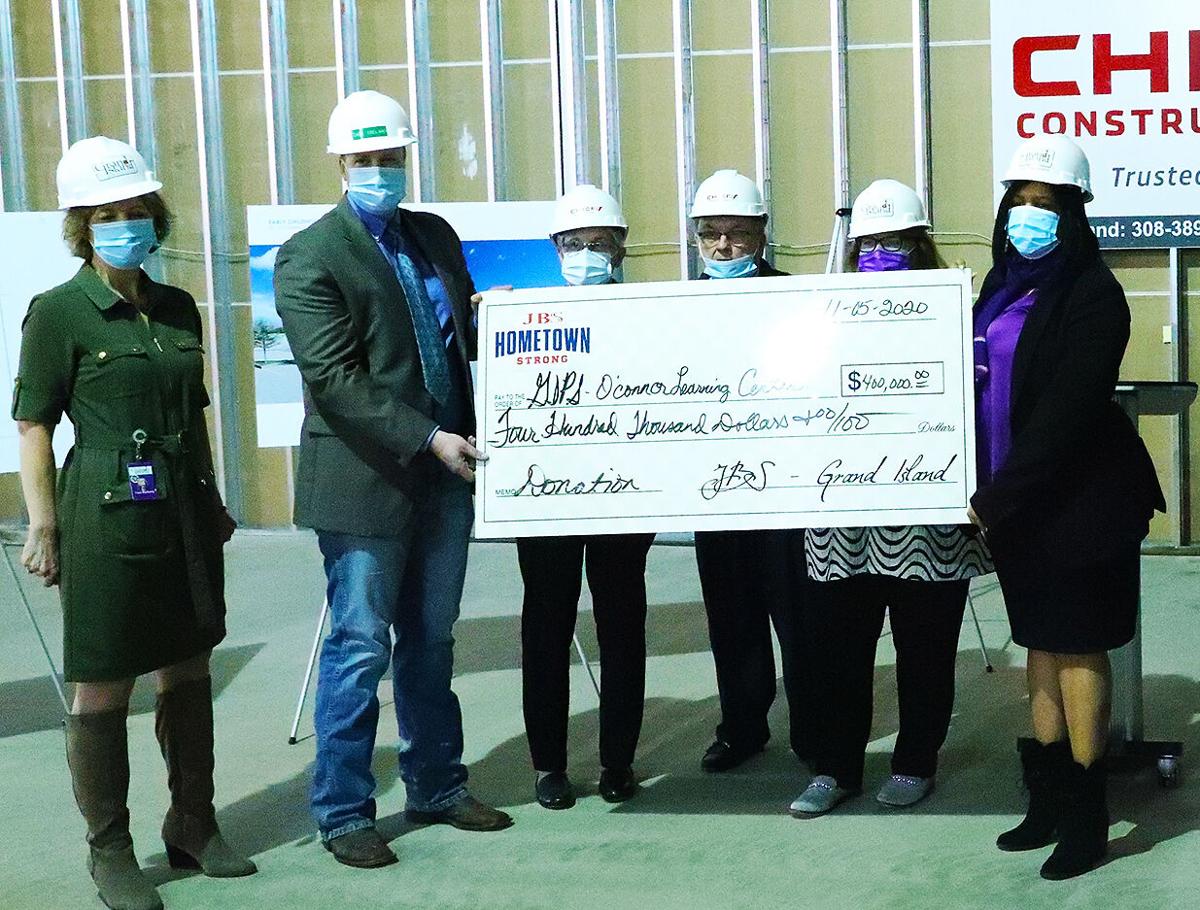 The O'Connor Learning Center is one step closer to becoming a reality thanks to a local donation.
At a news conference Thursday morning, JBS presented a $400,000 check to Grand Island Public Schools for the O'Connor Learning Center, which will be located in the former Shopko building, 2208 N. Webb Road.
The announcement is part of JBS' Hometown Strong initiative, a $50 million program to support communities where the company's team members live and work. JBS previously donated $500,000 to CHI Health St. Francis toward the new Academy of Medical Sciences.
"At JBS, we are committed to working together with people and organizations in our community to make our area and our community stronger," said Zack Ireland, JBS plant manager. "We are very proud to partner with the O'Connor Early Learning Center on this important and exciting project. We believe our investment will provide benefits for children and families in our community for years to come."
Local businessman Ray O'Connor donated about 50,000 square feet of space in the old Shopko building to develop into a new location for the Early Learning Center, which is currently located in the former Engleman Elementary building, 4360 W. Capital Ave.
In November 2019, GIPS Chief Financial Officer Virgil Harden said the total investment for the proposed new O'Connor E Learning Center would be $9.65 million. The building value given to the district by O'Connor is $3.3 million and includes GIPS' share of the building space and the land it sits on.
Harden said the overall preliminary cost to the district is $6.35 million due to O'Connor gifting the building to GIPS.
Traci Skalberg, executive director of the GIPS Foundation, said the district is grateful to JBS for its donation.
"JBS has long been interested in early childhood education and the GIPS Foundation is honored to partner with them on this project and others that will have a lasting impact on our community's children for generations," Skalberg said.
GIPS Board of Education President Bonnie Hinkle said the district is thankful for the "generous donations" of both JBS and O'Connor.
"With the generous donation by Ray O'Connor to make this building available to us and JBS donating to help with the remodeling, we are finally able to realize our goal of providing a better location for our kids and their families," Hinkle said. "We are very grateful for these donors and we appreciate these leaders of Grand Island for recognizing the value of early childhood education."
GIPS Early Childhood coordinator Amy Richards thanked the O'Connors and JBS for their "incredible commitment to young children."
Richards said their partnership and investment will make a difference in the lives of preschoolers in Grand Island.
She said the O'Connor Learning Center will enhance student learning by providing flexibility for student collaboration and in-depth, play-based learning.
"The physical features of the classroom that we will be building will provide additional access for all of our children and increase their opportunity for independence," Richards said. "It is going to support our staff in providing more learning experiences for them."
Richards said the facility also is more centrally located, decreasing transportation barriers for families, and it will have ample parking.
She said up to 300 students will be served at the O'Connor Learning Center and 486 across the district. Other preschool classrooms are located at Howard, Lincoln and Starr elementary schools. Superintendent Tawana Grover said the O'Connor Learning Center will have 10 classrooms — an additional two classrooms and approximately 60 new students compared to the current facility.
"We will have indoor opportunities like a sensory room for our students," Grover said. "They will have the ability to work in small groups when it is necessary. Our program is heavily geared around play-based learning, so we are going to have new opportunities for science and math. We have new curriculum that we have adopted, so those hands-on, real-world learning experiences start down here in our early childhood program as well."
Get local news delivered to your inbox!
Subscribe to our Daily Headlines newsletter.