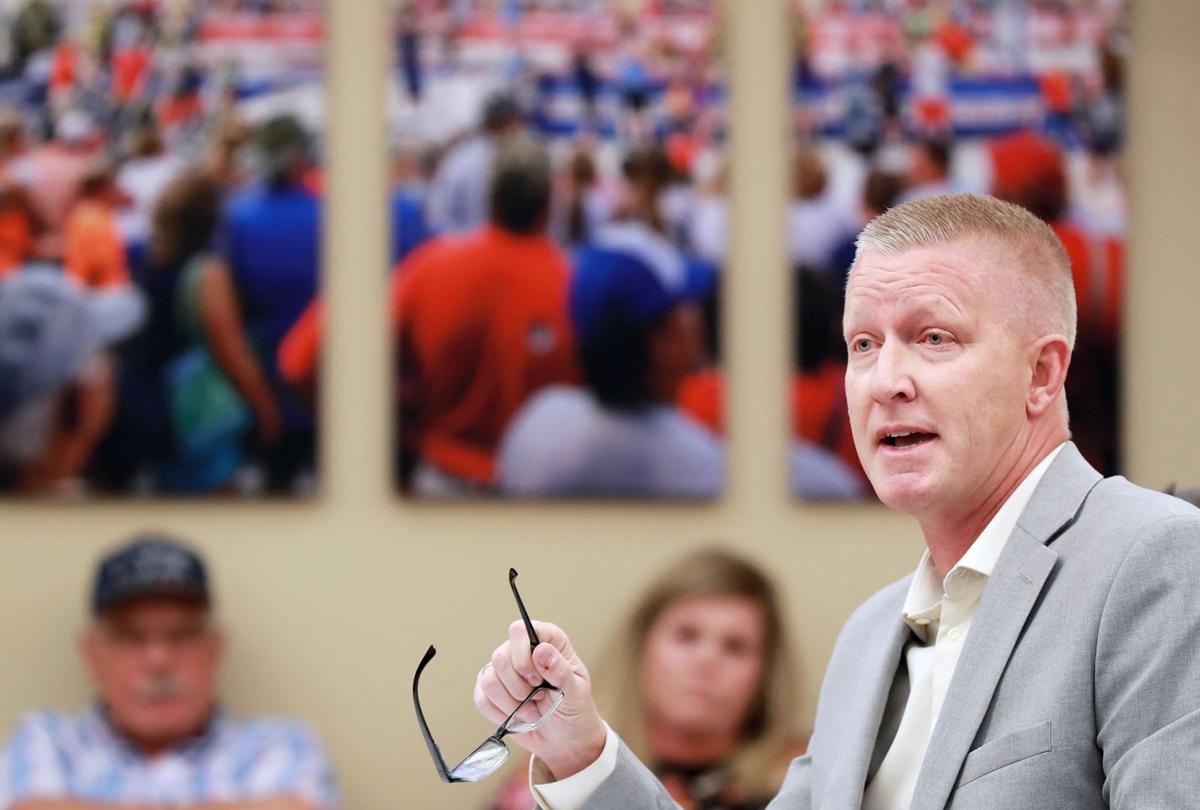 In a Facebook post Tuesday, Nebraska State Fair Board member Jeremy Jensen wrote that the board has never made a decision about the future of the Aksarben Stock Show or discussed its future.
Referring to Monday's firing of Greg Harder, the former Grand Island mayor wrote that he is "100% against what happened," and that the people of Grand Island should be upset.
In less than five years, participation in the Aksarben Stock Show has more than doubled "and was so successful this year in terms of participants that there were already discussions to make it into a 5-day show as early as 2021."
The show's success means a lot of "heads in beds" in Grand Island "and a lot of visitors spending lots of dollars right here in town," he wrote.
Having thousands of people in town during the weekend was "a huge boost to those businesses that have suffered through this pandemic," Jensen wrote.
The city, he said, "experienced a massive influx of people from about 15 states."
Restaurants and hotels were full. "So what did we do?" Jensen wrote. "'We fired the Show Director (on Monday), literally like a day after a record setting event. Why? Because some people didn't like him.
"All of this was done under the guise that our show director was attempting to steal the show from the fair," Jensen wrote. It was "yet another fumble on the five yard line that brings negative light to an institution like the NSF. It's sad."
Jensen wrote that about 25 people asked him Tuesday, "Jeremy, what the hell is going on with the fair now?"
His inbox and phone "have blown up with messages from people all over the country today — many of whom attended — with most saying they won't be back next year after this decision, and also sponsors pulling the plug. Who can blame them? People in GI were just being solicited to form buying groups to benefit the kids, and now — just like that — it's over?" he wrote.
"The FACT is that this has been in the works for some time," Jensen wrote. "Rumors were rampant over the past month or so that the NSF was not going to continue with this event even though our board had not formally discussed it. Our new executive director repeatedly assured the board that there were just rumors out there, nothing to them at this time, and we'd discuss things in the near future."
In his comments, Jensen wrote, he was speaking for himself.
As a board member, he wrote, "I wasn't privy to the information being gathered or meetings being had that have been taking place the past month or so. I'm not sure what was more important to some of the people involved: finally being able to fire the show director who was an ally of Lori Cox or getting rid of the show? You wouldn't believe how many people live in the shadows and pull the puppet strings around the NSF."
Cox, a former State Fair executive director, hired Harder in April 2018.
"Like other things with this organization, decisions were made but not openly discussed," Jensen wrote, adding that he's "never seen an organization more frustrating to be associated with."
He wrote that "there are already people in Grand Island working behind the scenes to resurrect this show, and maintain the AKSARBEN STOCK SHOW."
If he were Aksarben, Jensen wrote, he would be "disgusted with the NSF who have proven incapable of handling what has been such a prestigious event in the agricultural world. I hope that some very driven people can sit at a table and actually make this a successful event with stability and a future."
But once again, "here we are ... tripping all over ourselves at the Nebraska State Fair. And there I was hoping that this circus had finally left town. It hasn't," he concluded.
Get local news delivered to your inbox!
Subscribe to our Daily Headlines newsletter.