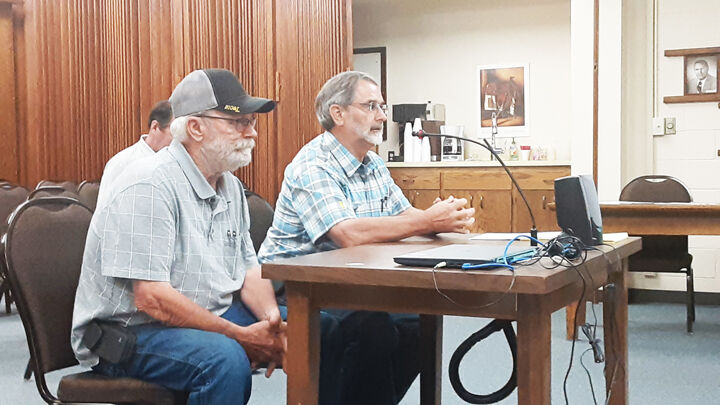 A Wood River Road resurfacing project has been a nuisance for Hall County for more than two years.
The $1 million contract with JIL Asphalt Paving Co. of Grand Island, which was approved by the county in 2018, also included work on Hillside Drive in Cairo.
Both projects were scheduled to be done in fall 2018, but because of smoothness troubles with the roadway, Wood River Road wasn't finished until last Thanksgiving.
The road has been profiled and ground three different times, Highway Superintendent Steven Riehle said.
For both projects, the county has withheld $67,539 in payments.
Commissioner Gary Quandt called for JIL's performance bond to be pulled at Tuesday's meeting of the Hall County Board of Commissioners.
A performance bond is required from a contractor to guarantee satisfactory completion of a project. If a contractor fails to complete a project according to the specifications of a contract, the client, in this case Hall County, is compensated for any losses with the bond.
Quandt said, "I think it's time we go after the bonds for these two projects and you (Riehle) come up with a way to fix these roads so we've got a new road."
JIL President Jerry Atkins pleaded against pulling the company's bonds.
"We've been around for a long time. We don't want this to put a bad hit on us," Atkins said. "It would take a small company like we are out of business. If you revoke our bond, we will be done."
Atkins said he was willing to accept penalties for the projects.
Commission Chair Pam Lancaster spoke against pulling JIL's bonds.
"It's true enough. We paid for a new road, and we didn't get one," Lancaster said. "I've known JIL and your work from far before I was a commissioner. I feel there were extenuating circumstances."
She added, "I can't vote to put you out of business. I think you deserve better."
The Wood River Road project was marred by delays, poor scheduling and inexperience with some machinery used for the resurfacing, JIL treasurer Rob Baldwin said.
When JIL was unable to get a subcontractor for resurfacing, they purchased equipment and attempted to do the grinding themselves.
"It took a while for us to get the equipment figured out," Baldwin said. "It's just something we've never done. It was new to us."
Atkins said the problems were apparent when the asphalt was being put down.
Paving in Wood River was done in 32-degree weather, though specifications call for a 45-degree surface temperature for the glue-like, polymerized asphalt.
"Every time my paver stopped, waiting on a truck, that glue would set up," he said. "It was unusual circumstances, all the way through."
Atkins expressed displeasure with the Cairo product, as well.
"I hate that road. It's an embarrassment," he said. "But we've done everything we can."
Atkins added, "I've been paving roads for the county for 51 years and this is the worst experience I've ever had."
Riehle advocated for smoothing the larger remaining bumps and leaving dips alone for Cairo, and administering penalties against JIL.
All "must grind" bumps have been resolved on Wood River Road, he said. That road has also been fog-sealed.
Riehle said, "It's something the (Nebraska) Department of Roads doesn't call for, but I really felt, if you're going to disturb that surface seal you need to put a fog seal on there."
The 3.5-mile section of Cairo's Hillside Drive has roughly 30 bumps that need to be fixed.
"There's still going to be some sections of Cairo that are going to be over the specification limit of 100 inches per mile, and that's where the penalty comes in," Riehle said.
Any road that has imperfections over 100 inches per mile must be corrected, according to state and county guidelines.
A complete rebuild would not be economically feasible, he said.
"You'd have to mill three-quarters of an inch and place a minimum of one-inch asphalt," Riehle said, "and that's $12,000 per mile for the milling and $45,000 for the oversurfacing."
Commissioner Jane Richardson applauded Riehle and JIL for working together to try to correct any outstanding issues.
"Anytime we've had an issue you're here and you explain it to us," Richardson said. "You've always been a very reputable company. I feel like this is an exception to your usual procedure."