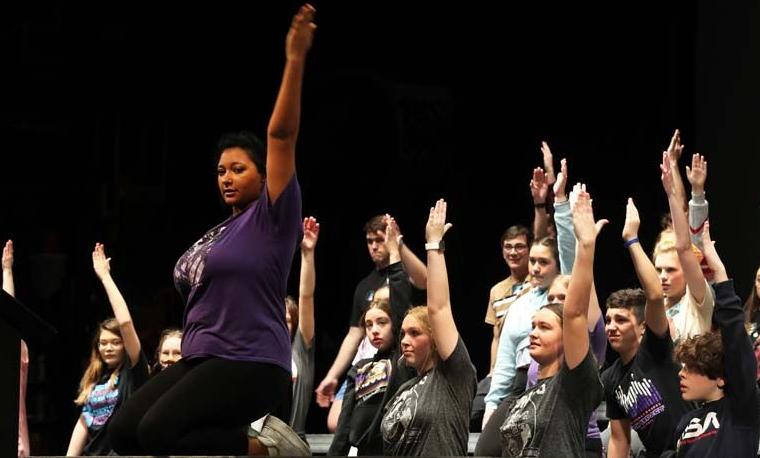 More than 100 area students grades 3-8 were given the opportunity to learn the ins and outs of show choir from 65 Grand Island Senior High students Saturday and Sunday at the Junior Islander Show Choir Camp.
The years-long GISH show choir tradition is more than two days of fun, culminating in a public performance. It's a source of inspiration — and paying it back.
Emma Smith, a senior at GISH, was a key organizer of the student-led event. She oversaw the committee and helped plan the kids' camp.
"It's all student directed," Smith said. "We did the programming, schedules, assigning other high schoolers to groups and roles, t-shirts, marketing … it was all student led."
"We started planning early on," Smith explained. "Because our registrations open over Thanksgiving, early November we are figuring out themes, songs, and just kind of that base level organization. And then in December and over winter break, it really ramped up."
Grand Island Senior High vocal music director Jesse LaBrie said Smith spearheaded the effort.
"She had some of her friends help them out. This morning when we got here, I just was one of the helpers and like, what do we need to do? I'm pretty proud of her. It's really great to see kids step up to the plate like that."
Smith said this year's theme centered around storybooks: royalty, monsters, magic and other fanciful elements. There was a process involved in selecting music, she said — all student led.
"We send out a form to high school students and have them put in any songs that they could think of that fit that within the theme. Then a small group of seniors went through that list went through to make sure it's age appropriate, make sure that they would be able to learn the music. We narrowed it down to a couple."
The group considered which selections would be the most fun, Smith said. "We want them to enjoy it. We don't want them to be stressed."
LaBrie said going from performer to organizer is a valuable learning experience.
"It's great for high school kids to get that opportunity to do the behind the scenes work. A lot of the times that work is just done for them, and I think it helps them appreciate the adults that do that on a regular basis. It really creates ownership in the program — and pride."
The event also supports the GISH show choir financially, LaBrie explained.
"It has a more practical element where it is a fundraiser for us. The (camp) fee for the students goes into our general fund to fund show choir, which has quite a bit of expense: outfits … we get our music arranged. We have professional choreographers and busing. It's somewhat of a pricey adventure, so this kind of helps us continue to provide students opportunity and give back at the same time."
Giving back through the camp is truly full circle for many of his show choir students, LaBrie said. "Quite a few of our students participated in this clinic in camp when they were elementary and middle school. It gets them excited, and see how fun it is to get to meet the older kids and work with them."
Stolley Park fifth-grader Kendall Meier was one of those younger students. She said the idea of show choir melds two of her passions: singing and dancing. "Now I can sing and dance, learn with other people and make new friends."
Often the student-leaders and performers are inspiration for campers, LaBrie said. "For the younger ones, when they see the older kids perform, it's kind of like a dream. If you are here in the Midwest, and you see people on Broadway, you're like, oh, man, I want to do that someday. It's kind of our little mini version here. I do think that that there is an inspiring kind of element to that."
Meier already has her plans for high school figured out, even as a fifth grader. Will she do show choir in high school? "Yes. And I will come here (to GISH)."
Inspiration — whether for the campers or the facilitators — is what drives the camp and GISH show choir itself year after year, Smith said. "So many high schoolers, this is how they started. That's how they fell in love. Our hope is that some of these kids will see what we do, then hopefully they'll fall in love."
Jessica Votipka is the education reporter at the Grand Island Independent. She can be reached at 308-381-5420.