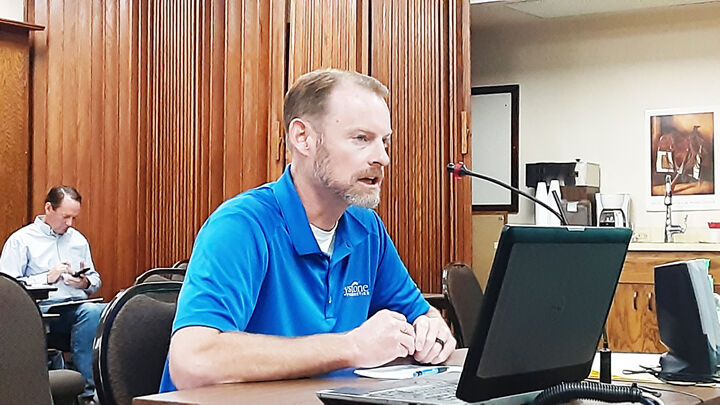 Tenants need support in the wake of the pandemic despite a moratorium on evictions ordered by the Centers for Disease Control and Prevention.
Andy Marsh, Keystone Properties owner, warned Hall County commissioners that without direct support, some tenants still are unable to pay rent and risk eviction.
The CDC ordered a moratorium on evictions from Sept. 4 to Dec. 31.
This means a landlord, owner of a residential property, or other person with a legal right to pursue an eviction or possessory action cannot evict for nonpayment of rent.
Resources for tenants are dwindling, though, Marsh said.
"As COVID progresses in the multi-family housing world, we have CARES Act money that has been out there for tenants to use from Lutheran Family Services, Goodwill Industries, United Way and others that I, myself, have helped tenants on a one-on-one basis use," he said.
Some people have had help and can't get it again, Marsh said, and COVID cases are beginning to rise again nationwide.
"With every government program there's some sticky red tape," he said. "A tenant that has COVID, a husband and wife or boyfriend and girlfriend, if one of them gets money, as long as they reside at that same address, they can't get money again. It's only a one-time deal."
Marsh serves on boards for Hope Harbor and Goodwill, and has seen that CARES Act funds from May are nearly depleted.
"At Hope Harbor, of the $80,000 we got, we're down to $11,000," he said. "Other sources are rapidly depleting."
The city of Grand Island had a moratorium on disconnecting utilities that ended in August.
Last week, Marsh said, he worked with six people who'd had their power shut off to get their services resumed.
"As utilities disconnects for nonpayment come about, tenants' power will get shut off," he said. "We're also mitigating those situations, too."
Marsh anticipates this will create a greater burden for tenants going into winter.
"As the cold months enter and power gets shut off, landlords including myself and others, are going to get utility services put back under their names, having to pay now for utility services for tenants who also can't pay rent," he said. "It becomes a double whammy."
Landlords, as well, are affected by the moratorium.
Marsh said he currently has eight cases, each with an average rent of about $750 per month, or a $6,000 loss in total revenue for one month.
Through December, that could become a $24,000 loss for Keystone.
"Filing evictions, it's not something I want to do," he said. "It's not a fun job, but it is business."
Other landlords, whom Marsh did not identify, have no problems with eviction.
Eviction is an easy process, he explained.
"When you file an eviction, 80% of the time the tenant doesn't show up in court and you win by default," Marsh said. "The other 20% of the time, you have to go through mediation prior to going into court."
While there have been discussions about more CARES Act funds coming, Marsh is not confident that it will happen, especially with the CDC moratorium in place.
"If the moratorium went away, it might precipitate those that hold the purse strings for this money to release more," he said.
Marsh said he prefers helping his tenants instead of evicting them.
"I'm going to their homes, meeting with them, helping them fill out applications and securing this money," he said.
Marsh urged local officials and community leaders to reach out to elected officials, both state and national, and encourage them to support CARES Act funding to help tenants.
Get local news delivered to your inbox!
Subscribe to our Daily Headlines newsletter.