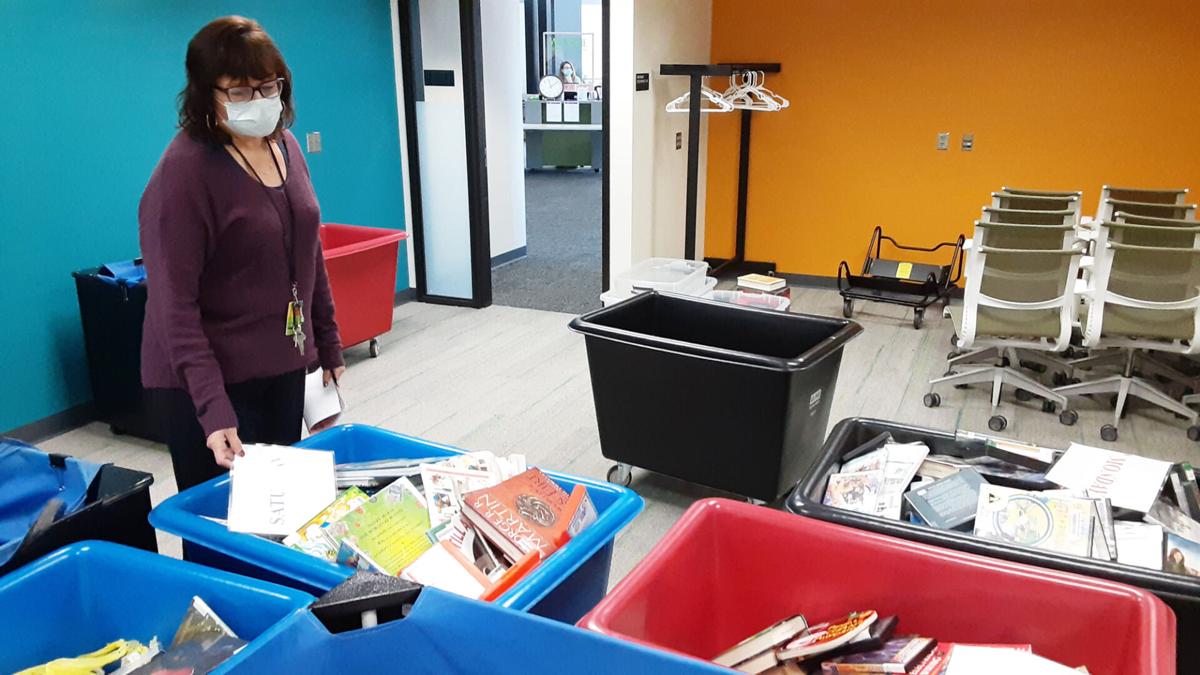 Grand Island Public Library's numbers took a hit in 2020 due to the COVID-19 pandemic.
From September 2019 to September 2020, total checkouts from the library, online and through outreach dropped from 314,000 to 216,000.
Visitors also dropped by roughly 100,000, Library Director Celine Swan said.
Participation in virtual programming, however, has nearly doubled — to about 30,000.
The library has expanded programming to include activities and events on its Facebook page and has created a YouTube channel in response to the pandemic.
The library has held 23 online programs that have garnered more than 1,000 views.
"It's been a good way to reach people," Swan said. "People are interested in different things. They're finding their niches right now, doing family history research or learning how to use their Instant Pots and doing more cooking, or reading more series."
Winter weather also affects library attendance and participation.
"If it's too cold out, we might be down to under 100 (people)," Swan said. "But on a good day, when we have a lot of people coming in, we can have over 200 people in one day."
For now, people are allowed in the library for only one hour at a time.
Visitors still can use the library's computers, though seating has been reduced by half, and the MakerSpace room is open two mornings each week.
"We definitely want people to come in and use our materials," Swan said.
The library had strong numbers in the months before the pandemic.
"We were going like gangbusters with services, both inside the library and outreach," Swan said.
"Then, in March, it was like somebody put the brakes on, and all of a sudden we had to figure out what we were going to do."
Keeping patrons and the library safe became the library's priority.
It received guidance from the American Library Association and the Central District Health Department on how to keep materials safe.
Materials are placed in quarantine for several days before being placed back into circulation.
The library had to meet city and state mandates, such as limiting people in the building and requiring face masks.
Cleaning became a constant, Swan said.
"We're clean freaks here," she said. "Everybody gets their gloves on and we have a solution that's in towels, and we wipe everything down. We also have a really good rotation for our custodians. They go around and hit everything, and staff is also cleaning the areas."
When the library reopened to the public after being shut down for four months, staff members were ready.
"We hit the ground running, as far as being able to provide safe services," Swan said. "Since we decided to quarantine and clean all materials that come in, we felt comfortable doing the curbside at the front door of the library and our drive-through."
Patrons were anxious to receive materials, she said.
"A lot of people said they hadn't been out of their houses and they were depressed," Swan said. "Being able to help people pick up stuff and get what they needed to have a better quality of life at home was really important to us."
Swan said she is optimistic about 2021.
"Even after we get back to having in-person programming, I think we will still do some virtual programs for people who can't actually come into the library," she said.
In difficult times, the library can be a source of escape, Swan said.
"Like everyone else, I can get overcome with all the stuff that's going on, between COVID and politics," she said. "I see people using books and series and they come in and say, 'I always wanted to get these recipes and now I have the time to do some of these things I've always wanted to do.'"