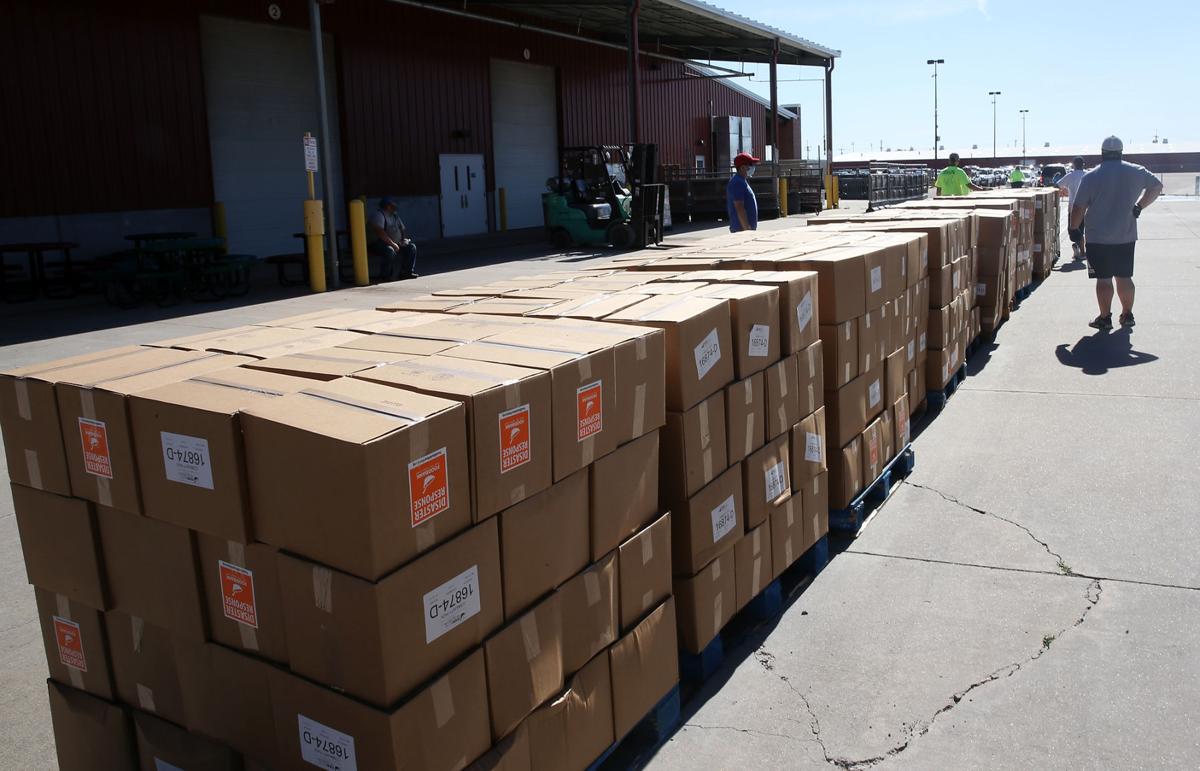 Cars started lining up at 6:30 a.m. for the June opening of the Loaves and Fishes drive-thru food bank at Fonner Park.
Three hours later, volunteers from Trinity United Methodist Church, First Presbyterian Church and the Grand Island community started handing out the food provided by Food Bank for the Heartland.
"There are three stops," director of the event Deb Brummond said. "First, we give them a box of shelf items — rice and canned items. At the second stop, they get a box of fresh fruits and vegetables, and then they get a loaf of bread at the last stop."
Saturday morning, Loaves and Fishes opened with enough for 984 vehicles — and had gift cards to local grocery stores in the event it ran out of food. Brummund said she expected the inventory to last around 5 hours, if not less.
"It is one of the most rewarding things I have ever done," Brummund said. "It is incredible to see how it touches peoples' hearts."
In response to the COVID-19 pandemic, the Loaves and Fishes food bank transitioned to its drive-thru style at Fonner Park in March.
"We are going to continue this for as long as the virus is around," Brummund said. "I am really thankful to Fonner Park for letting us hold this here. I cannot think of another place where we could do this."
Brummond said the pandemic has placed a greater importance on the food bank.
"There is a number of people who are unemployed and struggling because of the COVID-19 pandemic," Brummond said. "The consistency of the food bank helps them get by."
Volunteer Kurt Hoskins emphasized the importance of the food bank and giving back.
"It is important because I was a homeless person in need once," Hoskins said. "People gave to me when I was in need."
Volunteers from the Heartland United Way also handed out washable masks to each car.
"We want to make sure people continue to wear their masks," United Way volunteer Elizabeth Troyer-Miller said. "We want to avoid the spikes that other communities have seen when they reopen."
Loaves and Fishes opens up the second Saturday of each month, and provides interpreters at each of the three stops along the driving lanes.