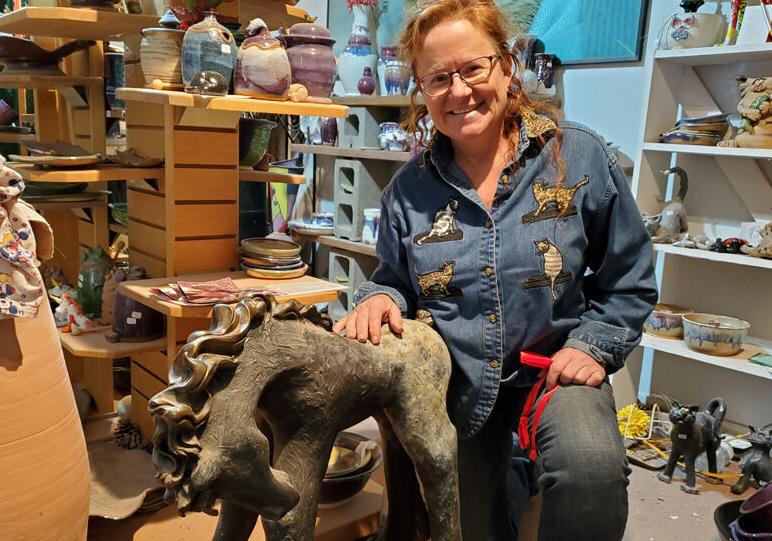 Tucked away down an alley off of Schimmer Drive, Nancy Fairbanks' quaint pottery studio houses hundreds of pieces of art: whimsical cats, dinnerware with gently sliding purple and blue glaze, vases edged with pierced leaves, horse sculptures large and small and pots yet raw and unglazed.
Fairbanks is preparing for her holiday open house, which happens this weekend.
"Hopefully it's cleaner than this," Fairbanks said.
She is pressed for time, and understandably flustered as she is coming just off her artist residency at Silver Dollar City in Missouri, where she was named this year's Craftsman of the Year.
"I do one of my biggest shows in Silver Dollar City, which is an 1880s theme park down by Branson, Missouri. We're in costume in the 1800s, and I'm there for two months. It's fabulous. I demonstrate and talk to the guests, I explain what is happening," Fairbanks said. "I take my wheel, and I demonstrate for the guests, the visitors. I'm throwing pots and doing all different types of work."
Work like that occupying her backyard studio. Including her mass of work at Silver Dollar City, she has about 5,000 pieces that cross her potter's wheel a year, Fairbanks estimated.
For the open house, expect the unexpected, Fairbanks said.
"When they come to my open house, people always come and say, 'What's new?' Well, everything's new because stuff sells. But I know what they mean. They mean: 'What do you have that's different?'
"I have a lot of different glazing methods that I learned from a guide this spring. I've got some big pieces and twisty things that they haven't seen before. Of course, a lot of new cat poses and things like that, and some different raccoon pieces I've been working with. I have snowmen and little kiddies with Santa hats and I have holiday pieces. And, yes, I have Christmas themed things," Fairbanks said.
Fairbanks also teaches in classrooms, libraries and festivals.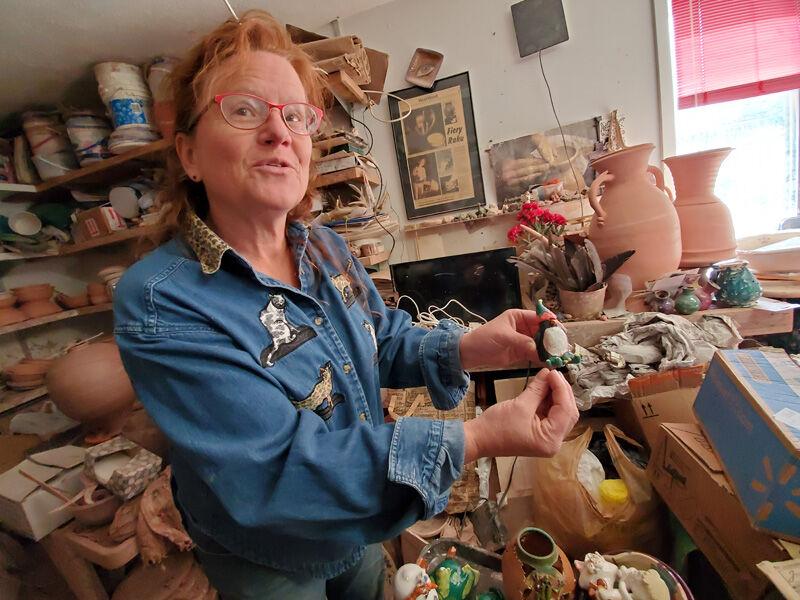 "I'm a Nebraska Arts Council artist-in-residence, which means I can go into schools - kindergarten through college - across the state, and work with the kids in different mediums – whatever they're interested in."
Fairbanks herself is constantly learning with the coronavirus pandemic giving her some extra time for experimentation and embarking on projects she might not have otherwise been able to work on, including the exploration of different glazes and techniques, including a Japanese method called "Raku." Fairbanks said it can be more unpredictable than other methods. "You never know how they're going to turn out.
Those are not only the temperature of the pot but the barometric pressure, the humidity and the wind direction and wind speed. So with those, we don't know. It could be brown, green, red solid copper or anything in between."
Coronavirus allowed her time to experiment with shapes, too, she said.
"That gave me the time and also it allowed me that time to throw the bigger pots because I enjoyed throwing big but they're not highly saleable."
Unfortunately, Fairbanks said, she had to skip her open house last year.
"This would be my 38th annual Open House. I had to skip that year." Fairbanks started her open house tradition to help get to know the community – and help the community get to know her. "I started it when I first moved to the area as a way to basically get people to see what I do, and to meet people because there hadn't been a professional artist in this area."
The first year brought about 30 curious art lovers. Fairbanks's studio has also had as many as 300 open house visitors.
Fairbanks said being a career artist is a fine balance.
"Because I have to make a living at this, I have to make what's going to sell, which I enjoy very much. I don't make things I don't like to make. I just won't do it."
Jessica Votipka is the education reporter at the Grand Island Independent. She can be reached at 308-381-5420.