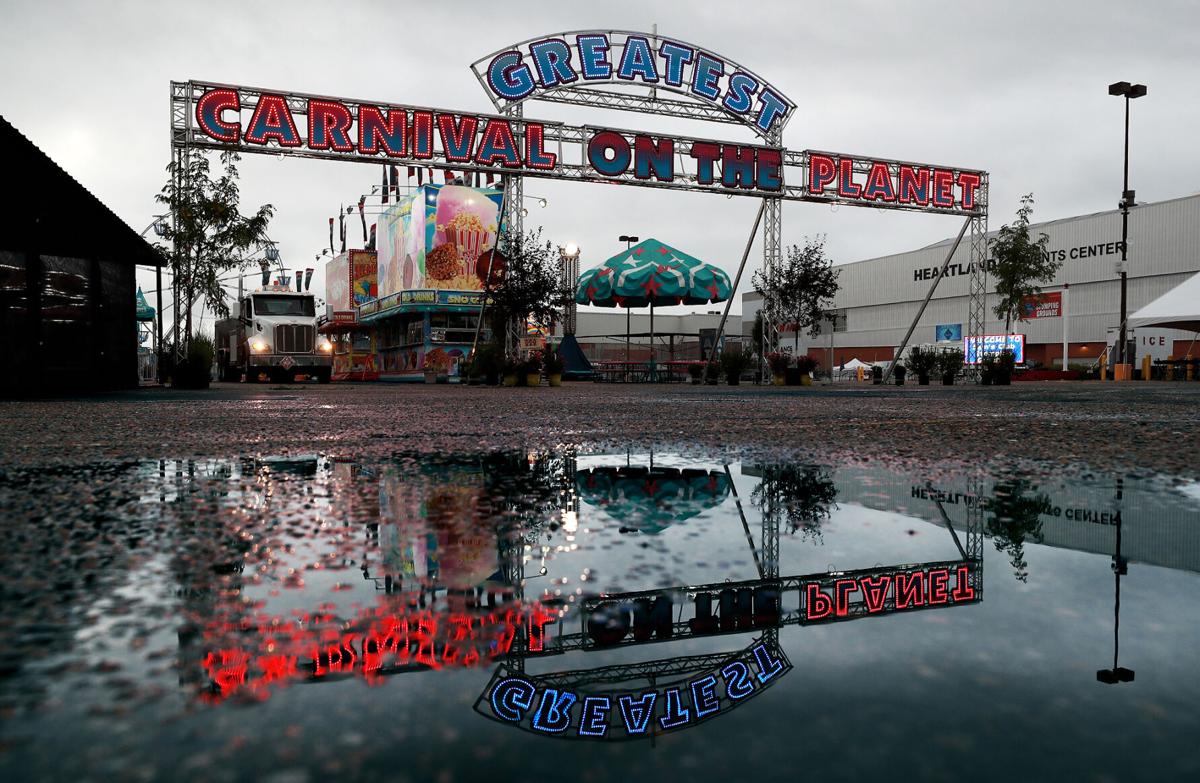 One upside of having no carnival at this year's Nebraska State Fair is that fairgoers will be able to park closer to the action and not have to worry about mud.
Going without the carnival midway is "a sacrifice that we had to make," Bill Ogg, State Fair executive director, said Thursday.
But as a result, people won't have to walk as far. "We'll be able to accommodate, we think, our anticipated number of guests all on the hard surface," Ogg said during the COVID-19 community update from City Hall.
Fairgoers are invited to take Fonner Park Road and enter through Gate 6.
The fair will run from Aug. 28 through Sept. 7.
Admission will be free. "We felt very sincerely the community and our regular fair lovers have sacrificed enough this year," Ogg said, explaining the free admission.
The first weekend will be devoted to 4-H exhibitions and competitions, with FFA events the second weekend.
Ogg said more than 4,500 4-H members and their families are expected the opening weekend, with about 2,500 FFA members and their families showing up the second weekend.
The two "beloved organizations would prefer to be together," but they are being separated because of the coronavirus, Ogg said.
Static exhibits will run during the week.
The number of food vendors on hand has grown to 12, and there will be 20 commercial vendors, Ogg said.
Open class exhibitors will participate during the week. Activities will include an open class Boer goat show, working stock dog trials and an open class beef show Sept. 3. More beef shows will take place Sept. 4, leading into FFA weekend.
Musical entertainment will be provided each evening by local and regional bands, which will not be compensated. Those groups will perform "because of their love to entertain and their love of the Nebraska State Fair," Ogg said. "It's humbling to have their participation."
Shows are set for 7 to 10 p.m.
Here is the musical lineup:
— Friday, Aug. 28: The Blue Collar Band.
— Saturday, Aug. 29: Loose Affiliation.
— Sunday, Aug. 30: Victory Underground.
— Monday, Aug. 31: Lawnmower Dogs.
— Tuesday, Sept. 1: Beer Money.
— Wednesday, Sept 2: Paul Siebert.
— Thursday, Sept. 3: GI Free.
— Friday, Sept. 4: Black Top Pony.
— Saturday, Sept. 5: Shooter Jack's Band as well as Luke Mills and the Highway Drifters.
— Sunday, Sept. 6: American Rebels.
On Labor Day, the fair will recognize veterans with a parade, a classic car and motorcycle show, music and other activities.
During the week, Ogg invites people to visit Raising Nebraska, which he called a "phenomenal display." Nebraska Game and Parks will have activities on the weekends.
Instead of calling off the fair, the Fair Board instructed the staff to "host and celebrate Nebraska 4-H and FFA youth," who are the mainstay and backbone of the Nebraska State Fair, Ogg said.
The fair welcomes the challenge, and the staff "jumped in very hard working towards that," Ogg said.
"It will be significantly different than that large, something-for-everyone extravaganza that we have come to enjoy and, frankly, for our community to expect," Ogg said. But "rather than canceling this historic event, we wanted to host what we could."
The fair will proceed in a safe fashion, Ogg said.
"We are recommending that people arrive at the fair with face coverings. We will provide disposable face coverings to those guests who would like to use those and who forgot to bring them," Ogg said. "We also will have significant signage to politely and proactively remind people to use common sense and to wash their hands frequently."
A significant number of sanitation and warm-washing stations will be around the fairgrounds, he said.
While the 2020 fair will "look and feel completely different from other years, I want you to come out to the fairgrounds," said Fair Board Chair Beth Smith. "The fair's priority is the health and safety of our patrons. We know we can have a safe event. Please know that we will be abiding by the protocols set up by the Central District Health Department, and we will adapt our events to whatever phase Hall County is in during the fair.
"Come out and enjoy your favorite fair food, whether it's the Beef Pit or a corn dog and lemonade" Smith added. "We encourage you to walk through the barns. Come to the arena to watch 4-H and FFA events. Stroll through the static exhibits. Come out in the evening to listen to local music. Head to the Barn Bar for a beer. See the exhibits in the beautiful Raising Nebraska building. Or join our salute to veterans on Labor Day.
"We hope to see you on the grounds at the end of August and thank you to the Grand Island community for your years of support for the Nebraska State Fair," Smith said.
Ogg said he welcomes candid input, advice and constructive comments about "what I can do to help with the next 150 years of the Nebraska State Fair."
He said he prefers to hear those comments in person, but email, texts and phone calls are always welcome.
"And I do value your advice and your direction. I often say somewhat tongue-in-cheek, 'It's the easiest job in the world because everybody tells you what to do,'" Ogg said, joking.
In addition to hosting the "safest and best" possible State Fair this year, "I pledge to work hard and faithfully to serve with the board in hosting the hugest and best Nebraska State Fairs in the future that we can possibly have."
Get local news delivered to your inbox!
Subscribe to our Daily Headlines newsletter.