Saying that COVID-19 has created an "emergency situation," Mayor Roger Steele will recommend to the Grand Island City Council that an indoor mask mandate be approved for Grand Island.
In a COVID-19 community update from City Hall Monday, Steele said he will place the matter on the Nov. 24 City Council agenda.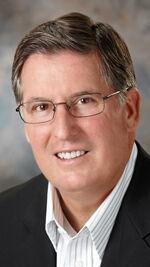 "Over the past several weeks, I have discussed our increasing COVID-19 infection rates with Teresa Anderson, the director of the Central District Health Department," Steele said.
"Mrs. Anderson and I agree that wearing a mask is very important to protect yourself and others from COVID-19."
On Tuesday, Central District Health "will deliver to me a recommendation that Grand Island have a requirement that people wear masks. This is being done by the Central District Health Department with my approval," Steele said.
Upon his receipt of the recommendation, "I will place it on the agenda for the City Council's approval at its meeting on Nov. 24," he said.
Under Section 16-246 of Nebraska statutes, first-class cities such as Grand Island may make ordinances, rules and regulations for protecting the public health and welfare of its residents, Steele said.
"I will ask the City Council to exercise its authority under Nebraska law to adopt an indoor mask policy for Grand Island in order to protect the public's health and welfare," he said.
"I want to protect the city's ability to maintain life-saving police, fire and ambulance protection. I do not want our public safety manpower to diminish because our rates of COVID-19 infection are climbing at a rapid pace."
He also wants to ensure that businesses can remain open, something that could be "jeopardized if virus rates continue to climb," he said.
Steele opened the update by saying, "Throughout human history, there have been pandemics that have had catastrophic consequences — smallpox, tuberculosis and the Black Death, for instance. Pandemics for their existence depend on people crowding together and spreading the disease.
"The way to stop COVID-19 or any epidemic is to avoid crowds, gatherings and close contact with other people," Steele continued. "We have tried to educate the public on the importance of at least 6 feet of social distancing and also educate the public on the importance of wearing a mask."
According to the Central District Health dashboard, "our hospitals in Grand Island have 56% COVID-19 patients, and they have a very limited number of ICU beds available. This is an emergency situation for Grand Island," Steele said.
Many people have theories about why the virus is increasing in Nebraska, he said.
Dr. James Lawler, a director at the University of Nebraska Medical Center's Global Center for Health Security, "says that family gatherings and indoor venues such as restaurants, bars and clubs where people remove their mask are areas where transmission of COVID-19 is occurring," Steele said.
"Dr. John Lowe, the assistant vice chancellor for Health Security at the University of Nebraska Medical Center, is calling for a state mask mandate, the closing of indoor dining and a reduction of the number of people in schools," Steele said.
Dr. Deborah Birx, a coronavirus adviser for the White House, "advises that there not be small family gatherings through the holidays and warns about an increasing coronavirus spread because of indoor family gatherings and social events," Steele said.
Dr. Anthony Fauci, the government's top infectious disease expert, says small gatherings are driving the new COVID-19 outbreaks, Steele said.
That a mask mandate is not in effect now shouldn't stop people from wearing face masks, Steele said. People should voluntarily wear masks and avoid close contact with others. They should not have family gatherings, even during the holiday season, he said.
The question of wearing a mask has become a political issue, he said. "I believe our community is above using an epidemic to score political points," he said.
If people work together, Grand Island can make news by having low coronavirus numbers. "And we will have done it by acting responsibly," he said.