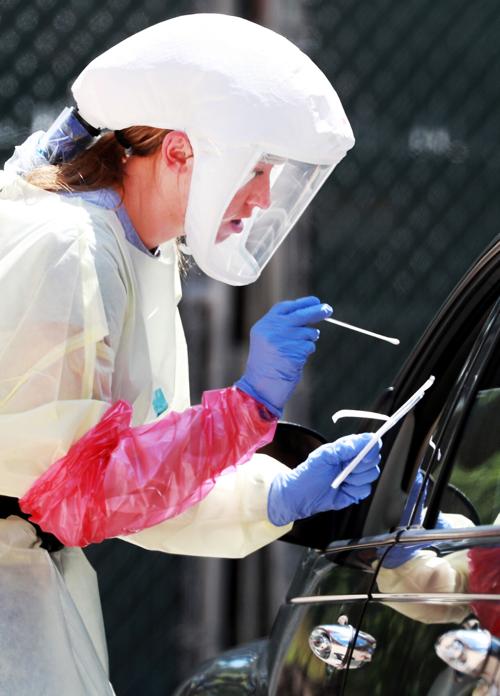 Grand Island Mayor Roger Steele said people are acting inappropriately when they don't comply with stores that ask them to wear masks.
"Many stores in Grand Island require customers to wear a mask when they enter the store," Steele said at Tuesday morning's COVID-19 community update from City Hall. "Most stores will offer you a mask for free if you do not have one.
"Stores may want you to wear a mask because social distancing is not possible when several customers are in the store," Steele said. "I see people enter stores in Grand Island without a mask. Some may say it is an expression of freedom to not wear a mask even though the stores have asked us to wear one.
"Entering a store while ignoring the store's mask requirement is not an act of freedom. Rather, it is inappropriate," Steele said. "Please remember businesses in Grand Island fulfill a vital public need, and we should all pull together to make sure their employees and customers are safe. Please wear a mask."
Also during the update, Teresa Anderson of the Central District Health Department talked about plans for the school year.
Her office has been working closely with the superintendents in the three-county jurisdiction. "We're working hard to help people understand that children can and do get the virus, and children can and do spread the virus," she said.
Each school has developed its own reopening plan, she said.
Children had not been congregating much until the middle of July, "when people really started getting out a little bit more," Anderson said.
Before July 15, there were about 200,000 documented cases of children with COVID-19 in the nation. "But during the last two weeks of July, we calculated 100,000 cases of COVID in children," she said. "As you can see, this is a huge increase, and it's very concerning to us in public health. We're going to ask that you all recommit to what you started with wearing masks and social distancing as we begin the school year."
Anderson outlined the methods of quarantine and isolation that probably will be used this fall in area schools. Those methods could change because "the virus is highly unpredictable, and we may have to change our course of action," Anderson said.
If a student or other person in a classroom tests positive, that person will be excluded from the classroom for 10 days and must not have a fever for 24 hours before he or she returns.
"If every person in the classroom has a mask on, when one person, whether it's a child or a staff member, tests positive, it's quite likely that the rest of the class will continue while the sick person is excluded," Anderson said. In that case, the exposure is considered minimal and school may continue.
"If every person in that classroom is not wearing a mask, we'll do a case investigation and it's quite likely that a number of the students and perhaps staff will have to quarantine."
The quarantine period is 14 days. "This is because the virus can incubate in your body from two to 14 days before you show symptoms," she said.
If no one in a classroom is wearing a mask, "it's quite likely that a number of the people in that room will have to quarantine for 14 days," she said.
For students to have safe, in-person school this fall, "we all have to work hard to make that happen," she said.
Not only does the CDHD want to see children continue with regular school activities, but also "we also want to protect the school staff," she said.
"For us in public health, masks are critical in reducing the spread of the virus. And so, for us, it's a health issue, nothing more than that," Anderson said.
She thanked people who have been wearing masks "and we hope that the rest of you will continue to keep an open mind about using a mask to protect other people."
Taking the proper steps "reduces the spread of the COVID virus, as we've seen in lower numbers over the summer," Anderson said. In addition to wearing masks, those steps include social distancing, staying home when ill and keeping hands clean.
"For those of you are yet still not wanting to wear a mask, for whatever reason, we encourage you to read up on the literature and determine whether or not wearing a mask might help keep someone around you safe."
Anderson also talked about the risk dial used by the Central District Health Department. That dial is meant only as guidance, she said. Eight factors go into determining the risk level, she said.
"The risk dial is not perfect, and I've said that 100 times," Anderson said. But it can give us an indication of what's going on in our community, especially over time.
Anderson encouraged people to limit their visits to three spheres — school, work and home.
"We've heard people say, 'I'm so over it with this virus,'" she said. "The virus isn't over yet. It's still here. And it will be here until we have a vaccine."
Some people subscribe to the theory that if everyone gets the virus, then we won't have to worry about a vaccine.
"We don't know what this virus will do," she said. "Viruses can drift, they can take a different form and they can reinfect us later on. So to rely on vaccine, I think, would be folly for us."
A vaccine is coming, she said, but we don't know when.
"We're not helpless," she said. People have the power to conquer the virus if we take the necessary steps.
"This is not a forever thing," she said of COVID-19. It is only a "for now thing," providing people act responsibly.
She pointed out that Lincoln, which is requiring masks, is seeing a decrease in the number of COVID-19 cases and in the percentages of positivity. "This is yet another example that masks do work if you wear them."
Concerned about COVID-19?
Sign up now to get the most recent coronavirus headlines and other important local and national news sent to your email inbox daily.