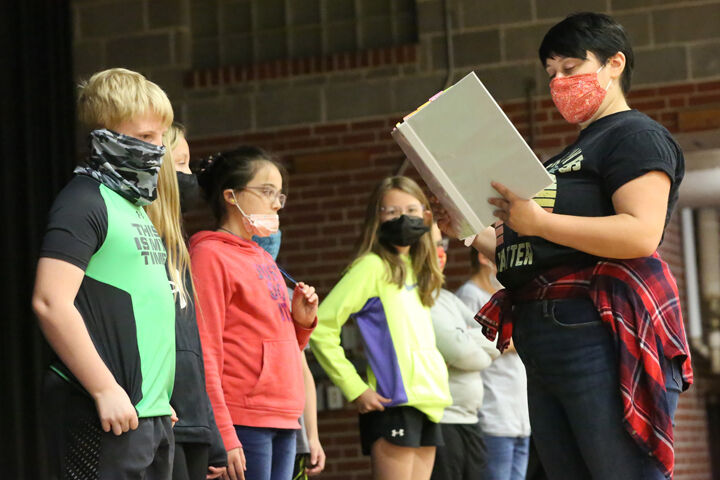 CLARKS — Missoula Children's Theatre has been at High Plains Community Elementary School this week, growing budding actors during a school residency.
High Plains speech language pathologist Karol Bankson, a former one-act play director, helped organize the traveling theater group's visit.
The idea of Missoula Children's Theatre coming to the school was sowed in Bankson's head several years ago after a visit to a Central City Missoula Children's Theatre production, she said.
"Once I learned about Missoula Children's Theatre it was my dream to bring them to my school to give our rural students the same types of experiences that kids from larger towns get to enjoy," Bankson said.
Missoula Children's Theatre tour co-directors and actors Staci Weidner and Erica Diederich made the trek to Clarks and guided High Plains' elementary-age actors through the process of putting on a play.
Weidner said her experience with Missoula Children's Theatre began when she herself was growing up in a small town, much like Clarks.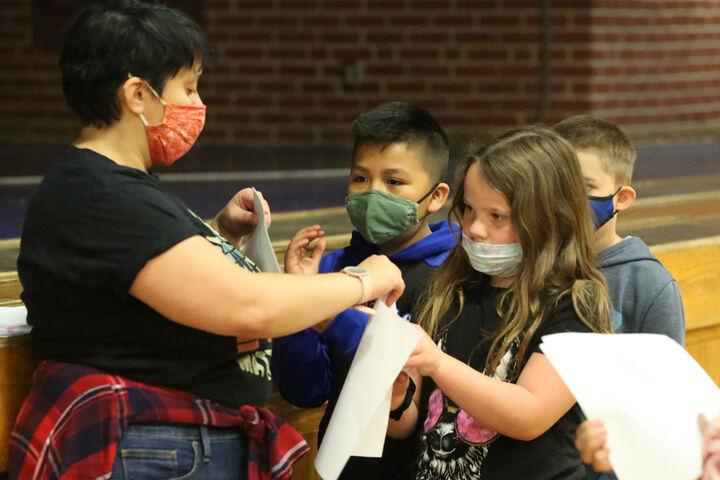 "I'm from a small town in Montana. I did Missoula Children's Theatre as a kid," she said.
Now she is both on stage and in the director's chair.
"It's such a joy to see the kids come together as a theater family and put together a really awesome show," Weidner said.
This is the third time the group has visited High Plains' Clarks campus. Each visit to High Plains has had students putting on a different play; this year's production is "Johnny Appleseed."
Missoula Children's Theatre provides the costumes, scenery, props and expertise from actor-directors.
Rehearsals are during school hours. Bankson said High Plains faculty and staff members have embraced the performing arts opportunity.
"The teachers are fantastic; they have to be flexible because half of their kids are in class, half are not," she said, adding: "It involves our custodian, our kitchen staff, our paras, music teacher — our PE teacher had to give up (the gym). Everybody has been on board."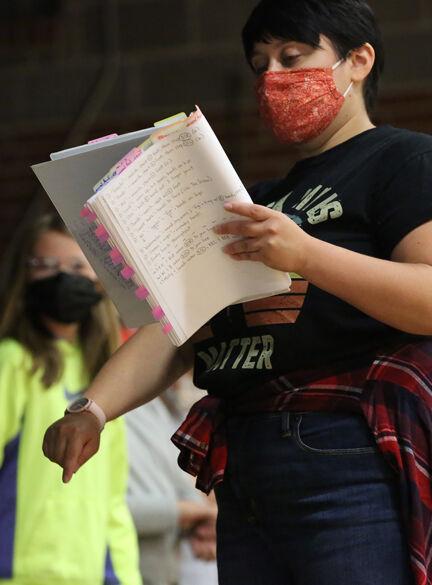 Support for hosting Missoula Children's Theatre has extended past school walls. Mary Jane Samuels, a local retired music teacher closely associated with the school, is providing musical accompaniment. Polk County Foundation, Merrick Foundation and Tri-Community Foundation contributed financially to make the group's visit a reality. A local family has provided temporary housing for the Missoula Children's Theatre actor-directors, who travel all over the country — and then some.
"They travel from town to town, state to state," Bankson said. "They just get in their truck and go."
The group has not only taken performing arts to all 50 states, but also five Canadian provinces and more than a dozen other countries.
This production consists of dozens of High Plains Community Elementary School student-actors.
"We could only have 64 kids," Bankson said. The school sent home notes with students to assemble potential cast members. Fifty-eight students signed on.
"I think it was ordained. We didn't have to turn anybody down," she said.
Among the different roles are: Johnny Appleseed; Grandpa's Kiddos, the Pioneers; Sir Peter Prescott and his sidekick, Rupert; the Fife and Drum Soldiers; Lewis and Clark; a group of Western Critters and the Apple Seeds.
Weidner said the students were eager to help make the production happen.
"A lot of the older kids stepped up as leaders," she said. "It was really sweet to see that from 11- and 12-year-olds. They were really great."
Bankson said she wants the students' theater experience to keep going.
"I hope it keeps continuing; it all depends on funding," she said. The school's aim is to host the Missoula Children's Theatre every other year with the weeklong kids' acting workshop culminating in a public performance.
Beginning to end, Weidner said, the entire process is rewarding.
"You're working toward a goal," she said. "I love the potential energy of audition and seeing those moments where the kids are like, 'Oh, I can do this.'
"It's so beautiful to watch them blossom into themselves," Weidner said.
Jessica Votipka is the education reporter at the Grand Island Independent. She can be reached at 308-381-5420.