EDITOR'S NOTE: This article was previously published in the July 2018 edition of Murder Mysteries. Monday Mysteries will publish each Monday through October 2020.
Except for a twist of fate, the Sept. 9, 1972, triple slayings of William, Bernice and Barbara Peak might have claimed a fourth victim.
Barbara's friend, Tami Tjaden Reynolds, was supposed to spend Saturday night at the Peaks' east-side lakes home. A last minute babysitting request from her cousin forced a change of plans.
"I always wondered to myself if I would've been there, if I would've been killed, too, or if I would have stopped it," said Reynolds, who lives in Lexington.
"The next day we were to pick Barbara up to go out to lunch with us. I went to the door, but no one answered," Reynolds said. "Their dog, Meridoc, was going crazy inside the house barking, and running around. I could see her from the front-door window.
"We just figured they had other plans, so we went on our way. When I was notified, it was horrible," she said, recalling the tragic end to a blissful summer with a new friend.
The teens had spent their summer on the beach and swimming in the lake. They first met at Seedling Mile Elementary and were looking forward to their first year of high school at Northwest.
Reynolds was somewhat in awe of the Peaks' lifestyle. After Bill's successful military career, he had located in Grand Island with his wife and youngest of four daughters. They built a custom home in the new and desirable area, preparing for the next phase in their lives.
"The whole house was carpeted white. Wow. It was just like, you know, compared to my grandparents' house, which was built in 1929, it was just like, whoa, holy moly," Reynolds said. "And you know, the meals Bernice would fix … you know … it was, they're just … they were just good people."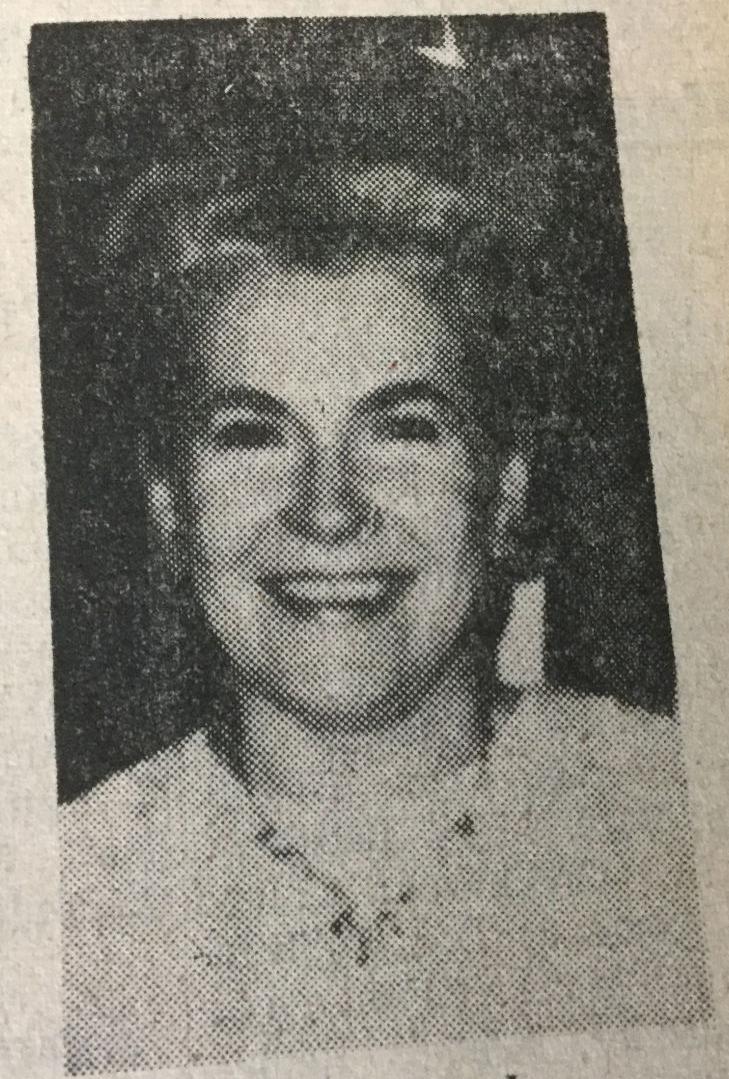 Ironically, if not for a rejected invitation from Georgia Stone, a college friend of Bernice, the Peaks may not have even been home on Sept. 9. Stone and her husband had invited the family to their South Bend cabin, but Bernice — known as "Beenie" by friends — canceled because she wasn't feeling well.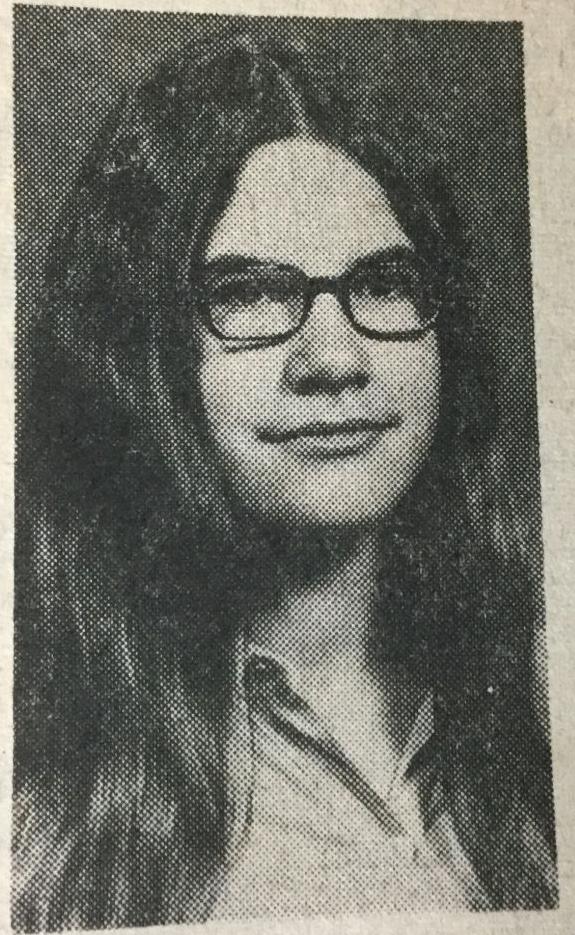 A few hours after Reynolds' failed lunch date with Barbara Peak, Ron and Emma Allen, Bernice's parents, came to the house to watch the "Bob Devaney Show." The Huskers had lost to UCLA on a late field goal in the season opener after a national championship season.
Bob and Georgene Allen, Bernice's brother and sister-in-law, had attended the game in Los Angeles.
The senior Allens made themselves at home in the living room, but Meridoc, an English setter, again was making a fuss, Georgene Allen said in an interview.
"Bernice's mother and dad were invited out to watch the football game … and they went up there and he (Ron) said this dog just was going bananas. 'What's the matter?' he said. She finally got him to go in that bedroom and that's how he found them," Georgene said.
From the moment Ron Allen found his gravely wounded daughter and deceased son-in-law and 14-year-old granddaughter on the blood-soaked, white carpet, nothing of substance has been learned about the "who" or "why" of the killings.
The bodies were in the master bedroom, near sliding glass doors that provided quick access to the lake and the patio.
No signs of a struggle or sexual assault were found. A cigarette was lying near Bill Peak's hand and his lighter was under his body.
His mortally wounded wife was draped across his body. Barbara was on the floor near a dresser, shot once in the shoulder and once in the head.
Hall County Attorney Ron Grimminger and Hall County Sheriff Charles "Chuck" Headley, a former Nebraska state trooper, handled the investigation.
Early indications were a possible robbery when Bill Peak's credit cards were found on Bismarck Road, near Dodge School. His billfold was found nearby at Sycamore and Oklahoma streets.
Was it a sloppy execution tied back to Bill's military and Eastern Europe intelligence assignments? The weapon was a .22 caliber, and a possible witness was still alive.
Was it a peeping tom caught in the act? Peepers aren't known for caring weapons.
Was it a drug-crazed, thrill killing? LSD was powerful and unpredictable.
Two other theories were murder-suicide or the threat of the Peaks revealing a wife swapping arrangement. The former was disproven; the latter was never developed in the investigation.
Georgene said she heard of a troubled young man who "called a friend and he said, 'I have a terrible thing to talk to you about.' He didn't mention the murder."
"A couple of days later he shot himself, and they never followed through on that," she said. "I always wondered if maybe it was (the murders) though."
Her husband, Bob Allen, who died in 2010 at age 84, did follow through.
He began his crusade just days after the shootings, appealing to Gov. Jim Exon and criticizing the progress of local investigators, whose work later was praised.
Immediately after the grisly discovery, authorities began searching for two "long-haired young men" who had been seen in the area in a blue Chevrolet Impala or Bel Air, described as a 1968 model with Nebraska plates.
On the Tuesday after the shootings, two men driving a blue 1966 Chevrolet with Lancaster County plates were detained in Billings, Mont., and accused of drug possession.
A deputy sheriff and State Patrol investigator flew to Billings on Wednesday to question the two men. Headley said the two would be extradited to Grand Island to be tried on drug charges.
The men were never charged for the murders.
The sheriff sent his chief deputy, Duane Henn, to Omaha to check out another lead. Another tip was pursued in Las Vegas.
Hall County Deputy Jerry Grone and State Patrol investigator George Fauver remained at Bernice's bedside in Lincoln. Her condition was listed as satisfactory, but she had been unable to provide more clues in the deaths of her daughter and husband.
A family member said Bernice was speaking incoherently and only able to make illegible scribbles. She did recognize loved ones and seemed to be recovering.
In the week after the killings, residents of the lakeside neighborhood adopted new habits. Fewer children were seen playing outside, strangers were viewed with extra caution, and a private security guard was hired to patrol the area.
"Besides feeling very sorry for what happened to the Peaks, many of us were very upset over the possibility that the killings had taken place here," said a resident at the time. "But we have to go on living in Hidden Lakes, so we are adjusting the best we can. I've talked to the children, of course, and told them we have to be careful about strangers, and we should keep the doors locked. Beyond that, we are trusting to God it won't happen again."
On Thursday morning, Sept. 14, funeral services were held at the Apfel-Butler-Geddes Funeral Home chapel for Bill and Barbara Peak. The Rev. James Roach of St. Stephen's Episcopal Church officiated. Burial took place at the Arlington National Cemetery in Arlington, Va.
By week's end, Headley had convened a meeting of his office and State Patrol investigators to discuss the direction of the search for the killers. He declined to detail any plans.
Headley did, however, denounce individuals "who would prey on the fears of others, particularly those calling themselves 'security guards' and offering protection in the wake of the murders."
"These people are not trained police officers," he said. "They have not been deputized by me and are in no way connected with my office.
Headley also said news coverage by non-local media was "sensationalized" and "not based on fact." He specifically excluded coverage by Grand Island and Hastings media and the Associated Press' Omaha bureau.
A week after the killings, the story had mostly dropped from the headlines.
In the Sept. 22 edition of The Independent, Headley and Grimminger, in a joint release, said:
"According to information we have been able to obtain, Mrs. William Peak is not responding as well as she was several days ago. Officers standing by have been advised not to press further attempts to converse with her to avoid disturbing her.
"Up until the present time, officers have been unable to obtain a statement or any information from Mrs. Peak as to what happened or who may have been involved in the fatal shooting of her husband and 14-year-old daughter."
Bernice survived until Nov. 8, but despite a transfer to Mayo Clinic in Rochester, Minn., complications of her wounds took her life. She was buried with her husband and daughter in Arlington National Cemetery.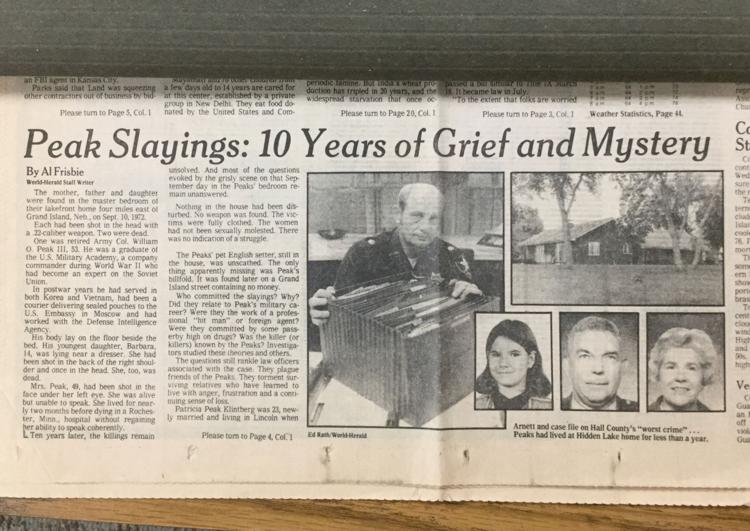 Her brother, Bob, persisted in his efforts to find the killers almost up to his death in 2010. A 2008 story in The Independent recounted his criticism of law enforcement and his pleadings to three governors and a United States senator.
Shortly after the murders, he circulated posters offering a $10,000 reward — roughly equal to $60,000 today. He followed up leads and passed them off to law enforcement officers.
In a 1997 letter to Bill Brennan, then editor of The Independent, he criticized a 25th anniversary story done by the newspaper in a detailed, three-page missive that recounted nearly every aspect of his efforts.
Nearly 46 years later, most of the people involved in the investigation are dead, leaving those who remember only with unanswered questions and loving memories of the victims.
Tami Reynolds fondly recalls the summer. She said a special portrait of Barbara Peak appeared in the 1973 school annual. No grief counselors were called or memorials held, which is often the case today.
"I think on the 20th or 25th anniversary, I called (the Allens) and told them I was thinking of them," Reynolds said.
In the eight years since Bob Allen's death, no new information appears to have been uncovered. No reward money is offered at this time, said Georgene Allen.
It's still possible that someone could still come forward with information or a confession — but hopes dim with each passing year.
The above story was compiled, in part, from Independent and Omaha World-Herald files.
Get local news delivered to your inbox!
Subscribe to our Daily Headlines newsletter.