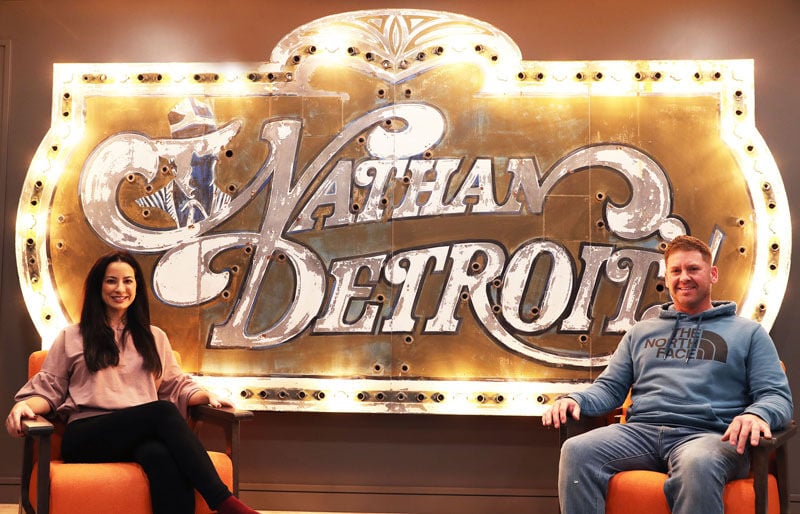 Gabe Coin loved Nathan Detroit's so much that he has a piece of the place in his home.
Coin proudly displays a Nathan Detroit's sign on the wall of his basement. The sign came from the exterior of the downtown Grand Island bar and restaurant, which closed in 2017.
How much did Coin like Nathan Detroit's? He visited the place every Friday for six years straight.
Coin liked the character of the place, its spiral staircase, ambiance, food and service. "It was a quiet, intimate atmosphere," he said. Coin and his friends enjoyed the nice view from the second floor.
Nathan Detroit's, owned by Robert Mahood, operated in the current location of Kinkaider Brewing Co. The business opened in 1984.
The sign stood above Nathan Detroit's main entrance.
Because the place meant a lot to Coin, "I wanted to bring it somewhere where I could always see it," he said.
Coin stored the sign in his old house on Woodridge Lane for about five years. He and his wife, Catey, knew they were going to build a new home, and the Nathan Detroit's souvenir was a sign of things to come.
They now live in a lakeside home on Brentwood Drive.
A telehandler was needed to bring in the heavy remnant from Nathan Detroit's,
"The sign had to go in during the construction phase," Catey said. "Otherwise it would have been impossible to bring it in."
He "wanted to build this basement and the feel around this piece," he said, referring to the sign, which is illuminated with scattered light bulbs.
He could screw a light bulb into every socket if he desired. "I just didn't want a suntan down here," he said.
Among the friends he spent time with at Nathan Detroit's were Patrick O'Boyle, Lonnie Davis and Darryl Wilhelmi. Coin's favorite dish at the establishment was Cajun pasta.
Coin, 39, owns Coin Construction and RValue Insulation.
A native of Davenport, Iowa, he's lived in Grand Island for 12 years. He and Catey, a Lincoln native, have four children, who are 18, 14, 11 and 7.
The Coins have lived in their new house for about a year.
He and Catey recently purchased the Bartenbach building where they plan to build a speakeasy on the building's main floor.
That business will be similar in spirit to Nathan Detroit's.