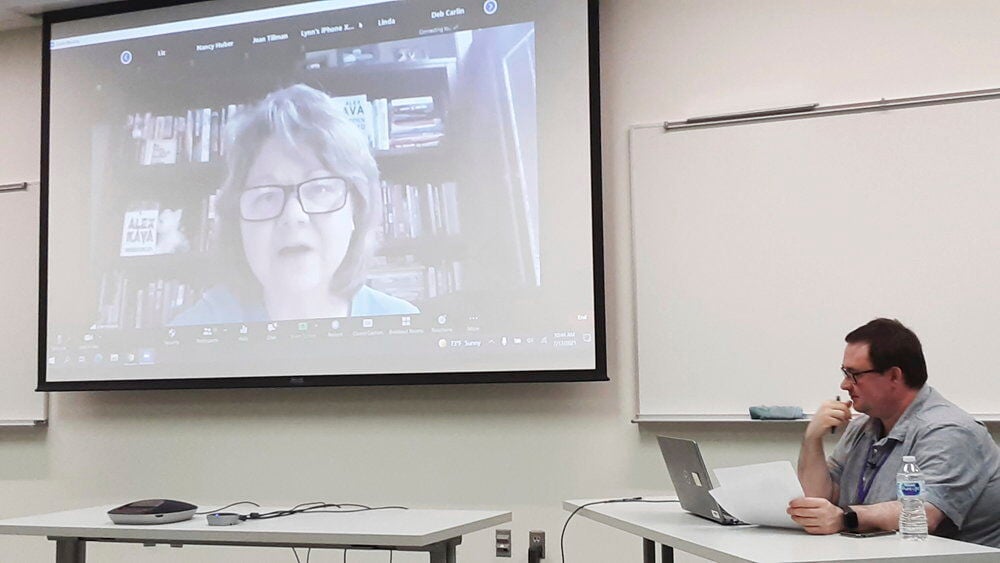 Nebraska author Alex Kava visited Grand Island Public Library Saturday via videoconference.
Kava, best-selling author of the Maggie O'Dell and Ryder Creed suspense series, spoke about her writing process and took questions from live audience members and online attendees from Montana, Pennsylvania and even South Africa.
She likes to use real crimes as a source of inspiration for her books, Kava explained.
Her first book, "Perfect Evil," published in 2000, is loosely based on Omaha's serial killer John Joubert.
Kava's latest work, "Fallen Creed," coming out this fall, is influenced partly by the Sydney Loofe murder trial, she said.
Loofe, 24, was lured via Tinder by Bailey Boswell, 26, and boyfriend Aubrey Trail, 53, strangled to death and her body was dismembered and found later in garbage bags.
"My main characters are out staying at a Grand Island motel and going to Hastings quite often," she said. "The Hastings Menards is a special place."
Kava's character Ryder Creed was a K9 handler in the U.S. Marines, and heroic dogs involved in crimes and emergencies play a key role in her stories.
"Scent dogs can be trained for not just recovery and missing people, they can be trained for drugs, explosives, different diseases," she said. "Every time I start a new book I look to see, what do I want the dogs sniffing next?"
Of recent interest for Kava has been the Champlain Towers South collapse at Surfside, Fla., which has had dogs used for the search and rescue efforts.
Though search dogs and recovery dogs are being used, Kava does not see entertainment value in referencing such a tragic event.
"Even though I use real-life cases in all of my books, my books are entertainment, and I want people to enjoy them," she said. "I don't want people to leave them feeling depressed and so saddened they're not going to read another book."
Kava also spoke about growing up in Merrick County's Silver Creek.
Many of her novels are set at least partially in Nebraska, she said.
"People around the world don't seem to know anything about our flyover country," she said. "It makes me feel like it's a bit of a platform for me to educate people on what it's like here. I want people to know we don't still ride horses and tie them up at the post when we go to the grocery store."
There are three things Kava likes to have before starting a novel. She must have the title, and it must mean something. She also has the first paragraph or first chapter and she knows how the story will end.
Kava revealed that, like director Alfred Hitchcock's famous cameos in his films, she finds a way to insert herself in her novels through the minor character of Rita, a waitress who has appeared in nearly all of her novels.