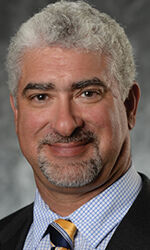 Gov. Pete Ricketts addressed issues important to Nebraska Farm Bureau during his State of the State address Thursday.
They included property tax reform and expanding broadband services across Nebraska.
"Property tax relief remains a high priority for Nebraskans and the members of Nebraska Farm Bureau, " said Mark McHargue of Central City, president of Nebraska Farm Bureau.
During his address, Ricketts said his budget proposal delivers $1.36 billion in property tax relief during the next two years. It is part of his plan to control spending to a growth rate of 1.5%.
Ricketts said this includes $550 million in direct property tax relief through the state's Property Tax Credit Relief Fund, and more than $596 million from the newly enacted LB1107 refundable property tax credit.
He is also proposing roughly $214 million to provide for property tax payments under the current Homestead Exemption program.
Ricketts said property taxes have grown by 4.46% annually on average for the last 10 years for an overall increase of 54.65%.
"Taxes are growing at a rate that Nebraskans cannot manage within their family budgets," Ricketts said.
He said it is his belief that if the Legislature fails to enact spending constraints, "the people of Nebraska will take matters into their own hands and strip local governments of their property tax authority."
"We greatly appreciate Gov. Ricketts' continued efforts to address this important issue, " McHargue said.
Nebraska Farm Bureau is looking forward to working with Ricketts and state legislators, he said, in addressing "our state's overreliance on property taxes" during the current legislative session.
McHargue said Nebraska Farm Bureau also appreciates Ricketts' efforts to make broadband expansion a priority for Nebraska.
Ricketts said the state "must continue to invest in better community connectivity through broadband internet."
"It's no secret that many Nebraskans still do not have access to broadband," he said.
Ricketts said more than 80,000 Nebraska households lack broadband speeds of at least 25/3.
"The pandemic revealed how impossible work from home or remote education can be for those on the wrong side of the digital divide," Ricketts said.
He said during the past several months, the state was able to use CARES Act money to begin connecting 17,600 households with broadband.
"Additional households are expected to receive broadband using existing resources over the next two years," Ricketts said.
He said he will be working with state Sen. Curt Friesen of Henderson, chairman of the Transportation and Telecommunications Committee, and other legislators in continuing to expand broadband services across the state.
Ricketts proposed to legislators that the state invest $20 million in each of the next two years to help another 30,000 households get broadband connectivity.
"This will move Nebraska closer to bringing broadband coverage to every corner of the state," he said.
McHargue said high quality and high-speed internet service is vital to rural Nebraska and other underserved areas of our state.
"Whether it's telehealth, education, access for main street businesses or precision agriculture, expanding and improving broadband is vital for growth and Nebraska's future," he said.