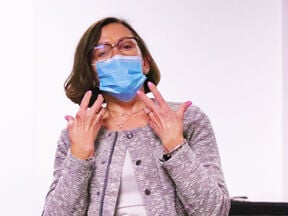 Masks no longer need to be worn outside, except in large crowds, according to new guidelines announced Tuesday by the Centers for Disease Control and Prevention.
Teresa Anderson, Central District Health Department director, said it is up to each person to consider the risks that come with not wearing a mask, despite the relaxed CDC guidelines.
"If you're going to a crowded place where there are a lot of folks and close contact, you may still want to wear a mask because you don't know who has or hasn't been vaccinated," Anderson said. "If you're going to a picnic and there's good social distancing, and you feel comfortable knowing most of the people there are vaccinated, you may feel free to not wear a mask."
Grand Island Parks and Recreation still encourages people to wear face masks and practice social distancing in large groups.
Parks and trails are otherwise a safe place for activities, said City Parks and Recreation Director Todd McCoy.
"In the parks, people are able to spread out and give each other room. There's quite a bit of space," he said. "I think people feel pretty safe, and that's been an area where they've already not been wearing (masks)."
The city of Grand Island still recommends wearing masks indoors, and masks are required in city facilities, such as City Hall.
Nebraska Department of Health and Human Services guidelines still are being followed for large events.
"There's an online application," McCoy said. "If the Health Department approves of it, then we generally approve of it, as well."
He anticipates a busy summer season for the city department.
"We plan to have the pools open, children's programs going, concerts in parks," McCoy said. "We are moving forward with all of those plans, and hope to have a good summer."
CDHD remains watchful for further spread of coronavirus and its variants.
People still should wear masks in public places, even if they have been vaccinated, Anderson emphasized.
"We're not clear yet in knowing that once you've been vaccinated, if you're able to carry the virus and potentially spread it," she said.
People are contagious two days before they first show symptoms, Anderson said.
"So if there's someone at your gathering who feels fine, but hasn't been vaccinated, and is developing COVID, they can spread it, as well," she said. "And we're still not sure if the person with the mask will be totally protected."
CDHD is working toward vaccinating older teenagers and hopes a vaccine will be ready for ages 12 to 15 ahead of the 2021-22 school year.
Anderson encourages all people to receive a COVID vaccine.
"We know there are some individuals who are not going to get vaccinated for personal reasons," she said. "We continue to work on ways to help them understand that by getting vaccinated they're not only protecting themselves, but those around them, and reducing the possibility that we'll have another large spread."
For more information on coronavirus, its vaccine and other CDHD efforts, visit cdhd.ne.gov.