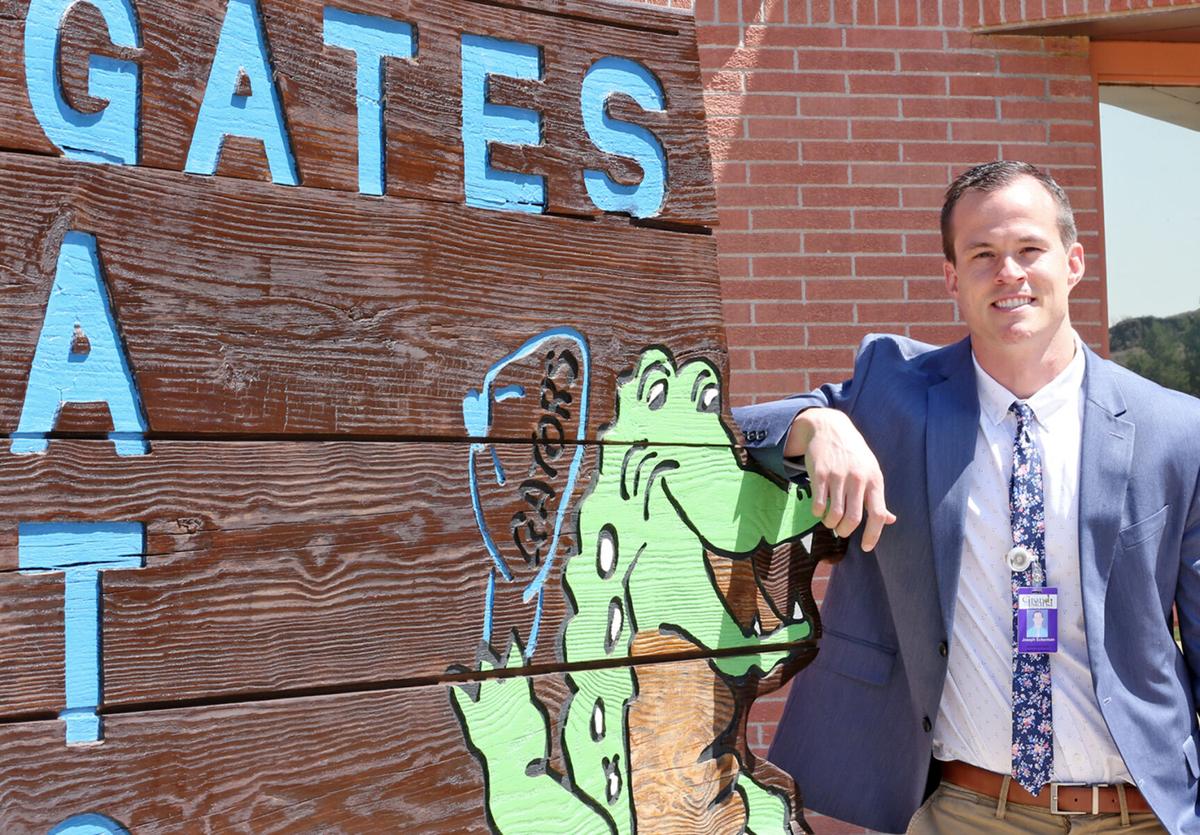 Gates Elementary School Principal Joe Eckerman is not a principal confined to his office all day.
As a first-year principal. Eckerman said he is "up, moving and working," walking an average of 9 miles a day to build relationships with students.
"I like to be very hands-on and be visible" he said. "I like to be in every classroom and have constant conversations with people just checking out to see how they are doing. That includes not only students, but also the staff. I like to be moving around and interacting with people. I feel like, for me, that is my best way to where I can see how everybody is doing and who I need to give a little bit more extra help or support to."
Eckerman said seeing students in their classroom environment helps him to understand their needs better. He said he tries to visit at least five classrooms per day to hit every classroom at Gates at least once a week.
"You can't really effectively help somebody if you don't know where they're at," Eckerman said. "I really try to make sure I have already been in every classroom and that is just something that I will continue throughout the year."
Eckerman comes to Gates from Omaha Public Schools, where he was an elementary dean of culture at Howard Kennedy Elementary for the past four school years. He had previously taught fifth grade in OPS for four years.
Eckerman said he was drawn to Grand Island Public Schools and the Gates principalship due to the district's strong focus on giving students the supports they need to be successful.
"It really aligns with my philosophy of what education should be about," he said. "I felt that it was a good fit, so when I saw there was an open (principal) position, I put my name in the hat and, luckily, it turned out that they gave me this opportunity. I am going to make sure that I make the most of it."
Eckerman said the first few days on the job have been "very good so far" and that he has worked to embrace the COVID-19 safety protocols and connect with students, staff and parents.
"I think being a brand-new leader, a typical year is challenging; COVID-19 just adds a whole new layer to it," he said. "I am up for the challenge. Being uncomfortable helps us grow, so I am just trying to learn as much as I can as fast as I can."
When students enter the school building each morning, Eckerman said he tries to "make sure they start their day on the right foot" by greeting them. When they come into the cafeteria, he said he tries to reach out to students and talk with as many of them as possible.
"The No. 1 thing that I try to instill in them is the fact their perception — their attitude — is really what makes or breaks their day," Eckerman said. "So I am very intentional about always trying to be very positive with my students whenever I am interacting with them and making sure I am modeling that for them. They need to see the relationship between their attitude, how they feel about their day and what they are achieving throughout their day."
In his first two weeks as principal, Eckerman said he has gotten "some pretty good feedback" from students. As an educator, he said he tries to learn every student's name, but that this has been tough since students are required to wear masks due to COVID-19.
"I am still trying to grapple with that and trying my best to learn everybody's individual names," Eckerman said. "Being a week in, I am making progress, but it is a little bit slower than I am used to. Usually, I have everyone's name down within a week. Learning kids' names is something I really value. It is hard to work for somebody and provide those supports if you do not know their name."
In an April news release from GIPS announcing Eckerman's hire, Superintendent Tawana Grover said she was impressed with Eckerman's ability to increase student achievement and focus on growth.
"Mr. Eckerman will fit in well with the Gates Elementary community," she said. "He has demonstrated an ability to focus on strong relationships with students and families to make a positive impact on their education."