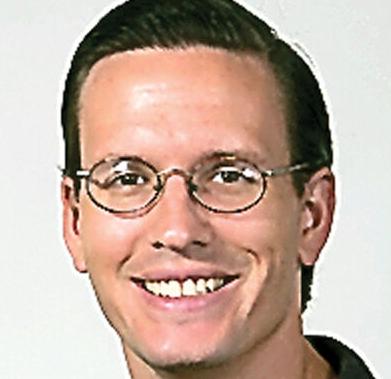 How old is too old to change your ways?
Exactly at what point are dogs too old to teach new tricks?
Because I feel that I have reached a point in my life where I am ready to make a major change.
I have embraced logic and facts for so long.
While English was my favorite subject growing up — kind of a given for someone who goes down the career path of writing — math was a close second.
There are no gray areas with math. It's just numbers (with a few tricky letters in algebra) with a set answer.
Even the logical part of English appealed to me. Diagramming sentences for a semester in college was much more fun than it sounds from the outside.
Even in the sports world there is a certain amount of logic. There is a winner and a loser, and it usually can be determined that certain factors determined the outcome of games.
There are outliers like the entire 2021 Nebraska football season that make your head spin, but those are more the exception rather than the rule.
But I am ready for an easier life than one that comes with logic and facts.
I want to transform into a full-out conspiracy theorist.
I've tipped my toe into those murky waters. I am more Mulder than Scully when it comes to the type of supernatural events included in "The X-Files."
It wouldn't be shocking to find out that aliens, Bigfoot and the Loch Ness Monster are all teaming up to mess with the heads of the human race.
But I'm ready to expand my belief in conspiracies.
I want to join those who proudly post comment after comment after comment about "do your research" on every single online article concerning COVID.
I want to do my research until I find a website www.absolutenutsobeliefs.com that has a total of 707 views and proclaim that it is the truth, not mainstream media or scientists, just because it echoes the thoughts running through my head.
I want to believe that a worldwide pandemic was created just to affect American politics. How many countries can claim that? USA! USA!
I'm not sure which of the thousands of conspiracy theories that keep spinning out of the Ghisaine Maxwell trial that I will buy line, hook and sinker, but there is quite the wide selection. If there was a bulk store for conspiracy theories, this would be a major supplier.
After I've waded into the pool, when I'm ready to dive into the deep end I'll adapt some of the QAnon beliefs.
I'd love to know how the theory began that John F. Kennedy Jr. would return from the dead and run as the vice president candidate for Donald Trump during the 2024 presidential election.
On the surface I would think JFK Jr. would still be a Democrat, but on second thought a zombie VP candidate probably would choose to join the so-called "pro-life" political party.
With social media, this is the best of times to become a conspiracy theorist.
But with the Clintons mostly gone from the spotlight, it is also the worst of times. Thankfully there is that Maxwell trial to keep the couple that has generated more conspiracies over the past 30 years than anyone else popping up in online rumor mills.
Sign me up for theories about chemtrails, the New World Order, the Denver Airport, JFK's assassination, crisis actors, 9/11 and the Deep State.
It might seem crazy to adapt all of these conspiracy theories.
But it also might be scarier to accept facts and logic and be left believing that in this world, what you see is what you get and there are no evil mystery people pulling the strings behind the scenes.
Dale Miller is a sports writer for the Independent. Once a week he wanders away from the sports department to offer his take on non-sports related topics.