If Grand Island can't get its number of COVID cases down, vaccinated people will need a second booster shot this spring.
Central District Health Department Director Teresa Anderson addressed Grand Island Noon Rotary on Tuesday on the challenges of combating COVID in the agency's three-county coverage area at the start of yet another spike in new cases.
"Who thought the pandemic would go on this long? Certainly not me," she said. "This is our first pandemic and hopefully our last. We're learning as we go. Every day we learn more about what works and what doesn't work."
No cases of flu have been reported yet in the district.
Anderson is urging people to get a flu shot as soon as possible because, if they become sick, they may be able to find a bed at a local hospital.
In the Tri-Cities area, only 27% of general hospital beds and 18% of ICU beds are available right now, Anderson reported.
"If you get the flu and you get ill enough to be in the hospital there may or may not be a bed for you," she warned. "Hopefully, we won't have a lot of flu while we're battling this COVID."
The scarcity of beds is because of the current rise in COVID cases.
There are 60 new cases being hospitalized every day in Nebraska, Anderson said.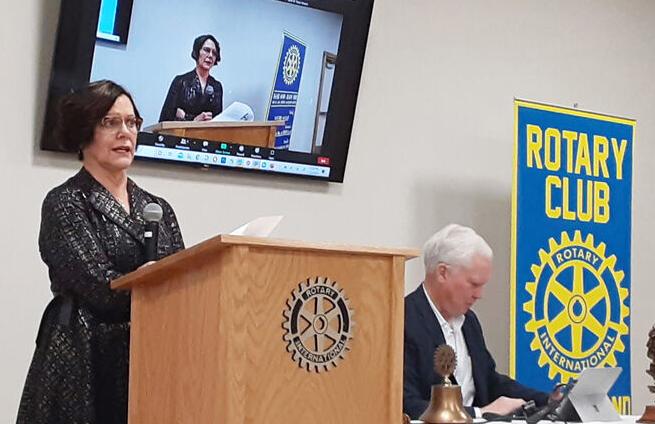 "Right now, Hall County has 465 cases in a 14-day rolling average," she said. "We were at 800 when we were at our peak."
These are people between ages 30 to 50 who have not been vaccinated, Anderson said.
As case numbers rise, there is a greater chance the number of COVID-related deaths will start increasing, as well.
"The delta variant is marching forward again, moving up north, moving east, and we'll see those cases start to expand beyond what we have today," she said.
COVID can be brought down to a manageable level, Anderson said.
In Hall County, 48% of the population is vaccinated, and in Nebraska 63% of the population has completed vaccination.
"If you are unvaccinated, you are 11 times more likely to be hospitalized," she warned.
A vaccine is available now for children ages 5 to 11.
"We're vaccinating about 1,000 kids a day across the state," Anderson said.
A booster shot helps against breakthrough infections.
"What we're seeing across the state right now is vaccine breakthroughs in some of those people who have been immunized," she said, "but if we get that booster it knocks that breakthrough number down by half."
About 500 adult boosters are being administered every day in Nebraska.
"Most of us are at least six months out from our vaccine, and with any vaccine, given time, immunity starts to wane and you become susceptible again," she said. "We want to protect ourselves from even mild illness and, equally important, we want to keep from spreading it to others."
Anderson encouraged advocating the vaccine to loved ones.
"We need to reach out to our family and friends and encourage vaccination, and really spend some time talking to them about what their reservations are," she said. "This is a world of misinformation, and there's so much information out there that it's hard to tell what is credible, what's science-based."
She added, "It's a muddle sometimes, but we know vaccinations are saving lives and this is our way out of the pandemic."
COVID vaccines and boosters are available at the CDHD office, 1137 S. Locust St., Grand Island, Monday through Friday, and available at many community pharmacies.