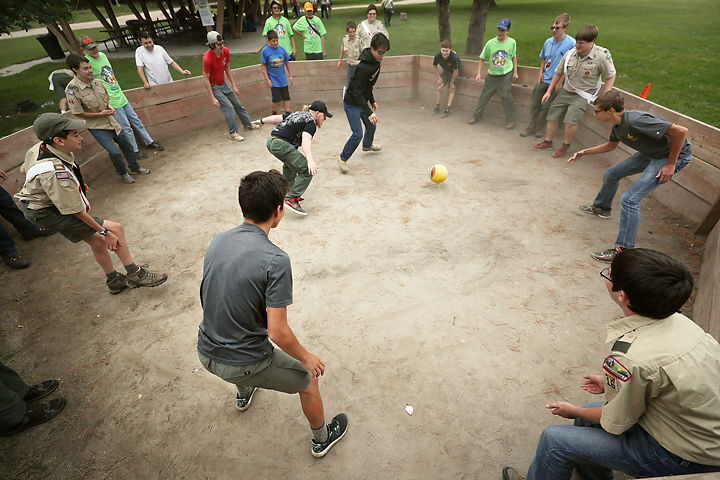 For many families, it wouldn't be summer without Scouting. To those families and many others, Dave Plond has a message: "Summer is back!"
"Expect to see Camp Augustine abuzz with activities, as well as the return of Merit Badge University," said Plond, Scout executive for the Overland Trails Council, Boy Scouts of America, based in Grand Island.
All summer activities last year were canceled due to the pandemic.
"We're back to normal," Plond said. In fact, he indicated things may be even better than normal.
Beginning in late May, Camp Augustine, which is south of Grand Island, will offer a variety of one- to three-day activities instead of the traditional weeklong camps.
"It's about what works for the family," Plond said.
In the past, troops would attend weeklong camps with their adult leaders, but many adults find it difficult to get away from work that long.
"We still want to give the leaders the opportunity to come with their kids," Plond said. "It's a lot easier for them to take one day and be with their child."
Scouts will be able to register by the troop or individually, he said. Adult staff members will be on hand to supervise kids who come without a leader.
Even kids who aren't Scouts will be able to attend. Everyone will be able to enjoy camp staples such as roasting marshmallows, fishing in the lake and watching wildlife.
New at Camp Augustine this summer will be swimming lessons.
"Families have been asking for this," Plond said. "We've got a pool. Why don't we use it?"
Regardless of the activity, parents can rest assured that their kids are in a safe environment.
"We've got a fully trained medical staff," Plond said. "We'll take all the necessary precautions and follow CDC guidelines."
Merit Badge University will return July 23-25 at Stuhr Museum. The 400-500 Scouts who attend will be able to choose from more than 70 merit badges over three days.
"That's a huge event for us," Plond said.
2021 Camp Augustine activities
May 21-23 — Family Fun Event, Cub Scouts in kindergarten through fifth grade and their families
July 9-11 — Wolf and Bear Camp, Cub Scouts going into second and third grades
July 11 — Tiger Activity Day, Cub Scouts going into first grade
July 16-18 — Webelos and Arrow of Light Camp, Cub Scouts going into fourth and fifth grades
June 4 — Trail to Blue Swimmer, for nonswimmers and beginners working toward blue swimmer test
June 9-11 — Trail to First Class
June 14-15 — Cooking Merit Badge, requirements for home cooking will not be completed
June 18-21 — Girls in the Woods, ages 11-18
June 30-July 1 — Swimming Merit Badge, must be blue swimmer to participate
Multiple ages, multiple sessions, both group and private lessons
2021 Merit Badge University
July 23-25 — Stuhr Museum