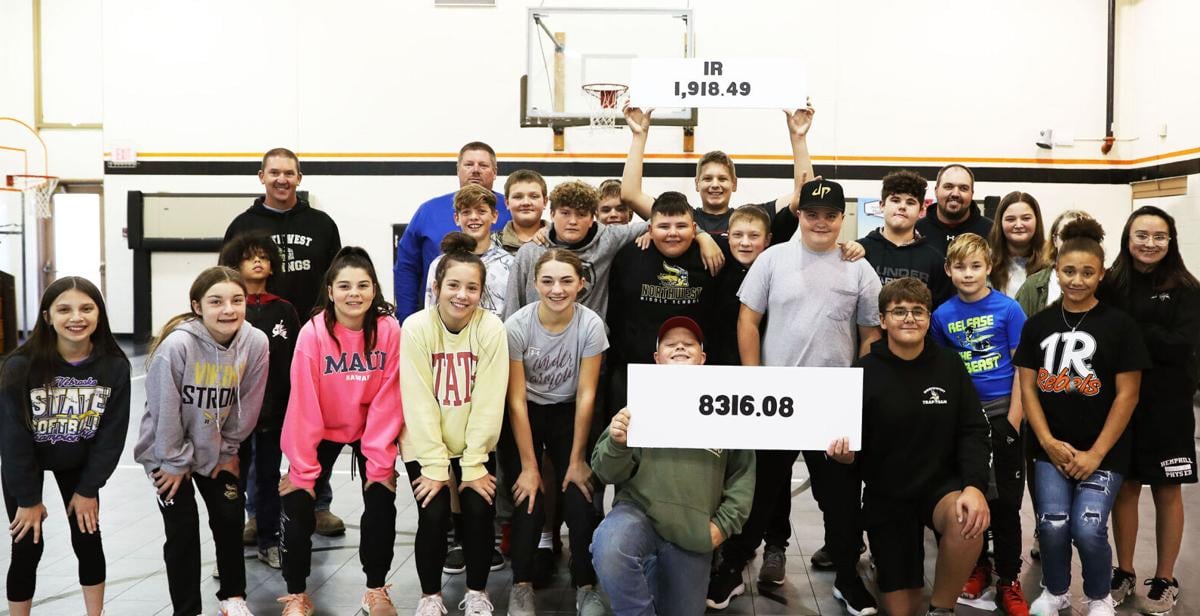 Northwest Public Schools' Penny Wars has come to an end, amassing a total of $8,316.08 going to the district's "Charting Our Future" capital campaign to improve athletic facilities for its students.
Students at the 1-R, St. Libory and Cedar Hollow elementary/middle schools gathered in their respective gyms for the big reveals: which class in each school collected the most money.
In a penny war, teams (in this case, classes) compete to see who can fill their container with the most pennies. The containers are placed where they are easily visible because there is more strategy to a penny war than shiny copper coin collecting – a penny war is a game of sabotage.
Adding silver coins or cash to competing teams' containers can "cancel out" the pennies collected. For instance, if a class had 10 pennies, another class could add a dime or two nickels to that class's container to erase the 10 penny points. The team who ends up with the most penny points wins.
School spirit abounded on each campus, said Northwest Public Schools Superintendent Jeff Edwards.
"It's been tremendous. Penny War is a prime example of getting Cedar Hollow, 1-R and St. Libory involved because it's not just a Northwest High School project. It's a Northwest Public Schools project."
The capital campaign is raising funds to improve Northwest's athletic amenities. The football stadium is to be outfitted with artificial turf, new grandstands and a press box. The location will remain the same, but the new capacity will be increased by 400 or more with the addition of bleachers on one end.
The fieldhouse will be constructed on the east side of the football field. It will provide practice space for high school, and seventh- and eighth-grade basketball and volleyball teams. Additional elements will provide space and opportunities for Northwest's students of all grade levels.
"Once the fieldhouse is built, then the high school will be able to move over to fieldhouse to do practices and all of the middle school will be able to start playing all of their games at the high school."
Middle school students are playing at Cedar Hollow's facilities, Edwards said. "We see maybe 200-250 (spectators) on a good day, so it's pretty cramped in there. So this will make our fan atmosphere even better."
The project's total amounts to $7.5 million. At its August regular meeting, the Northwest Board of Education pledged an initial 10%. The district has applied for a grant toward the field turf, made of recycled tires. The remainder of the funds will come from other grants and contributions – including those from the Penny Wars.
The student-collected and contributed funds will count toward that total. The idea to use a Penny Wars format was Amanda Hodges of the St. Libory PTO. Tosha Edwards helped coordinate the fundraiser. Hodges said they were surprised when the week one totals came in.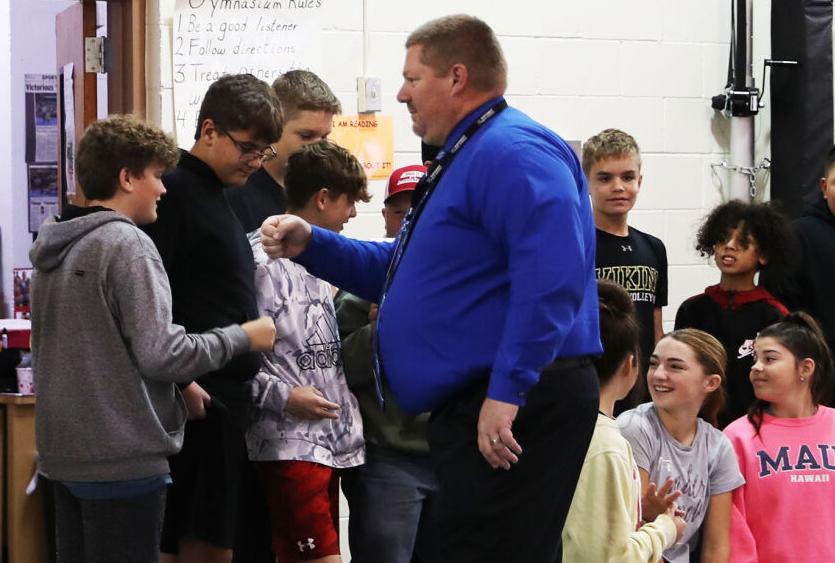 "Tosha and I set a goal… it'd be great if we got like, $3,000. And then when we hit $3,000, in that first week, yeah, OK, maybe $5,000."
One-R Principal Steve Retzlaff said he was excited how his students came through. "I am super proud of our kiddos. It was fun to hear it this morning of (the Penny Wars) raising $8,000 for this project. They shattered that and I couldn't be more proud of our kids at 1-R and across the district for this."
Some students contributed their own money with one student raiding his piggy bank to the point Retzlaff notified the student's parents.
"We called mom and dad and said, Listen, you need to know… they said, 'No, it's his money. He earned it. We know he's doing and this is what he wants to do.'"
Hodges said students stepped up the entire four weeks of the Penny Wars.
"Usually the first couple of weeks kids are really into it and then it kind of dies off. Everybody was into it the entire month, like yesterday at St. Libory where we had kids bringing in backpacks of pennies."
Tosha Edwards said when she took the change to the bank, she needed help lifting the coolers full of change, mentioning Cedar Hollow's haul.
"We had a big cooler and a small cooler. It took Mr. (Scott) Mazour (Cedar Hollow principal) and four eighth graders to lift them off the cart and put it into my vehicle. They were 'it was crazy heavy.'"
Kids weren't the only ones contributing. School board members, parents and other community members got in on the fun, too, Hodges said.
"At St. Libory we had a couple of kids that live in Chapman. They had one of their neighbors brought a bucket full of coins because he had heard about it on the news and wanted to donate. He doesn't have any kids in the district."
While the kids competed, the grown-ups watched the Northwest community support them – and the "Charting Our Future" capital campaign. Hodges said, "It was just awesome because a huge community came together to help the kids."
Jessica Votipka is the education reporter at the Grand Island Independent. She can be reached at 308-381-5420.