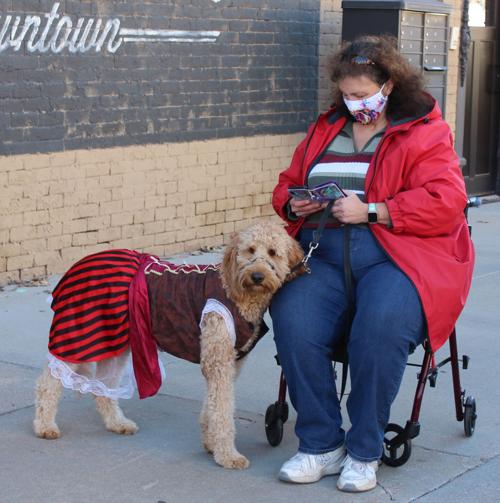 HASTINGS — The sidewalks of downtown Hastings were roamed Saturday by creatures dressed as skunks, girl pirates, convicts, superheroes and pumpkins.
And those were just the dogs.
At least 75 pet owners dolled up their pooches for an event called Furry Friends Trick or Treat.
It wasn't that much of a novelty for the hounds. In talking to pet owners, it sounded like a lot of the dogs are used to wearing costumes. So they didn't suffer much indignity.
But it was a fun time for both adults and pets. People enjoyed checking out the dogs, and the dogs were busy checking out each other.
Melissa Utecht of Hastings outfitted her dog, Stella, as a skunk. The canine is a combination of French bulldog and Boston terrier. Fortunately, the dog didn't spray.
Roanyn, a pitbull mastiff, wore stripes, but he wasn't really a convict. "He's just naughty all the time," said his owner, Sydney Anderson of Hastings.
Her other dog, Nala, wore more delicate attire. "She's a princess, because that's the way she gets treated," Anderson said of her husky.
Danielle Kostner accompanied an English mastiff named Pickle. The dog was meant to look like an '80s punk rock girl, said Kostner's husband. Their daughter, Charleigh, was in charge of a chihuahua named Chase, who was meant to resemble "a little gangster dog," Charleigh's father said.
Kalee Vargas' dog, Ziggy, wore an orange Halloween outfit.
"He's a little pumpkin," she said of the Bichon Frise.
She said the dog liked the outfit. "It's super warm and comfortable. He never wants to take it off."
Ziggy, 3, didn't like the hood covering his ears, said Vargas' companion, Dakota Perez. But other than that, the dog was enjoying himself.
Rebekah Martin of Hastings attired her dogs as Batman and Robin.
Bandit, an Australian shepherd, played the Caped Crusader. Rusty, a German short hair, was the Boy Wonder.
Martin chose the look "because they're my superhero puppies."
She couldn't have two dogs playing the same crimefighter. So she assigned Rusty the role of sidekick.
The Australian shepherd is the younger of the two dogs.
"Bandit is young and immature. Rusty has been around the block a time or two. They both put up with Mom dressing them up quite well," Martin said.
Jenna Malzahn of Wood River dressed her dog as a stingray. She thought the outfit looked cute, "and I find it really funny."
The dog, Olive, is an Australian shepherd and border collie mix.
Mirandah Scheil of Hastings didn't bother dressing up her dog, instead giving herself a gothic look.
Her dog, Bailer, is a black lab.
"I figured the black matched the look I've got going on," Scheil said.
She was sporting a "demon witch" look. On Saturday morning, Scheil was "just kind of bored and had makeup." So she got herself ready.
Jacquie Cox's dog, Chewie, came in the guise of a pirate girl. The golden doodle wore a vest, skirt and petticoats underneath.
Cox, who lives in Blue Hill, said the outfit fit the dog's personality. Chewie is "kind of a free spirit."
So it was a good look for her. "And you don't see a lot of pirates in central Nebraska," she said.
Shailyn Glinsmann attached only a TY Beanie Baby logo to her Great Dane. "She hates costumes," Glinsmann explained.
The dog, Bella, stands 3 and a half feet tall and weighs 102 pounds.
Bella is a gentle giant. "She's just very lovey and gentle, and I think that's why I love her so much," said the Hastings woman.
Karesse Figgins of Ayr dressed her dogs as cowgirls. Each dog sported a tiny cowboy hat.
The larger dog, Luna, is a collie and boxer mix. The smaller animal, Astrid, is a red heeler mixed with pit bull.
It was the first Halloween for Astrid, who is only nine or 10 weeks old. "So we thought she'd be, like, the sheriff of Halloween," Figgins said.
What about the bigger dog? "She's the deputy," Figgins said.
Astrid didn't like her leash and collar. Luna, meanwhile, "just wants to jump up on everybody because she likes people and dogs."
Mazy, a golden retriever owned by Stephanie Jacobson, was modeling a Husker dress.
In the past, the outfit has been worn by Jacobson's two daughters.
Mazy, she said, wore it well. She didn't have to do any nipping or tucking.
Jacobson, who lives in Grand Island, is a counselor at Hastings Middle School. Mazy, who visits school frequently, is training to become a therapy dog.
Hiroko Warner's dog, Maia, appeared to be wearing Hershey candy bars.
Why? "Because she's a chocolate lab," said the Hastings woman.
Maia is also a therapy dog.
The Furry Friends Trick or Treat was put together by Alyssa Anders, owner of the Art Bar.
The downtown Hastings trick or treat was canceled because of COVID-19. So Anders decided on a way to have fun with dogs instead.
People on a walk just naturally practice social distancing. It was a nice way, she said, "to get people out and about on a beautiful day."
The other businesses taking part were Lemon & Co., I Am Me, First Street Brewing, Steeple Brewery and Berkshire Hathaway Realty.
Anders didn't know what kind of a turnout to expect. So, 20 minutes before it started, she was pleased to see "lines of people with dogs."