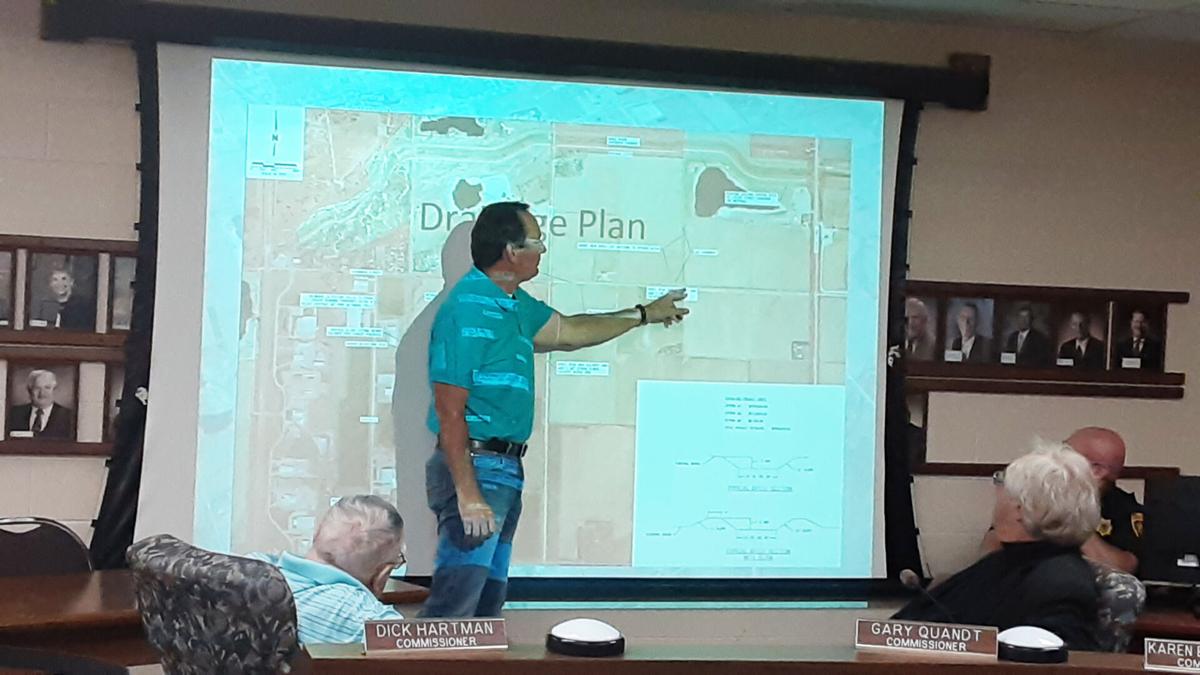 Drainage for several southwest Grand Island properties could be improving soon.
A proposed Platte Valley Industrial Park drainage improvement project could help landowners in the area as well as businesses in the development.
If approved, areas north of Wildwood Drive and Schimmer Drive between Highway 281 and Blaine Street would get wider drainage ditches.
The project is expected to cost roughly $625,000, including an $85,000 share from Hall County.
Hall County has been working with Grand Island Area Economic Development Corporation and Central Platte Natural Resources District to launch the drainage project.
"Generally, drainage in this area goes in an east/northeast direction, in a diagonal, and they're trying to square it up to try to minimize the impact on properties and property use, whether it's ag property or commercial and industrial park property," Steve Riehle, County Public Works director, told County Commissioners last Tuesday.
Ditches in the area are currently four feet wide.
The project would expand ditches along Schimmer and Blaine to 15 feet wide.
"The ditches are based on elevation," Riehle said. "The ditches are deep enough; they just don't have the capacity to carry all of the drainage that comes at them."
He added, "This is trying to replicate, as close as can be, the natural drainage that was there."
The original industrial park space had suitable drainage, Riehle said, but when it expanded to Gold Core Road, drainage problems became apparent.
"They had an outlet along the railroad tracks that went north of Schimmer (Drive) and when the railroad replaced their bridge in conjunction with the Wood River Diversion Project, that ditch was blocked off or filled in, so they lost that outlet."
Additional easements and rights-of-way will be needed from Schimmer to the side channel of the Wood River Diversion, among other expenses.
"Water travels along the south ditch of Schimmer, then jogs under Schimmer in a box culvert," Riehle said. "Through their concept with the sizing, they said the box culvert isn't big enough. It needs one more 36-inch pipe."
As a result, the cost for Hall County could be greater than proposed.
"With the concepts they have presented, when I look at it, it's not all in-kind costs. There are real costs," Riehle said. "There's a 36-inch culvert under Schimmer Drive approximately a half-mile east of Blaine Street, and there's additional right-of-way along Schimmer; plus drainage easement north of Schimmer."
CPNRD has approved allowing the drainage into the diversion side channel.
U.S. Army Corps of Engineers has verbally approved it, as well, Riehle said.
"For formal approval to come from the Army Corps of Engineers, they want a design that is very close to complete, and right now it's just a concept," he said. "It shows the elevations that are there. They have looked at how deep the ditches would have to be."
An agreement from Hall County with the entities involved is needed before the project can begin, Riehle said.
"What the Economic Development Corp., the city and the property owners in the industrial park are wanting is an agreement so they can go to the next level and have a set of plans, get corps engineers' approval, get railroad's approval, and move forward," he said.
There have been no discussions with area landowners yet as the entities are waiting to finalize the project plans.
"There's some thought that maybe some of the property owners that are impacted by this may be supportive because it's going to take care of the bottom end of their fields," Riehle said. "It doesn't drain very well today and it could make it drain better."
Hall County Commissioners took no action last week on the Platte Valley Industrial Park drainage project.
Get local news delivered to your inbox!
Subscribe to our Daily Headlines newsletter.