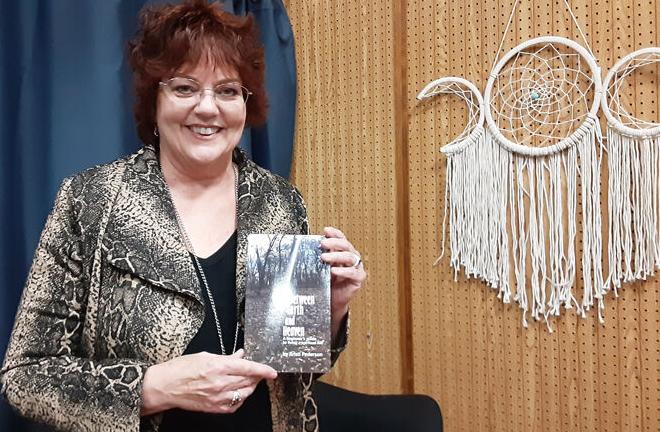 Psychic Medium Kristi Pederson visited Grand Island's A Higher Plane Saturday for a discussion and for signings of her new book, "Between Earth & Heaven, A Beginner's Guide to Living a Spiritual Life."
Pederson also did psychic readings as part of A Higher Plane's "Psychic Saturday" event.
The book provides an overview of different healing modalities and aims to help people better understand the spiritualist world, Pederson said.
"What I'm finding is, the veil is thinning between this world and the next world, and more and more people are having paranormal experiences" she said. "They might be seeing a deceased loved one or having a premonition about something, or just be drawn to crystals or to essential oils, or reiki, and they don't know where to go."
A medium is someone who can talk to those who have "crossed over," Pederson explained, and a psychic is someone who can read someone's energy, and predict into the future for them and talk to their spirit guides.
"Every medium is a psychic, but not every psychic is a medium," she said. "Some people are psychic and can read people's energies, but they can't talk to deceased loved ones."
Pederson, who said she has the best job in the world, has been psychic and a medium her entire life, but for a long time had to keep quiet about that part of herself.
"When uncensored things would come flying out of my mouth people would judge me. They'd roll their eyes. They'd even physically step back to create distance. So, I learned to shut up at a very young age," she said.
It was only eight years ago that Pederson went public with her talents.
"I decided, I don't care anymore. I am who I am, and I've got to be me," she said. "Ever since then, it's just gone crazy. I've been crazy-busy."
Pederson's mission is to help others to "stand in their own power."
"We're all powerful beings, and you have a right to be who you came here to be," she said, "and not some version someone else thinks you should be."
Tammy Van Winkle, owner of A Higher Plane, holds Pederson is high regard.
"She comes somewhat frequently here to Grand Island to do readings, and she's a good friend of ours," she said. "She's amazing. I'd like everyone to sample her."
A Higher Plane opened in September 2018.
It is a body, mind and spirit shop offering tools, such as crystals, incense, smudging and candles, for spiritual practices.
Van Winkle likes to bring in different practitioners of energy work and to host readings.
"I bring them in from all over Nebraska, sometimes out of state, the Seattle area or Colorado, and they do sessions for different types of modalities, such as readings or a camera," she said.
Among the participants at the "Psychic Saturday" event were Austin Fletcher, owner of The Remedy, a chiropractic care clinic in Gothenburg, who practices quantum neurology; and, Libbie Dethloff of Grand Island's Find Your Frequency, who practices vibroacoustic therapy, which uses a "sound bed" that works with frequencies and energy fields.
"It's like a massage table with a water bed on top of it," Van Winkle said. "You lay on it and she can set different frequencies you feel reverberate through your body, like harmonics."
Van Winkle enjoys being able to help others reach a greater physical and spiritual place.
She was inspired to pursue such techniques and teachings after taking spirituality classes at Omaha's Stephen Center while in treatment for drug addiction 24 years ago.
"They changed my life," she said. "I moved back to Grand Island because there was nobody here to practice spirituality. I didn't know it was spirituality at the time, but when I looked back on it, I realized my instructors were psychics and did spiritual practices every day."