Too many cars, too many trains and an old road system have created both traffic and safety concerns where Broadwell Avenue crosses the Union Pacific Railroad line near downtown Grand Island.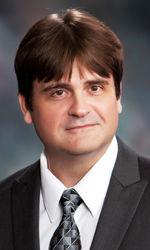 In an effort to come to a solution to the problem, the city of Grand Island conducted a public meeting Thursday at the Grand Island Public Library, in coordination with the Nebraska Department of Transportation and the Federal Highway Administration. The meeting covered a planning and environmental linkages study for potential improvements at or near the crossing.
The purpose of the study is to evaluate options for the at-grade crossing north of Third Street. The project's objectives include:
— Improve traffic flow at the at-grade crossing of the railroad's mainline at Broadwell Avenue.
— Reduce the potential for train-vehicle and vehicle-vehicle crashes at the at-grade crossing.
— Reduce traffic delays and associated costs.
According to project preliminary studies, there have been six train-vehicle crashes at the site since 2001.
In determining the exposure factor that is used to quantify the potential train-vehicle crashes at the site, it was found the exposure factor at Broadwell Avenue is 1.43 million and would increase with additional traffic.
John Collins, Grand Island city engineer, said crossings with an exposure factor greater than 50,000 are potentially eligible for grade separation funding.
According to city findings, last year the average daily traffic at the site was 12,300 vehicles. That is projected to grow to 17,600 vehicles by 2040. The number of trains that go through the crossing daily is 93. That creates the exposure factor of 1.43 million. By 2040, that number could grow to 1.63 million.
Safety at that crossing has been a discussion point for many decades, but the situation has only gotten worse because of the increased number of trains that go through that crossing, along with the increasing number of cars on Grand Island streets.
Concerned citizens and property owners in the designated study area attended the meeting. Many raised concerns about traffic congestion at the crossing, along with safety concerns involving both vehicles and pedestrians.
Those concerns reflected what the preliminary study found about train events at the crossing affecting traffic at Second Street, Third Street, Old Lincoln Highway, North Front Street and Fourth Street intersections along Broadwell Avenue.
Those train events cause traffic to back up into adjacent intersections, blocking cross sections. After a train passes through a crossing, it can take two to four traffic signal cycles for the traffic backup to clear. Those traffic backups can lead to vehicle-vehicle crashes.
It was also found that southbound traffic stopped on Broadwell Avenue at Third Street can back up across the railroad tracks, with some drivers stopping on the tracks.
One average, the preliminary study said, the annual cost of those delays and crashes is $233,500 annually.
Collins said Thursday's meeting was a primary environmental assessment, which is the first step in getting the necessary funding for a project that meets federal approval. The federal government would pay 90% of the project's cost.
He said it could take up to five years before the project could get started.
"We are talking about putting an overpass over the Union Pacific Railroad at Broadwell Avenue," he said. "It won't necessarily go directly over Broadwell. It could go a few block in either direction, depending on how we could have the least impact on the businesses. But it would be in the general area of where the crossing exists today."
Grand Island has two underpasses that allow for a better flow of traffic over the UPRR tracks at Eddy Street and Sycamore Street. But Collins said they are a lot more expensive to maintain compared to an overpass.
He said if an overpass is constructed, people would use it instead of the at-grade crossings along the track, which could lead to fewer crashes at the the Broadwell Avenue crossing.
Also, during the course of a year, trains break down along the tracks, causing even longer delays. Collins said an overpass would solve that problem, too.
Following Thursday's hearing, city officials will develop and analyze alternatives, considering traffic and safety, environmental impact, property impacts and cost. There will be more public hearings as those alternatives are developed to get public input and consensus on the right course of action. From there they will develop a report and present the results to the public.
Information regarding the study is available on the city's website at www.grand-island.com/Broadwell-UPRR. For those unable to attend Thursday's meeting who would still like to comment on the study, all materials will be hosted via an online meeting from Thursday through March 20 at www.grand-island.com/Broadwell-UPRR. For those without internet access, information may be obtained at the city offices or by contacting Tim Golka at timg@grand-island.com or (308) 385-5455.
Get local news delivered to your inbox!
Subscribe to our Daily Headlines newsletter.