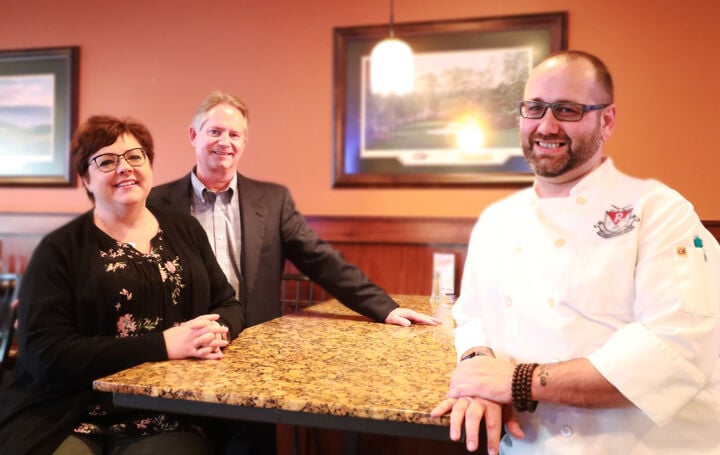 Riverside Golf Club helps make Grand Island a better place and provides great benefits to its members, both personally and professionally.
That's the view of Tom Foutch, who is the new club manager.
Riverside Golf Club wants to be, and will be, a part of Grand Island's success, Foutch said.
He points out that nonprofit organizations earn many important dollars in functions at Riverside.
The club plays host to numerous parties and gatherings.
At those gatherings, groups might celebrate Christmas or businesses might honor their employees. At the end of the evening, attendees marvel at what a great time they had, Foutch said.
Riverside benefits the community in numerous ways.
"We have done everything from fundraisers to board retreats at this club," he said.
Individual members benefit from great experiences they have with their families, and from great connections they make, Foutch said.
The No. 1 reason to join a private club is not golf. It's the associations you make, he said.
"The image of the private club has changed over the years," Foutch said.
The idea that a place like Riverside caters to the upper crust is nonsense, he said. "Our membership is diverse."
Riverside's members include both attorneys and farmers.
It's also not an enclave for senior citizens.
Mindy Smidt, Riverside's events coordinator, points out that many young families enjoy the club.
Riverside has a younger membership than what's typically found in private clubs "and it is as family-oriented as it gets," Foutch said. "Twenty-five percent of our members are under 45."
Those families make connections with each other.
"The friendships that are formed in private clubs are unlike any I've ever encountered," he said.
Members' families create lifelong friendships.
"Their families meet out at the pool. Their kids swim together. They go to each other's football games and soccer matches, They end up wishing each other well when they head off to college," Foutch said. "The relationships are really special."
That's how it has been since Riverside was formed in 1919, he noted.
Members benefit in other ways.
When people join Riverside, "they're going to be rubbing shoulders with people who can help them." In addition to personal enjoyment, that help comes in the way of professional growth, Foutch said.
People looking for an accountant or a lawyer often find them among the club's membership. Whatever services they need can be provided through connections they make at the club, he said.
Most of all, members receive personalized attention.
Foutch, who began working at Riverside three months ago, likes to talk about "the beauty of a private club."
When a member comes in on a Friday evening, for instance, he is not only greeted by name but his drink will hit the table before he does.
A chef knows what the member likes for dinner and will prepare it for him or her, even if it's not on the menu.
"That's what the private club can do that no other business on earth can do," Foutch said.
He added the club has a new focus, new direction and new energy.
The club's membership, Foutch said, is " excited about the changes."
Jared DeLay, a Riverside employee for 15 years, is the new executive chef.
"With the change in the kitchen, there is a new excitement about Jared's menu. And we only started that this week," Foutch said.
Among other things, DeLay is mindful of club members who have celiac disease. Every sauce he makes is gluten-free.
"From a food standpoint, it is my singular goal to offer the best food in the area, with the best service," Foutch said.
Facility manager Greg Keep keeps the place clean and safe and is fastidious about preparing rooms for social events, Smidt said.
When he's got a room ready to go, it's "gorgeous," she said.
Many people visit Riverside as a member's guest.
"We want every guest to feel like they're a member," Foutch said.
He believes those who spend a day at Riverside will be interested in joining.
"Today's guests are tomorrow's members," Foutch said.
As far as cost, he said if you go out a lot and tip 20%, you'll save money by being a member of Riverside.
The club offers social membership for those who don't golf. Those people want to be a member for the enjoyment of themselves and their families.
Members and Riverside staff members become friends.
Servers have attended members' funerals because they've been serving them so long, Smidt said.
Foutch said, "We become part of members' families and they become part of ours."