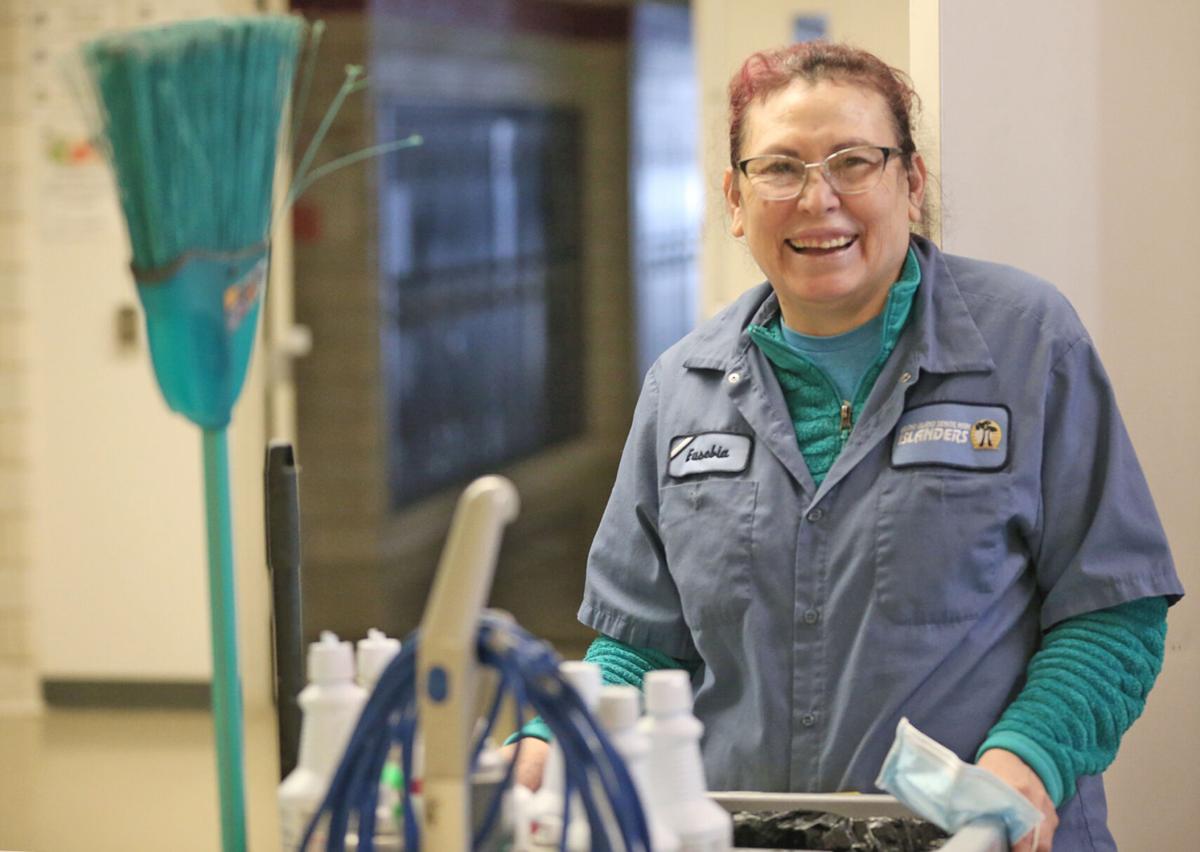 Eusebia Garcia was a lot more shy three years ago than she is now.
As a night custodian at Grand Island Senior High, Garcia said she did not know any English and as such would be mocked by some when she attempted to speak whatever English she knew at the time.
She said this discouraged her, but, with the support of her fellow custodians, GISH teachers and staff members, she is working toward her goal of learning English.
After being in the United States for 28 years, Garcia said she always has wanted to learn English but never found the opportunity.
"I regret not trying to learn it when I was a lot younger," she said via translator Lionel Contreras, GISH night custodial supervisor. "It is very important to me because English is needed for everything like going to the doctor, going to the store or for whatever it might be. You always need to ask questions, so it is very important to know English."
During her shift at night, Garcia said, she will open YouTube on her phone to listen to music videos to help her learn English. She listens to religious music or "whatever it is that has English in it."
"I will try to sing after it or along with it and try to learn at the same time to speak it (English) as fluently as I possibly can," she said.
Garcia said the battery on her phone will get low and she will charge it back up, meaning she listens to music off and on throughout her shift. She does not have a favorite song to listen to and will "just listen to whatever."
"My office is right by her area, so I will often hear her singing and stuff and even see her dancing," Contreras said.
Garcia said listening to English during her shift has allowed her to better communicate with GISH teachers and staff members. She said teachers and staff are "very nice" to her and talk with her during her shift.
"In being around staff like (GISH Activities Director) Mrs. (Cindy) Wells, they always will offer to conversate," she said. "It is much easier than being in an environment where there is not so many English-speaking people. I like it here and the environment here a lot, as well as the staff."
Wells said she has seen Garcia improve in her three years as custodian at GISH.
"Before, Eusebia wouldn't probably ask me a lot of things," she said. "But now, she will come and ask me things like about T-shirts or schedules. I like to talk with her because I like to learn some of the things in Spanish. The first time I was walking the hallway and she yelled my name, I went, 'Yeah!'"
Contreras said that he also has seen Garcia grow in her understanding of the English language. He will sometimes write on the board in English and she will understand what it says.
"I tell Eusebia, 'How do you know?' She will put it on her phone and translate it using an app she has," he said. "So she has come a long way. I will explain it to her verbally and she will understand."
For those like her trying to learn English, especially at an older age, Garcia encourages them to keep working toward their goal.
"Keep trying, set a goal for yourself and know that you are able," she said. "It will happen for you."