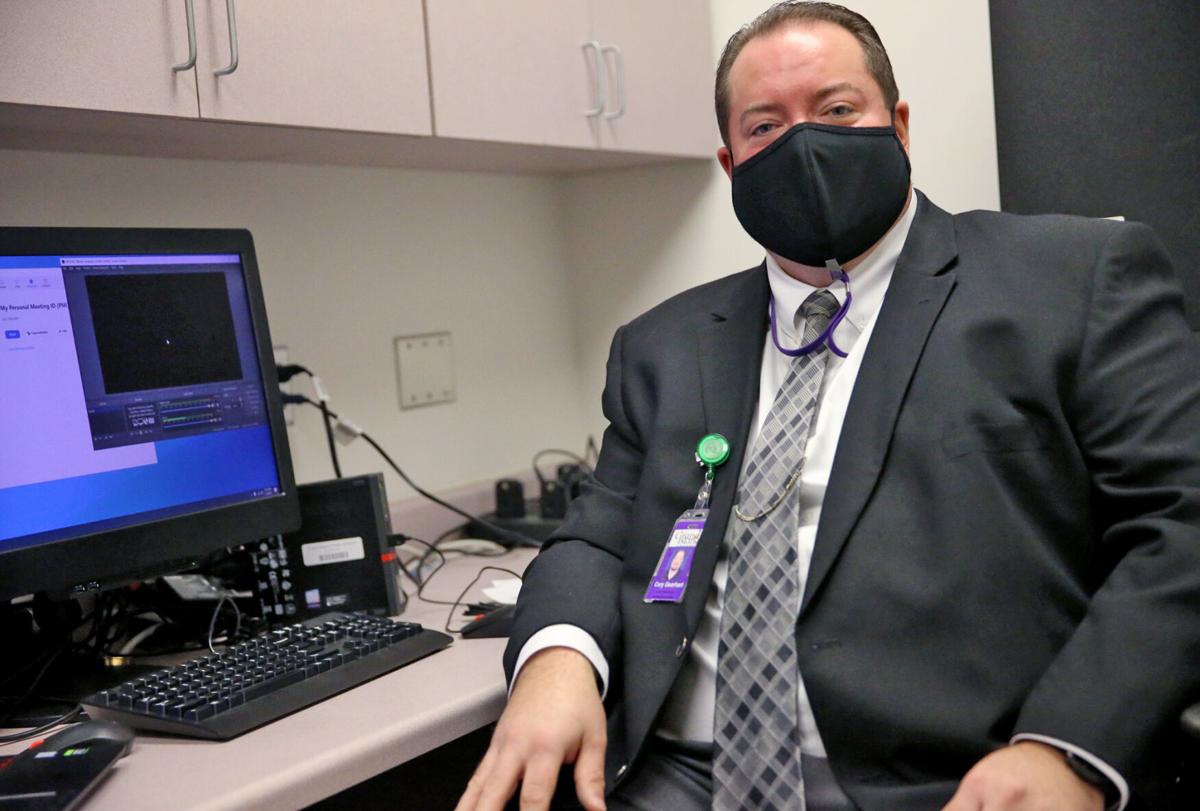 When Grand Island Public Schools made the decision to move to remote learning in March due to the coronavirus pandemic, Cory Gearhart had to act quickly.
As the district's executive director of information technology, Gearhart said he had been watching news coverage of the pandemic and had a gut feeling it was "going to get big." His prediction came true when, on March 15, GIPS made the decision to move teachers and students to remote learning.
For Gearhart, he said this meant taking quick steps to transition students, about 800 teaching staff members and another 800 support staff members to online learning — one of the largest undertakings he has ever faced in his career.
A few days after GIPS' decision, Gearhart said his team provided face masks, face shields and walkie-talkies to schools and tables were set up at each building to allow for mass distribution of student devices via a drive-through service.
"We asked our staff to set up transition tables where they would sit it (devices) down, you (students or parents) would come and pick it up and those types of things where you had to have one-to-one interaction with someone," he said. "When we did the mass distribution of devices and curriculum resources — worksheets, workbooks and textbooks — the teachers really worked well at maintaining social distancing, transferring the materials and sanitizing their hands."
With the move to remote learning, Gearhart said he and the district knew that students needed internet access to do their schoolwork. He said principals were asked to survey families and compile lists of those who needed the internet.
Gearhart said GIPS partnered with Verizon to purchase Jetpacks for students who needed access. He said the district configured the devices and distributed them to the schools to provide to students.
In all, GIPS provided 125 Verizon Jetpacks to families in an effort to ensure access to all students for e-learning.
"We reprogrammed all of them, we boxed them and got them set up (to distribute to families)," Gearhart said. "We had about two days to do it, so it went fast."
In addition to providing Jetpacks to families in need, Gearhart said the GIPS IT Department worked to increase the power on access points to allow internet signal to go around the school so students and staff could access the internet as needed.
"I have some data that some employees came back to parking lots to check in and hop on the network for some things, so it was successful in that regard," he said.
Gearhart said there were more technology issues he and his staff had to deal with as a result of the move to remote learning. He said there are technology assistants at each building who typically take the first call when there are technical support issues.
However, because schooling was remote and the technology assistants were not in the buildings, Gearhart said, this work transferred to the district's IT team.
"In this situation, our tech assistants are not in the same building as the teacher or the student, so we had an increased number of tech support tickets," he said. "There was a lot more emailing and a lot more (people) getting onto Zoom meetings with the techs, so the techs were Zooming in with students to help with issues."
Gearhart said the district has had to change the way it fixes devices.
Before the pandemic, students would bring them in, but, due to recommendations from the Centers for Diseases Control and Prevention, the devices have to sit for at least 72 hours prior to being fixed.
"We had to set up those exchanges where they would bring the devices to the buildings and instead of making students wait on repairs, we would simply exchange their device for another one," he said. "Then, we would bring it in, get it repaired and get it back for the next exchange."
Gearhart said the IT team also dealt with situations in which it would have to deal with improperly functioning speakers or headphones whose jacks broke, leaving students unable to hear their Zoom call with their teacher.
"I just have to commend my staff because they've done a phenomenal job of stepping up to the plate and being able to support the transition this year," he said. "They stepped in and took charge when we really needed to. That is not only the staff here at the Kneale Administration Building, but also the technology assistants and integration specialists in the buildings who filled in to get those devices distributed when we decided we were going remote and we had five days to do it."
As GIPS has continued to respond to the coronavirus pandemic, Gearhart said he was instrumental in creating the district's COVID-19 dashboard, listed on its website. The dashboard includes information such as how many staff members and students are absent due to COVID-19, and how many of them have tested positive for the virus.
"We had to figure out what information we shared and how we could be as transparent as possible while still protecting privacy. Those things we wrestled with before coming up with that (dashboard)," Gearhart said.
GIPS Superintendent Tawana Grover said that largely because of Gearhart's efforts, the district easily transitioned to remote learning when the pandemic hit.
"In many ways, this pandemic opened up more receptiveness to digital possibilities in the world of education and catapulted GIPS further and faster into the digital age," she said. "We are very fortunate in GIPS to have Mr. Gearhart on our team. A job description does not define his contributions. His passion and commitment drives him to share time and talent, wherever and whenever needed."
Grover said she has been impressed with not only Gearhart's technology skills, but also his proficiencies in data and research in creating the district's COVID-19 dashboard.
"I like to say Mr. Gearhart is the leader of the in-house pandemic research division of our district," she said. "He spends countless hours analyzing and synthesizing information to help us understand science and nuance, to help us parse facts, trends and tactics that will help us serve our students best."
Gearhart said GIPS will continue to face challenges in the coming months in regard to information technology. He said that, from an IT perspective, the district will need to continue to keep its data and infrastructure safe. Hacking attempts on educational institutions has increased 400% since the pandemic began.
"We also need to work toward getting a more permanent solution for those families that need internet access and don't have it," Gearhart said. "We need to make sure that our supply chain stays strong so that we have the devices and the things we need going into the next school year."
Gearhart said GIPS needs to continue to put out the message that the pandemic is not over.
"You don't run the race, get to the last 100 yards and slow down," he said. "We are nearing the finish line and we need to continue to be strong. The masking, the distancing, the hand hygiene and all of those things are not going to go away the minute we start seeing vaccines in the community. I think that there is a perception that might be the case."