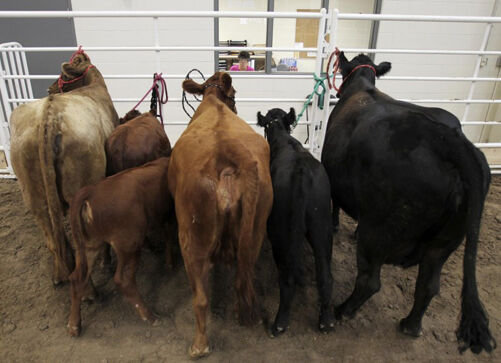 Nebraska Lottery money, fewer expenses and good management have put the Nebraska State Fair in a better financial situation than it was a year ago.
But Nebraska State Fair board members wanted to make sure of that continued financial stability and voted Friday that the fair would not be part of the upcoming Nebraskan Western Stock Show in January if it puts the fair in a precarious financial situation.
The State Fair board met Friday in Grand Island for its October meeting.
In September, the National Western Stock Show Board of Directors announced that the 115th National Western Stock Show in Denver, typically held in January, was postponed until 2022 due to the rules relating to the pandemic in Colorado.
To provide an opportunity for cattle producers who typically exhibit at the National Western, the Grand Island Livestock Complex Authority (GILCA), Grand Island Mayor Roger Steele and The Nebraskan Livestock Show group announced plans to develop a one-year-only alternative livestock show to be held in January at Fonner Park, beginning Jan. 9 and running 16 days.
Cindy Johnson, executive director of the Grand Island Chamber of Commerce, who spoke to the fair board Friday, said the community will benefit from the livestock show in January. After a year in which the coronavirus pandemic canceled many planned events in Grand Island, the Nebraska State Fair and especially the Aksarben Stock Show have been a financial shot in the arm for the community's hotels, restaurants and retail stores as thousands of people from 14 states came to show livestock at Fonner Park.
"When this chance came to put on a world-class show at our world-class facilities with the chance of assisting the National Western and with an eye toward developing our reputation as a world-class site for livestock shows, we felt it was important to look into this opportunity," Johnson said.
She said they are anticipating 3,600 exhibitors coming to Grand Island for the 16-day show. It's estimated those 3,600 visitors statistically each bring 2.7 visitors with them.
"These people are staying in our motels for three or four nights," Johnson said. "They will be enjoying food, beverages and shopping in our community."
She said January is usually a slow month for visitors and events in Grand Island and, after a pandemic-filled year, the livestock show would be a "shot in the arm like no other for this community."
But Johnson also said that putting on an event as large and as long as the Nebraskan Western Livestock Show in such a short turnaround time will not only take the collective efforts of many in the community, but also outside help as well.
"We know that coordinating this show will take more than the community of Grand Island," she said. "This is bigger than us."
Johnson said the team assembled to help in the organization of the livestock show is reaching outside Grand Island for expertise. The National Western Show will provide assistance to local organizers, along with state officials.
State Fair finances much improved
During Friday's meeting, Terry Galloway, who is chairman of the State Fair 1868 Foundation and a retired accountant, reported to the board about the fair's financial condition. Galloway is temporarily helping with State Fair accounting until a third party firm can be contracted to do the State Fair's accounting.
Galloway told the board that the fair's cash position is "significantly more" than it was at the same period in 2019. He said the fair's cash position currently is $1.89 million, compared to $97,000 at this time last year. There will be another $1 million coming to the fair from lottery proceeds.
"Typically we have operating expenses, on a monthly basis, of $400,000," he said. "Our cash is going to end up in a good position as is projected now at Dec. 31, 2020."
Galloway said last year, at this time, the fair was showing a loss of nearly $400,000, but this year they are up about $2 million. As a result of the pared-down State Fair because of the pandemic with no concerts or other costly events, Galloway said State Fair expenses were down about $6 million compared to last year. The fair's equity was up by nearly $1 million. A profitable enterprise at this year's fair was alcohol sales, which were $65,000 over last year.
Bill Ogg, State Fair executive director, said Galloway's report doesn't include financial numbers for the Aksarben Stock Show, which is operated by the Nebraska State Fair.
Ogg said Galloway is more optimistic than he is about the fair's financial status as many of the fair's expenses have not been billed yet.
"I'm concerned that we are going to be in that negative $100,000 (net income) area, but if we can do better than that, then that will be great," he said.
Ogg said having Grand Island host the January stock show is a "big deal."
"What we are able to host and do well is the open-class livestock portion of the National Western," he said. "... We are trying to facilitate and accommodate the national beef cattle breeds in participating in their 115-year history and endorsement of the National Western Stock Show."
Nonprofit organizer needed
In beginning to host the event, Ogg said, his idea was to have another entity organize it with the State Fair assisting them.
"We need underwriting and sponsorship for this event," he said.
A number of groups already have stepped up with financial assistance for the event, Ogg said.
One of the problems, he said, is many people willing to financially help stage the show can't or do not want to donate to a for-profit organization (the State Fair). So the State Fair 1868 Foundation, which is a nonprofit organization, will provide the financial management of the show.
"The only way they agreed to do that is that it will benefit the Nebraska State Fair," Ogg said.
He said he is "totally committed that this (the Nebraskan Western Livestock Show) will be at no financial risk to the Nebraska State Fair."
"We (the State Fair) are in a pretty good financial position," Ogg said. "One of the reasons is because we minimized risk this past year."
If this event happens, he said, "it could be hugely successful, not only financially, but for the public relations."
The Fonner Park livestock facilities that were built when the State Fair moved from Lincoln to Grand Island in 2010 have allowed the community to develop a reputation of one of the premier livestock show facilities in the nation.
Ogg said there will be 18 cattle breeds represented at the January livestock show, and that will further enhance Grand Island's reputation and will bring future dividends to the community.
No risk for the State Fair
"On paper there will be risk," Ogg emphasized about hosting the livestock show in January. "But I confidently assure you that there will be none and, as silly as that sounds, you are going to have to trust me and a few others on that. There are people who are willing to write checks to this event, provided there is a 501(c)(3) umbrella that they can write the check to."
Ogg said if the event happens, it will be successful.
"There is no question about that," he said. "My concern is that come January, for reasons totally out of our control, a COVID pandemic hits here and the event could be shut down. We are then sitting there with $300,000 to $400,000 that we would have obligated that we would have to pay."
Ogg said they already have received financial commitments of more than that amount if a 501(c)(3) is available.
"I want to be brutally honest — there are risks," he said. "Is it real? Of course, it is real. But is it predictable? No."
Ogg said if the organizers of the Nebraskan Western Livestock Show can get those financial commitments, and if there is a winter weather problem or the event has to be canceled because of the pandemic, "We would still be break even."
While he said the State Fair is protected by any downside to hosting the event, the upside could mean a significant source of revenue to the State Fair, as host, that will only add to its growing financial stability.
Board member Jeremy Jensen of Grand Island expressed concern because the event is evolving quickly and he doesn't want the State Fair to be hit with a big expense now that it is getting its financial house in order after two bad years.
Ogg said the Nebraskan Western Livestock Show will be managed by an independent group that will receive a management fee and with financial management being done by the State Fair's 1868 Foundation because it is a nonprofit organization. The State Fair will lend its resources for a fee, along with Fonner Park being paid for the use of its facilities.
He also said that the sponsorship and underwriting for the event will be nonrefundable if the event has to be canceled. Organizations that sponsor or underwrite the event have agreed to that stipulation.
Jensen said it would be "foolish for us financially to support this without protection for our organization."
"If the show does not happen, the fair should have zero liability and have reimbursement for any of our time up to that point," he said. "That is the only way for this to make any sense."
Lindsey Koepke, executive director of the 1868 Foundation, said when the request was made to the foundation to act as the nonprofit organization for the event, it was made with the understanding that "there would be nothing against the foundation moving forward."
"If there was a scenario where it wasn't successful or didn't move forward, there would be no impact on us," Koepke said.
Ogg also reiterated that if the show did not happen the State Fair also would not have any financial obligation. If the sponsors do not agree to finance the event if the show is canceled, then the State Fair would not be involved, in order to protect the fair and the foundation financially.
Ogg said he is confident that the money raised to sponsor the event will be there. The organizers of the event have said they already have $350,000 in commitments to the event.
The board's assurance about the event not coming back with financial ramifications to the fair came with a motion, introduced by Jensen, that the fair will be involved with the event as long as there is zero financial risk to the State Fair.
Jensen said he is "completely good with moving forward as exactly as you guys have laid out with the stipulation that we don't get a surprise bill in the future for covering something that makes no sense for us to take a risk on."
His motion was approved, along with another motion that authorized board approval for the State Fair to be a part of the show and for Ogg to enter into contracts for the Nebraska State Fair staff and facilities to be used by the organization putting on the show.
Get local news delivered to your inbox!
Subscribe to our Daily Headlines newsletter.